If you are not watching The Handmaid's Tale, then I urge you to begin to do so immediately. In lieu of any plot synopsis or spoiler warnings, I will shamelessly urge you to read my previous article located here. That article covers the first three episodes of the series and allows the unfamiliar reader to get a sense of the show. The remaining episodes unfold to reveal a captivating story laced with drama, brutality, and the darker side of human nature.
I first came across a copy of Margaret Atwood's masterpiece in a Canadian literature course in college. I opened to the first page and found myself halfway through the novel two hours later. With each turn of the page, more unbelievably fascinating horror leapt out at me. There is very little action in the novel. Most of the events are told in flashback through Offred's eyes. However, whenever a bit of action did occur, I immediately sat up and had to force myself through deep breaths to continue.
The Handmaid's Tale is the epitome of what I personally studied coupled with my attraction to the horror genre. When I was younger, I could not fully articulate what it was that drew me in to repeatedly watch slasher flicks or psychological thrillers. I realize now that my personal favorite horror films always had a strong final girl that generally managed to come out a survivor in the end. Whether it was Laurie Strode in Halloween, Kirsty Cotton in Hellraiser, or Sidney Prescott from Scream I was always ecstatic when they emerged a fighter, capable of taking on the most odious of villains. While centering around a final girl was not a hard and fast rule for me to enjoy a horror film, those were the titles I would seek out first.
By my final semesters of college, I found myself signing up for one women's studies or ethnic studies class after another. I began to see a correlation between these courses and the symbolized oppression a final girl had to overcome. I also became less surprised that the horror genre is so often overlooked when it comes to awards season. There are obviously many fine male performances, but in what other genre besides horror and science fiction are there so many strong female characters?
The few strong, female performances that are nominated or win from this genre typically highlight the problematic elements. There is the vengeful Carrie and her fanatically abusive mother. Sissy Spacek and Piper Laurie were both nominated for an Academy award. As well as the Oscar winning performance from Kathy Bates as the psychopathic Annie Wilkes from Misery. Yet, Kathy Bates' equally powerful performance in Dolores Claiborne as a lower-class woman trying to protect her daughter from a sexually abusive father is completely overlooked. Just like Dee Wallace's tour-de-force portrayal of Donna Trenton in Cujo. Despite all the male oppression surrounding her, she transforms from housewife to warrior in attempting to save her son's life.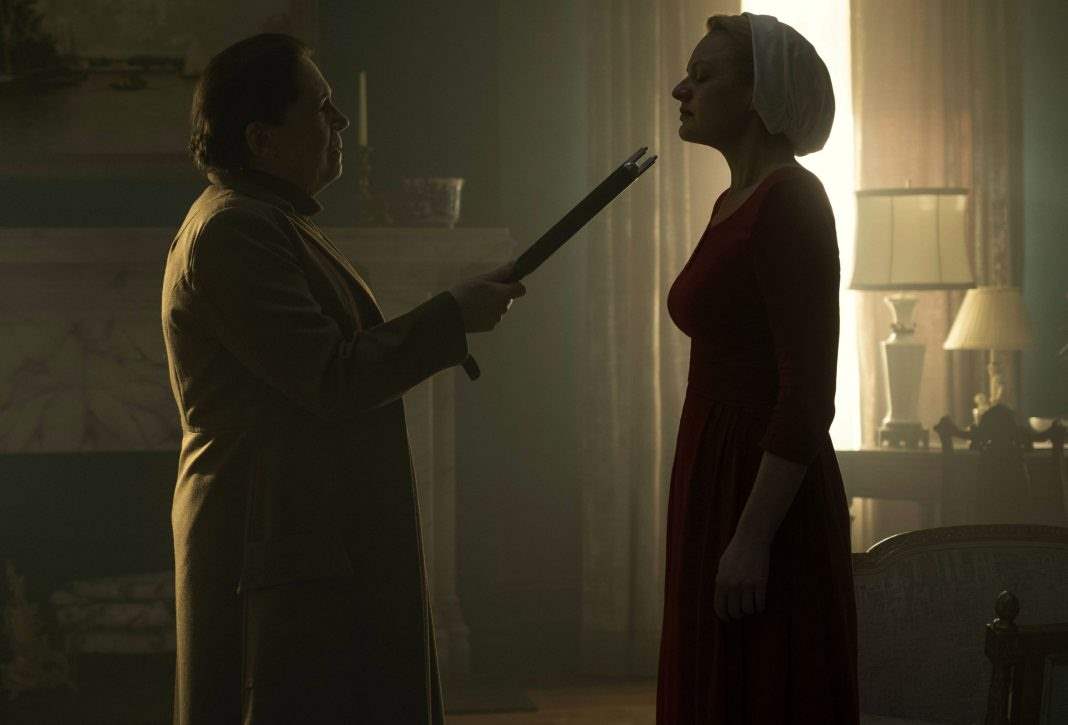 The Handmaid's Tale strives to teach audiences how to challenge their perspective on oppression in every aspect of life. To question even something like the treatment of the horror genre. Is it possible that the horror field is often pushed aside because of violence, or it is because there is an emergence of strong, capable women fighting back against oppression? Maybe, maybe not. The point is to question and to think. This streaming series suggests for one to wake up and analyze the smallest of details while he or she is still able.
Throughout the ten episodes, the audience is led through most events by the narration from Offred (Elizabeth Moss). Women are silenced to serve the needs of men. All for the sake of duty to their country. This is achieved by the utilization of fear. A false terrorist attack sets the events into motion. A fanatical military group misled people in order to declare Martial Law. They gained control of the government and people believed what they were told. It is truly scary to see what confusion mixed with fear can so easily accomplish. The series is not criticizing religion. The point is that corrupted individuals can use religion to play on people's fear.
Hulu's version of this story deviates (in places) from Atwood's original source material. The world is expanded beyond Offred's point of view to follow the fates of other characters. But this is a welcome change. The essence of the story remains intact, and the impact is just as powerful. The viewer can see how certain events unfolded such as distrust between women. When trust is placed in another woman, they risk their life. Proof of a woman reading can mean death. If not death, then at the very least a barbaric form of torture. For if a woman can read, then she could analyze the false information given to her and argue a defense.
A woman hanged is a part of everyday life. Those are the moments that make the show truly frightening. The audience only looking to be entertained will find the show to be captivating. There are also lessons told and warnings given. The examples above regarding the treatment of the horror genre are a part of this warning. The message is for one to look deeper at everything presented. Discussing the awards from Hollywood is trivial on the surface. However, these are the items that slip through the cracks. Rewarded images of unbalanced strong women are problematic when they dominate the genre. The Ripleys (Sigourney Weaver) or Clarice Starlings (Jodie Foster) are few and far between.
The Handmaid's Tale seeks to inform audiences to scratch a little deeper and look at the treatment of all of humankind. One must look at what effects occur regarding the images presented of women. There is always the darker side of human nature waiting to take advantage based on misinformation, confusion, and fear. The series has been renewed for a second season and until then, "don't let the bastards grind you down."