In the current horror landscape, populated as it is by remakes, reboots, sequels, etc, new ideas should be celebrated. But what happens when a filmmaker has a  few too many ideas? The result might be Downhill, a strange, but ambitious little film by Chilean director Patricio Valladares, from a script he co-wrote with Irishman Barry Keating. This odd couple pairing alone should give some indication of what kind of movie this is. 
Opening with a Satanic ritual, before quickly darting back to a bunch of friends happily biking in the mountains, Downhill can't ever seem to decide what type of film it wants to be. These opening scenes are beautifully shot, even the moments that are found footage style, and the first person POV gives a sense of how dangerous the sport actually is. If only they'd kept it simple and focused on it, rather than trying to incorporate a dozen other ideas.
The basic premise sees Natalie Burn's Stephanie and her boyfriend Joe (Bryce Draper) left stranded on a mountainside, after he suffers an injury, and at the mercy of a group of local crims who turn out to be more than what they seem. There are also bloodied bags of meat ominously hanging from trees in the forest, some kind of infection that's spreading from a dead body–not to mention it all descends into a bizarre kind of cabin in the woods scenario, at one stage, too.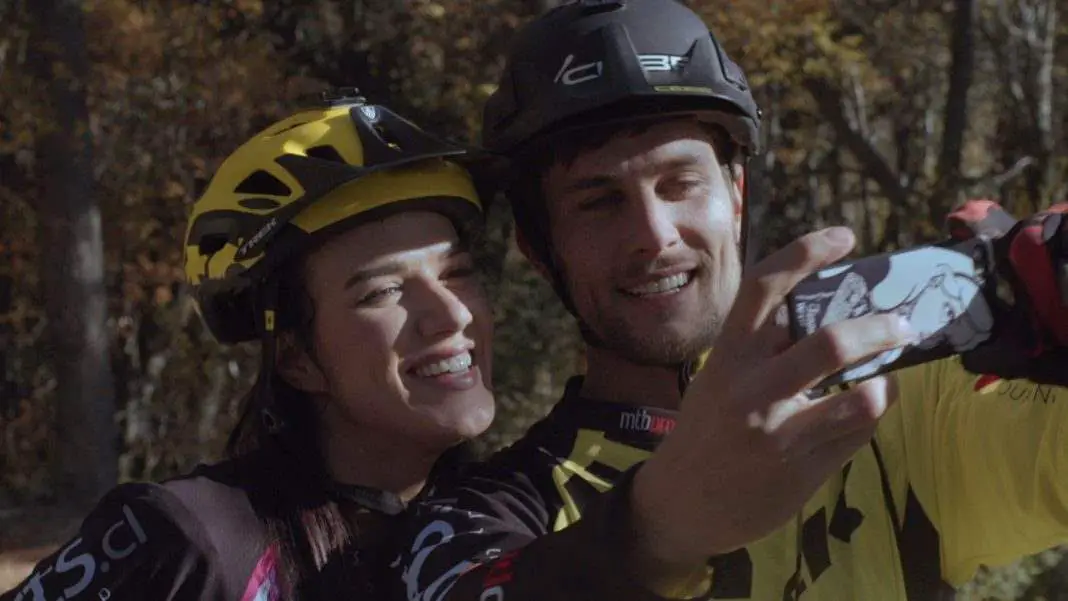 At the heart of Downhill is a decent story about a young couple who stumble upon something terrible and pay the price for it. The premise progresses along as one would imagine it to, right up until it doesn't and the whole thing goes completely off the rails. There's some decent, Satanic imagery of a goat, naked ladies, the usual and much of it is very rough and violent, but there's simply too much going on for anything to make a real impact.
Burn is terrific as Stephanie, tough as nails and resourceful to a fault. She's been quietly, but consistently, working away in bit parts in genre movies such as Nymph for the past few years but this should be the role that really sees her break out. Burn carries the film, selling us on even its wildest moments and ensuring we, as an audience, never stop rooting for her survivor when all hope seems lost.
The effects are strong across the board, too, with a weird worm/prawn thing making a nicely gooey impression and the post-infection make-up grossly thick. The body horror aspect of Downhill is strong enough on its own, but stuck in a movie that throws everything into the pot and stirs it all up just to see how it tastes, it's not hugely memorable. The visuals are strong throughout but, again, they're all mixed together into incoherence.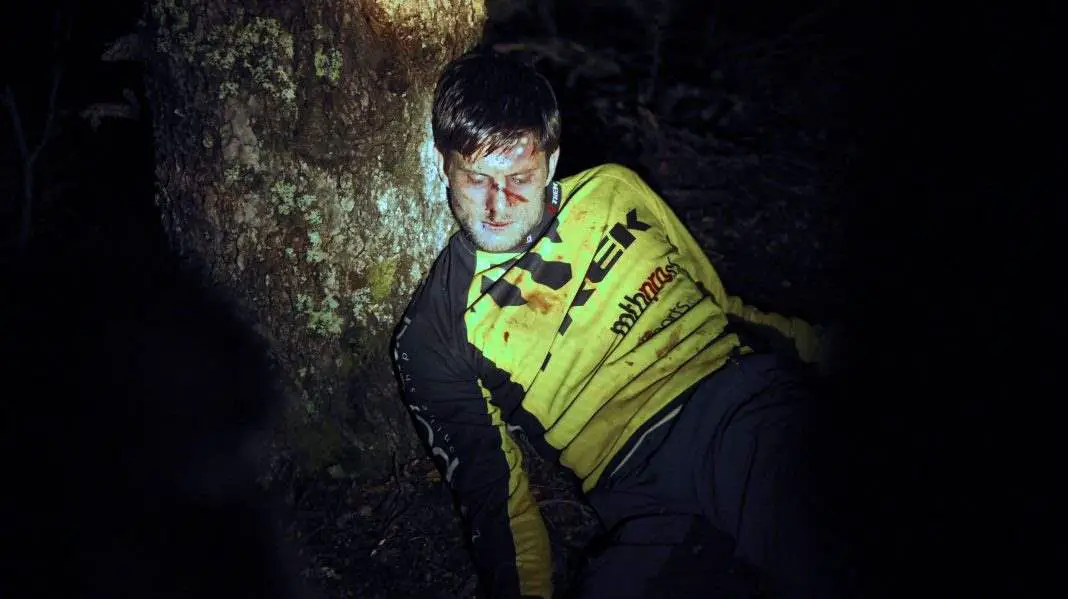 Credit must go to Valladares and Keating for trying to do so much at once. Even if it doesn't quite work, it's still impressive to see just how many different elements the movie tries to incorporate. The location is great, too, offering the right balance of gorgeous scenery and out-of-the-way, isolated weirdness. Escape always seems just out of reach and yet hours away, at the same time, which is so important for a 'horror abroad' style movie.
There's a lot to like about Downhill, and it hurtles along at a reasonable enough pace, so it's never boring. But so many of the opposing parts are introduced and then almost immediately disposed of that it's hard for any one idea to make an impact. It's a shame, because if the filmmakers had stuck with just one of these many threads, and kept it simple, it might have been genius. As it stands, it's average.
WICKED RATING: 5/10
Director(s): Patricio Valladeres
Writer(s): Patricio Valladeres, Barry Keating
Stars: Natalie Burn, Bryce Draper, Ariel Levy, Ignacia Allamand
Release: TBC
Studio/ Production Co: 341 House Productions
Language: English/Spanish
Length: 82 minutes
Sub-Genre: Action, Satanic, body horror