Aliens: Life and Death #1 continues the Alien saga releases by Dark Horse Comics. The book starts where the previous comics left off, following the surviving humans of LV-223 who have just faced off against the Engineers. The humans have scattered, and are easy prey for the gathering group of Aliens.

This issue opens on every
Alien
fan's worst nightmare – a gang of Xenomorphs surrounding a small group of wounded humans. The alien beasts are everywhere at once. They're on all sides and even in the trees! Within the first few panels characters are ripped to shreds before the readers' eyes.
For Alien fans eagerly anticipating the 2017 film releases, it's like coming home. All the classic elements of the masterful works by James Cameron and Ridley Scott are present. The thick, dark line work attributed to Moritat beautifully contrast with the alternately bright and dingy colors by Rain Beredo to solidify the desperation felt in Dan Abnett's story writing. The art and color for this issue are everything I could have hoped for. It's gritty, and captures both scenes of action and panic as well as those of futile angst. (Such as the below section featuring Roth. He's the unlucky soul who was separated from the others, alone.)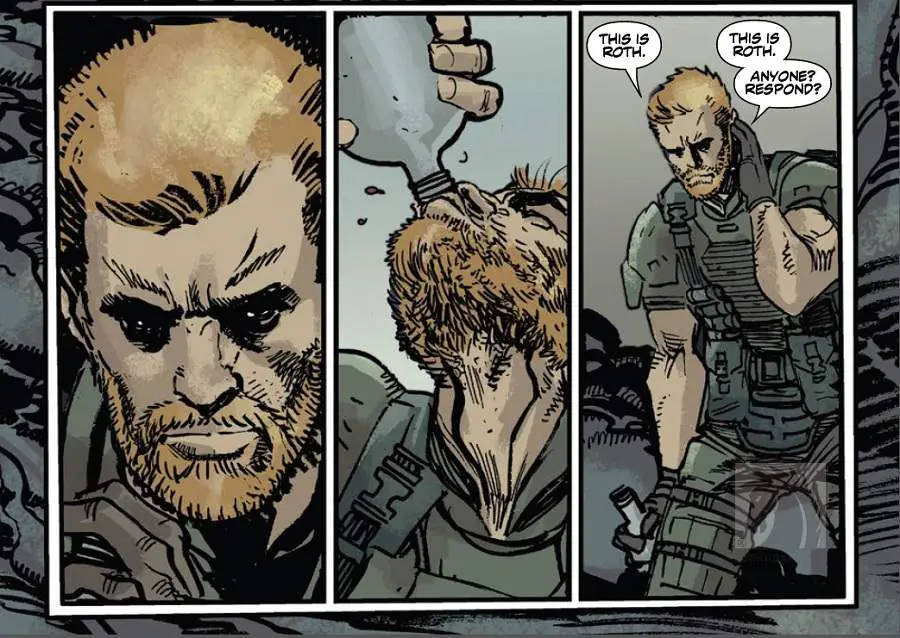 The plot follows the standard format one might expect. Humans versus terrifying, murderous, non-human things. However, this 32-page issue ends with a delightful twist that ensures readers will NEED to get their hands on the next installment.
This issue will be available at your favorite local comic book establishment September 21, as well as available for pre-order from Things From Another World. For those who are more patient or prefer to grab their horror comics in trade form, the trade of Aliens:Life and Death will be available on April 25, 2017 from Amazon and other comic retailers.
Wicked Rating: 7/10
Writer:Dan Abnett
Artist:Moritat
Colorist:Rain Beredo
Cover Artist:David Palumbo