Full disclosure, Pumpkinhead has long been one of my favorite horror movies, dating back to childhood. It's something that I immediately gravitated to because of the jaw-droppingly horrific monster design and something I only grew to love more as I got older because of the intensely satisfying way it takes the material seriously and never once talks down to the audience. It's an adult horror film about the fear of losing a child and, in the process, one's self. I am fascinated by the deep south fairy tale nature of it and the stylized, awe-inspiring production design. The sequels might be diminishing returns, but I enjoy them in their own ways, to some degree.
But even as a kid I recognized the potential. I was probably ten when I made my own Pumpkinhead comic because even then I recognized what this franchise could be. Pumpkinhead is not just a movie, it's a gothic fantasy with its own remarkable, garish world. No, from the moment the witch Haggis uttered the words "For each of man's evils, a special demon exists," this has been a mythology waiting to happen. Each of man's evils, of which Pumpkinhead (Vengeance), is only one.
I loved Pumpkinhead, the monster, and always got excited to see him in action but it drove me crazy even when I was younger to think that there were others we'd never even been introduced to. The potential has always been there, not only to make this a glorified Southern-Fried Hellscape, but to essentially reimagine Sandman as an '80s creature feature.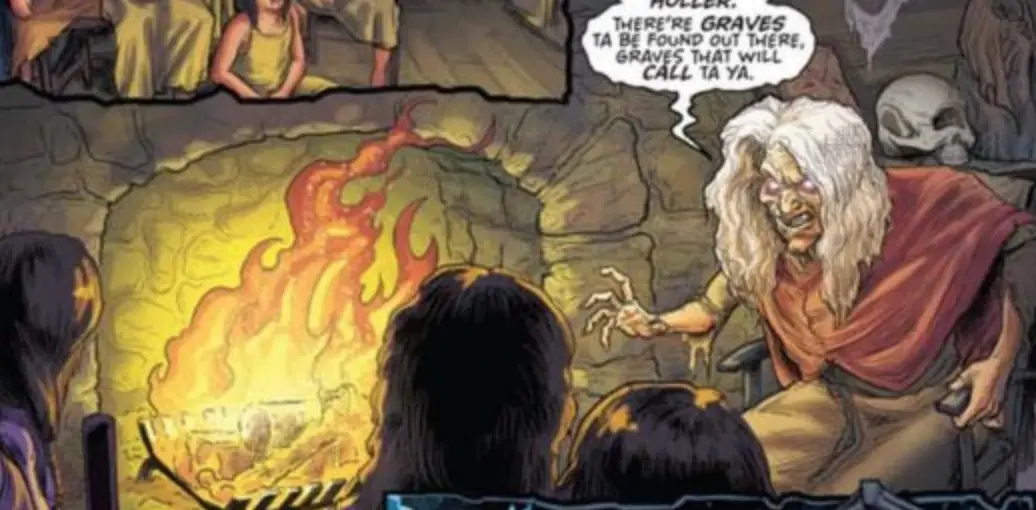 The potential was always there, but the film didn't make enough to warrant the size of sequel it deserved. The monster became what people recognized and people, ultimately, wanted more of the same. Original co-creator Gary Gerani pitched a TV series exploring the universe, but it went nowhere. So the rural backwoods world of
Pumpkinhead
went completely untraveled.
Until now. Dynamite Entertainment has resurrected Pumpkinhead and the results are, even from this brief opening, stunning. For longtime fans and newcomers alike, this is going to be a twisted, fascinating and appropriately emotional journey. There was no one better than Harrow County scribe Cullen Bunn to tackle this franchise and finally expand it. He completely understands the potential that has always been inherent in this concept and has already begun to pull the curtain back on that world with what appears to be no small amount of glee. A writer of Bunn's caliber only decides to take on something as seemingly random as Pumpkinhead if they're a die-hard fan of the source material, and that fandom shows on every single page.
You'll not only be reunited with the old witch, Haggis, you'll be getting a bit more of her backstory for the purposes of better shining a light on how this mythology works. Haggis, it turns out, has many sisters and each one of them was tasked with choosing a demon buried out in Razorback Hollow to tend to for the rest of their extremely long lives. Pumpkinhead, of course, is hers. Thanks to the backup story "Gluttony," you'll even get to meet one of the others as well.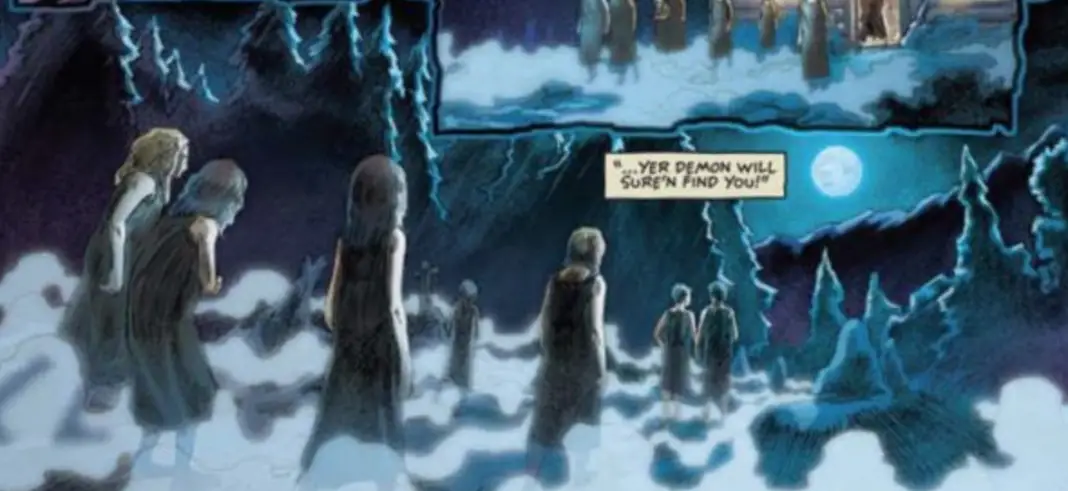 While there are elements expanding the mythology in truly interesting ways, this first issue still—for the most part—sets up a good, old-fashioned Pumpkinhead story. There are even the faintest echoes of Pumpkinhead II, given that our protagonist is a newly appointed small town sheriff trying to get the locals to take them seriously. These mountain people have a certain way of doing things and that way often does gel all that well with the actual law. And then there's also the unspoken fact that this protagonist is a black woman in a very backwards rural community.
She's dealing with a family who lost their youngest children in a hit-and-run, but who don't want any kind of law enforcement interference. From the earliest details, fans of Pumpkinhead will see the classic elements get put in motion. We see a family that's been wronged, we understand what their method of justice is going to turn out to be, and as the comic unfolds, we watch it happen. But this is already shaping up to be a version of the story that's simultaneously wrapped up in small town political intrigue, as the most crooked, most important family in town is right at the center of the whole mess.
It's a testament to the strength of this first issue how truly exciting and intriguing it is when (spoiler alert) the monster does not even show up until the last page. But when Pumpkinhead does make that debut, it's nothing short of stunning. One panel tells us everything we need to know about what a truly sincere take this is on the story. The art by Blacky Shephered is terrific throughout the issue, providing exactly the kind of Southern Gothic atmosphere that this story needs to convey.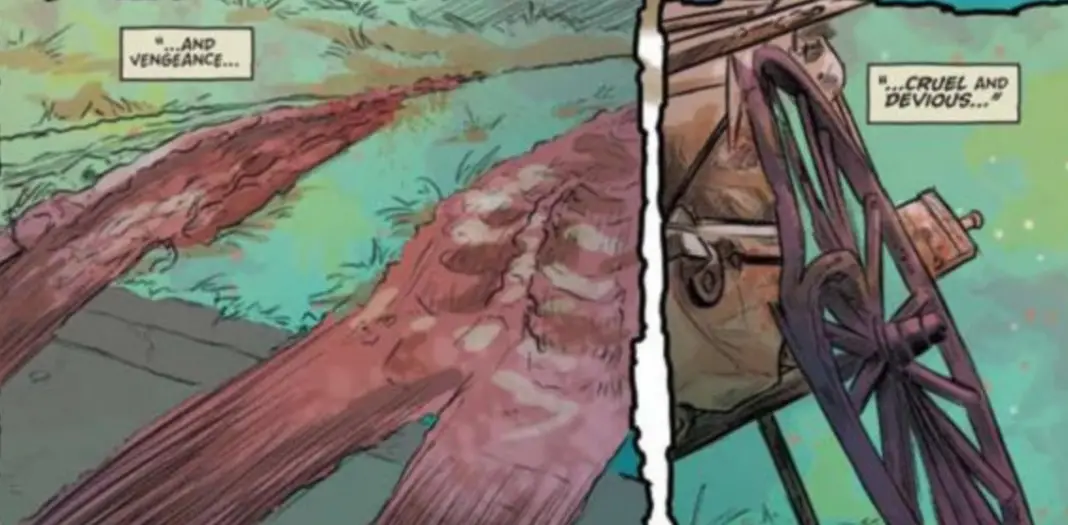 It's no different when the monster shows up, but the little details are what truly make it. Not only do we see Pumpkinhead, we see that blue, strobe background light that accompanied the creature wherever he went and on top of that, the comic even recreates the rattling, hissing sound effects that would play whenever the creature attacked. Those are things that should lay any doubts to rest about whether or not this franchise is in the right hands.
With barely a glimpse into what kind of carnage is going to be unleashed, how this mythology is going to unfold or what kind new creatures we can expect to see, Pumpkinhead #1 shows an incredible understanding of the source material and has such a confident grip on the direction of the story that it's impossible not to be excited about where it's headed. No matter where the story goes from here, there's no doubt that it will be surprising, shocking and, above all, a hell of a lot of fun.
WICKED RATING: 8/10