This review should not reveal too many spoilers; however, if you want to play it safe an article covering only the first four episodes can be found here.
The Duffer brothers have done it again. Stranger Things 2 soars where many sequels flop. Part two relies less upon the novelty of a 1980's setting and instead dives deeper into character development. Season One was by no means overly gimmicky and had powerfully innovative moments. Nevertheless, there was an abundance of pop culture references to the decade. The iconic elements were synched with the works that arose from that time by Stephen King or Steven Spielberg. There were not any direct rip-offs, but the homages were clear.
Stranger Things 2 takes a definite step away from those influences and begins to carve its own niche in contemporary horror. To abandon them completely would diminish the essence of the series. This season utilizes those same gimmicks with nods to Cyndi Lauper and Ghostbusters. Signs are even posted designating the upper-class against the middle-class with Reagan versus Mondale in the 1984 election. As fun as these are to point out, this sophomore season elevates character relationships while providing more screams and thrills for the audience.
Audiences will feel an injection of adrenaline this season. The pacing of the show is effective. The first few episodes catch the audience up to where the Hawkins residents are after last year's events. Flashbacks show how easily the Hawkins National Laboratory could cover everything up. There are gradually increasing peaks throughout the nine "chapters." Each group of characters have different pieces of the puzzle. The terror crescendos whenever the various groups come together.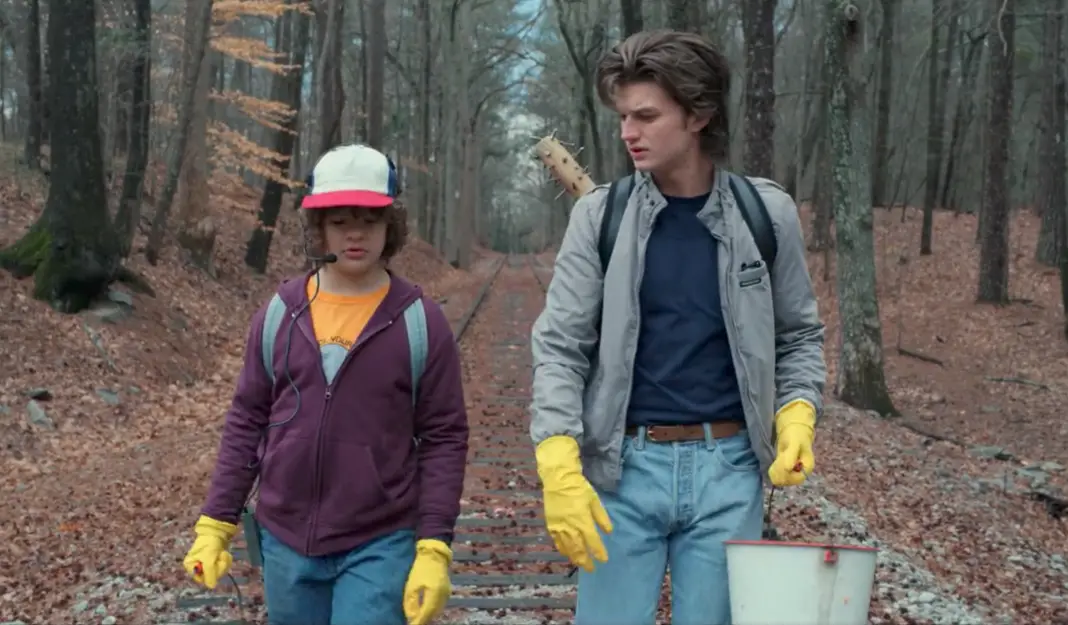 The viewer is more familiar with everyone which helps make unexpected pairings in Stranger Things 2 more fun. Hopper (David Harbour) and Eleven (Millie Bobby Brown) are one example. Their isolation from society is common ground. Hopper's misanthropic attitude is his contributing factor while years of child abuse and superpowers explain Eleven's distrusting demeanor. They are forced to relate to each other. While they have a touching relationship, I found the newfound friendship between Steven (Joe Keery) and Dustin (Gaten Matarazzo) to be the most endearing.
Matarazzo brings his usual charismatic charm to the character of Dustin. He is as hilarious as he is honest. Even if this season he breaks one or two of the group's rules. Much like last season, Keery starts out as a cardboard stereotype that transitions into one of the more genuine characters. Steve is a jock that lets his masculine insecurities dominate his attitude. This affects his relationship with Nancy (Natalia Dyer). By chance, Dustin and Steve end up together. This leads to Steve becoming a surrogate older brother to the younger kids. He has a willingness to put himself into danger. This selfless act redeems his unbecoming qualities.
The rest of the cast establish one of the finest ensembles on current television. Winona Ryder (Joyce) and Sean Astin (Bob) share tender moments in their abbreviated attempt to be a couple. Astin's role is tragically heroic. New additions, Dacre Montgomery (Billy) and Sadie Sink (Max) successfully manage to add tension to the second season. Montgomery is particularly menacing as the human villain this time around. Caleb McLaughlin brings more depth this season as Lucas. He demonstrates well the struggle to balance his relationship with his friends and Max. Without being too specific, the surviving cast comes together in a finale worthy of any John Hughes teen movie.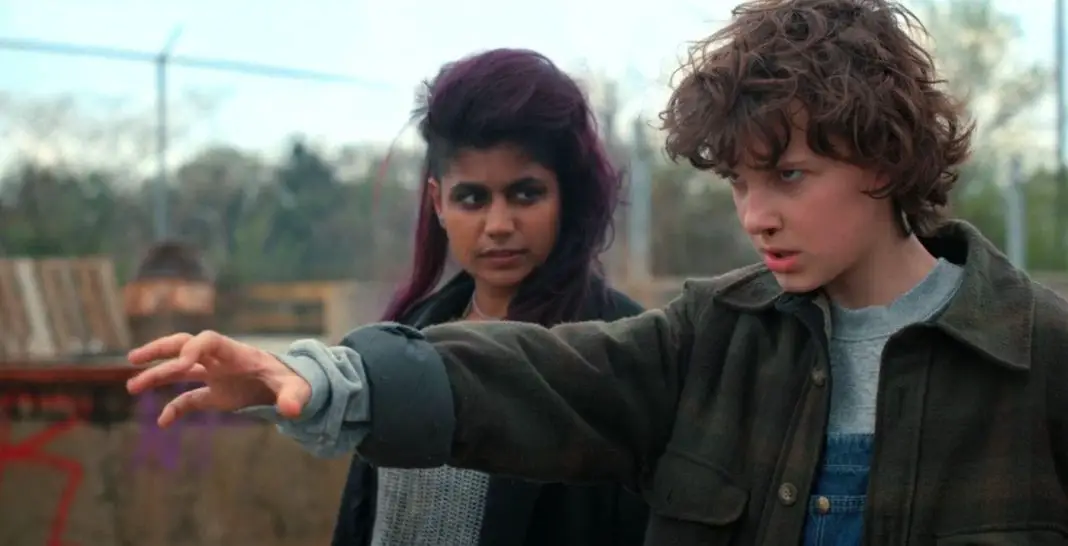 One episode that is already dividing audiences is Chapter Seven: The Lost Sister. Eleven takes a leave from her hiding place to seek out answers to her past. Hopper has designated this location as a safe place. No matter how different the intent, this safe place is ultimately just another prison for Eleven. Chapter Seven is a vital episode in the development of her character. Through the juxtaposition of Kali/Eight (Linnea Berthelsen), we get a glimpse at who Eleven would have become if she had not met Mike (Finn Wolfhard). Where Kali is cold and destructive, Eleven demonstrates compassion. Kali had the same potential; however, her experiences took her down a different path.
This episode is additionally important because the viewer learns that Eleven can make her own choices. A reunion with Mike and the rest of the AV Club is more touching because Eleven decides that it is the right thing to do. She is not a robot following other's orders. She is willing to learn. Her whole life has been traumatic. To have any chance for a healthy life, she must be able to trust others. She must be able to realize that others make mistakes and those mistakes do not need to be her own. Chapter Seven is, at first, frustrating because the audience wants a reunion and it appears that she is going further away. However, the episode is a turning point for Eleven. She learns for herself the meaning of choice and forgiveness.
In addition to character development, Stranger Things 2 expands on not only the mythology of the series, but the number of monsters as well. The Mind Flayer creates a horrifying and formidable image. The Demo-Dogs multiply the terror created by the first season's monster. The creature popped in and out with difficulty the first time around. The gate is further opened which allows for the monsters to gain access into the real world. This puts the characters into precarious situations. Will (Noah Schnapp) has a telepathic link with the Mind Flayer that further adds to the risk his companions must face. While Eleven is still the group's largest hope, they use their experience to maintain stability. As best they can.
Like the first season, Stranger Things 2 is a satisfying ride. A nine episode experience of horror and fun. To end the season as a proper horror movie, the last few notes imply there is terror still ahead. Thankfully, this sequel does not end on a direct cliffhanger. The surviving characters are picking themselves back up and looking towards the future. New bonds have been forged. The cast is one of the best ensembles on contemporary television. Even with all the acclaim from the previous season, the viewer believes these are regular people that just happen to be in extraordinary situations. Stranger Things 2 is at times scary, fun, and touching. This sequel most certainly lives up to the original.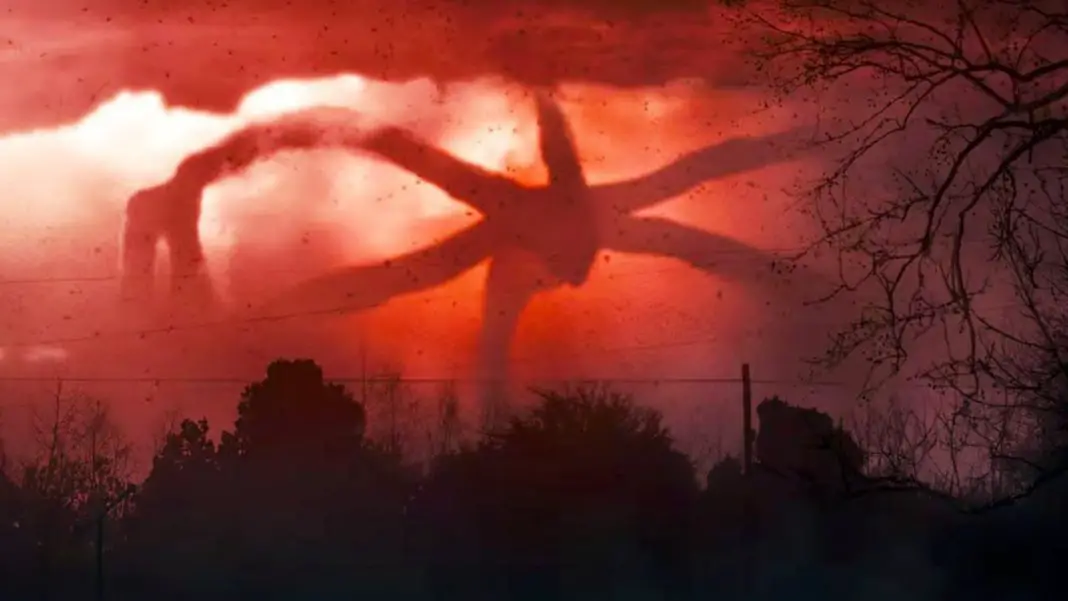 Wicked Rating: 10/10
Director: The Duffer Brothers, Shawn Levy
Written by: The Duffer Brothers, Justin Doble, Paul Dichter
Stars: Winona Rider, David Harbour, Finn Wolfhard, Millie Bobby Brown
Release Date: October 27, 2017
Studio/Production Company: 21 Laps Entertainment, Monkey Massacre
Budget: Unknown
Length: Approx. 50 minutes
Sub-genre: Science Fiction, Thriller