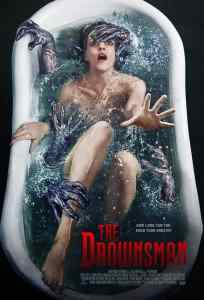 The aquatic horror feature 
The Drownsman, 
which garnered a positive response from its festival run, is headed for DVD and Blu-ray this Spring. The film snagged best picture awards at several different festivals. We have details on the upcoming release and more after the jump.
The Drownsman is directed by Chad Archibald (Ejecta) and cowritten by Archibald and Cody Calahan (Antisocial). The film stars Michelle Mylett, Caroline Korycki, Gemma Bird Matheson, Sydney Kondruss, Clare Bastable and Ry Barrett (Neverlost) as The Drownsman.
The film is slated to make its debut on DVD and Blu-ray May 12, 2015 from Anchor Bay Entertainment. No words on specs at this point but we will keep you in the loop as we learn more.
After almost drowning in a lake accident, Madison (Michelle Mylett, Antisocial) develops hydrophobia: an abnormal fear of water. After shutting the world and her friends out for over a year, her friends attempt an intervention. But, instead of curbing Madison's fear, they unknowingly unleash something far worse: The vision of serial killer – turned- supernatural psychopath Sebastian Donner – known as "The Drownsman" – who begins to stalk the women one by one, dragging them into a lair of submerged torment from which there is no escape.