If two, consenting adults agree to a fight to the death for money, is the victor also technically a murderer? This is the moral quandary at the (very black) heart of Traders, a lively, Irish offering with one foot lodged firmly in the grave.
Killian Scott is Harry Fox, a down-on-his-luck Celtic tiger cub who's just been made redundant from a lucrative financial position. He's lived quite a charmed existence thus far; great apartment, fancy company car and lots of spending cash. The switch-over to a dull, low-paying data entry job leaves him at a bit of a loose end.
Enter his ex-colleague Vernon (a lively John Bradley), who comes up with an ingenious proposition; he's created a website where users can log on and agree to 'trade' their lives, in a vicious battle to the death, for each other's life savings. Naturally, Harry is appalled by the idea – at least, initially. But, the more he wanders around his massive flat and sits bored behind a desk, feeling like a nobody, the more appealing a prospect it becomes.
Traders boasts an interesting, mostly well-handled central conceit that could feasibly be happening somewhere on the so-called Dark Web right now. The manner in which Vernon nonchalantly details his business plan to Harry, as though it's the most obvious idea in the world, echoes the idea at the heart of The Purge movies, where, if it seems simple enough, it might just be okay.
But it's how Harry slowly finds himself drawn into the world of trading that really sells it. As he trades more and more often, for increasingly large amounts of money, the line between whether he's addicted to the thrill of it or just plain greedy becomes blurred. We're given a decent glimpse into the kinds of people trading attracts, from a no-nonsense businessman to a family man who challenges Harry's apparently still-intact moral compass.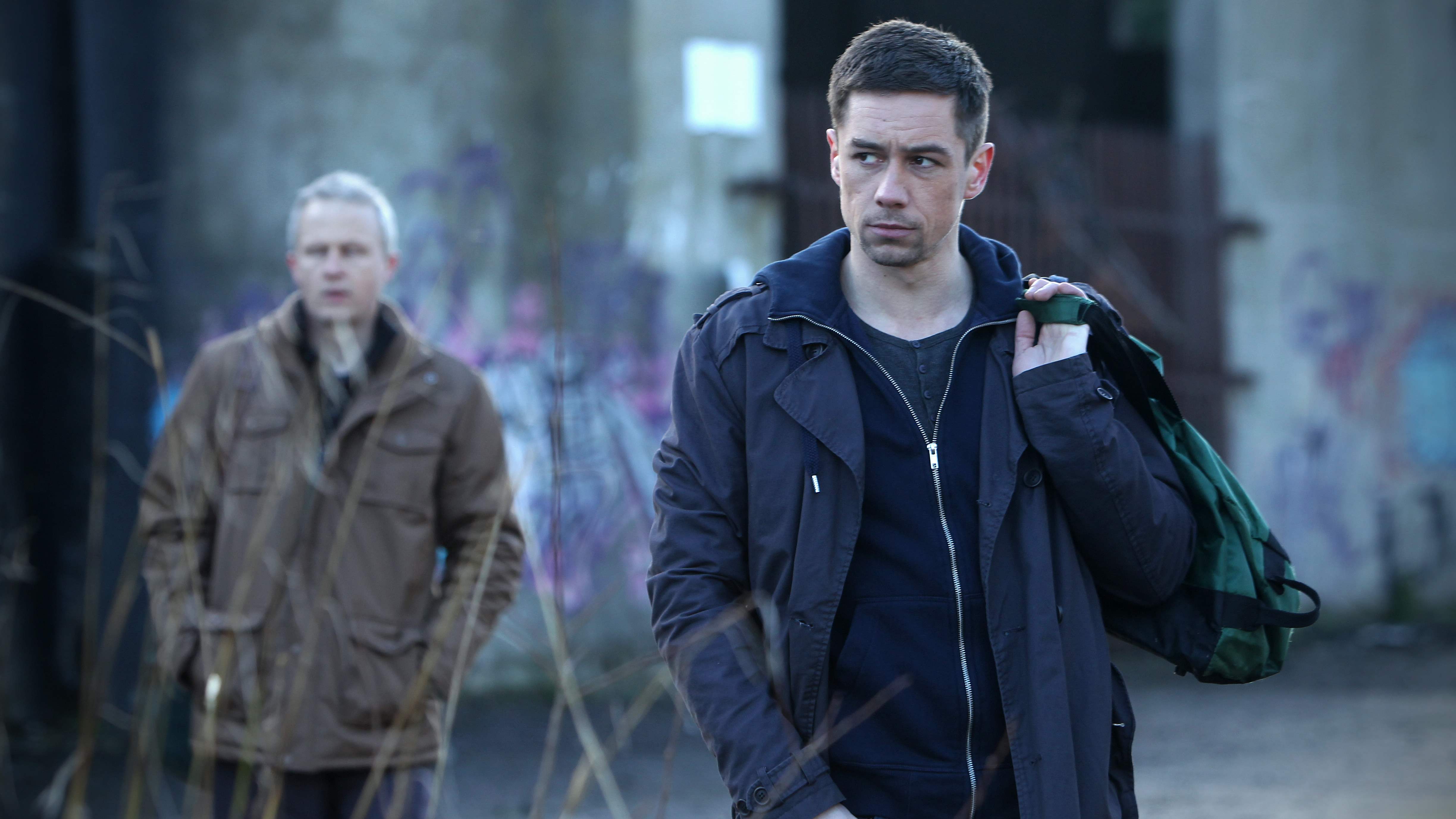 One woman features, a brash, super-confident Dub who's won every trade thus far and flatly tells Harry how she looks forward to dragging his skinny body into a grave once she's done with him. However, she's disposed with rather too quickly, particularly considering the only other female character we meet is Nika McGuigan's drippy Orla.
Annoyingly, for a movie that otherwise challenges expectations – the Brit is a dummy for once, instead of the Irishman, for example and the cops aren't sniffing around, looking for bodies, which is an interesting change of pace – her romance with Harry feels shoe-horned in. Suddenly Orla is his reason to quit trading, when their interaction has been minimal thus far and their onscreen chemistry is non-existent.
It's disappointing, because Traders is otherwise an enticing, enthralling, and deliciously dark debut feature from writing-directing duo Rachael Moriarty and Peter Murphy, known mostly for their work in TV and shorts prior to this. The two make some interesting stylistic choices along the way, the camerawork shaky at times to complement the adrenaline rush of the traders' desperate actions.
Dublin is presented rather nicely, too, resembling a real city for once instead of the grey, going-nowhere hellhole it usually features as. The incorporation of Dublin Bus is a wise, very evocative move that also allows for lots of funny moments (Harry's first commute after giving up his car is hilarious). The script is witty, Harry's voice-over – which should be incredibly irritating – giving a brash, brassy and blackly comic edge to the unfolding proceedings, particularly when he's brutally honest about his actions.
Killian Scott, who made an impact in flicks such as '71 and in TV's Love/Hate and Ripper Street, takes to his first, proper leading role with aplomb. He plays Harry with a skin-crawling Southside Dublin accent (the word 'lost' is given about ten extra Os) and a dead-eyed stare that suggests, worryingly, there's nothing going on beneath the surface apart from pure ambition.
He's well-supported by Game Of Thrones' John Bradley as Vernon, who one could argue is either really well-intentioned or just naive enough to see Harry as some kind of hero. Or both. When Vernon hatches a plan to stop his friend, upcoming actor Barry Keoghan (who shocked earlier this year in Mammal, and also made his mark on '71 alongside Scott) gets a chance to shine as a lethal young wildcard and nearly steals the whole show.
But this is Scott's film and Traders gives him ample opportunity to show off some serious range. Witness his slow, deliberate crawl towards a fellow trader, which is almost Michael Myers-esque in its ruthless calculation. Or the way he chucks Vernon out of his apartment without a second thought, once he starts asking questions. If nothing else, this is a showcase for how Scott could take on the big leagues at some stage, à la Cillian Murphy.
Is Traders straight horror? Probably not. It's a bit more nuanced than that. Described as 'a dark action-thriller' in the press notes, the movie's closest comparison would be to Ben Wheatley's Sightseers, another brutal, darkly funny Not Quite Horror film which makes good use of an outdoor setting.
Although Traders isn't quite as effective, it's funny, gory and consistently entertaining, with an interesting concept at its core, a killer central performance from Killan Scott and a black heart that doesn't let up right up until its thrilling final moments.
Catch Traders on VOD from July 11th, 2016 and on DVD from August 2nd
WICKED RATING:  [usr=7]
Director(s): Rachael Moriarty, Peter Murphy
Writer(s): Rachael Moriarty, Peter Murphy
Stars: Killian Scott, John Bradley, Barry Keoghan, Nika McGuigan
Studio/ Production Co: Dark Sky Films
Release date: July 11th, 2016 (VOD, Digital HD) August 2, 2016 (DVD)
Language: English
Length: 90 minutes
Sub-genre: Action, thriller