Season Three of Netflix's Stranger Things continues on the tradition of being a well-paced thriller pulling at those nostalgic heartstrings. After hitting familiar beats almost threatening to become repetitive, Stranger Things 3 takes a few turns and rises to awesome new ground. As accomplished in seasons one and two, this second "sequel" manages to keep the scares coming without overwhelming the audience. At the same time, the everyday dramas the characters have to face are just as compelling even in their tedious nature. The Duffer Brothers know what they are doing. They know when to let loose on the horror and never sacrifice the foundation on which this series was built. This could have been especially difficult as the youngsters in this cast are growing up.
Following in the footsteps of most horror sequels, Stranger Things 3 enlarges the playing field. The third season utilizes this idea by literally expanding global involvement. Unlike many horror sequels, Stranger Things 3 maintains its sense of heart and reliance upon strong character development. Don't get me wrong, I enjoy many horror sequels; however, the combination of making things bigger while at the same time staying true to what made the original so great is a not so easy feat. This horror "sequel" shows audiences how it is done. Of course, the nostalgic 1980's references are intact and as welcome as always.
Check Out Season Two's Review Right Here!
In the first two seasons, the audience had a general idea early on where the main story was headed. Both incarnations showed Will Byers (Noah Schnapp) either coming face to face with a literal monster or foreshadowed his internal struggle. While the tortured young man gets a familiar chill in the first episode, Chapter One shows a surprisingly unexpected character to be the one in peril. In fact, other than a few beats the scarier elements associated with Stranger Things are downplayed in the opening chapters. This assists in allowing the viewer to become reinvested with beloved characters. We watch as they deal with everyday mundane events as they pick up the pieces from all their traumatic past experiences.
The Duffer Brothers, however, are certainly not lacking in imagination. After all, this is the town of Hawkins, Indiana. Before long the slimy and monstrous reaches of the Upside Down begin to seep into the normal world. The Duffer Brothers find a marvelous balance between lighthearted joy and sheer terror. Both the joy and terror seem to play off each other in order to craft a fulfilling and entertaining experience. The viewer is taken on a roller-coaster ride full of bumpy twists and terrifying drops.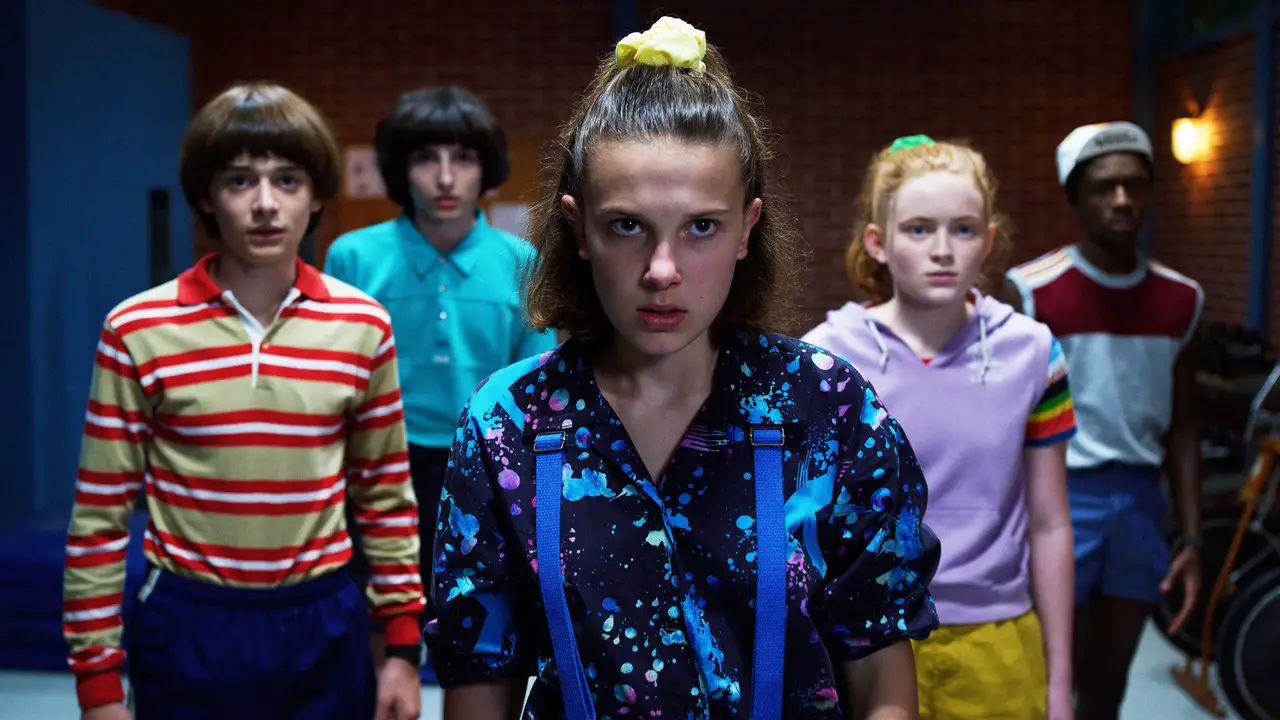 We are introduced to new characters that become as engaging as they are essential. Which is, of course, another difficult task for many horror sequels. The new standout supporting character is Robin (Maya Hawke) but she is given a run for her money by Lucas's little sister Erica (Priah Ferguson). Hawke's Robin is a delightfully sarcastic teen that anchors the comedic skills of duo Dustin (Gaten Matarazzo) and Steve (Joe Keery). The partnership between Matarazzo and Keery was introduced last season and gleefully expanded upon in Stranger Things 3. Ferguson joins this newly formed trio and all together the unlikely group provides many of the needed laughs this year.
Don't Miss: Five Contemporary Movies That Perfectly Recapture '80's Horror
On his own, however, Matarazzo has many shining moments as Dustin. If Winona Ryder (Joyce) and David Harbour (Hopper) are the strength of the show, and Millie Bobby Brown (El) is the soul, then Matarzzo's Dustin is the heart. Showcasing the insecurities of youth, Dustin has been away from his friends during the first part of summer. He worries that they have forgotten him and a running joke centers on whether or not his new girlfriend exists. As everything starts to go to Hell, Matarazzo's rendition of Limahl's The Neverending Story is an essential link to help the others. Definitely a win in my book.
The rest of this outstanding cast provide vital contributions and all believably come together to fight the forces of evil. Whether it be invading Russians or otherworldly monsters. After all she has gone through, Ryder's Joyce is a woman who has recaptured her confidence. Still mourning the loss of Bob (Sean Astin), Joyce continues to follow her every instinct. Throughout the eight parts, Ryder reveals a more reliably heroic Joyce. On the other side, Harbour's Hopper is dealing with all that comes from having a teenage daughter. He still survives on a short fuse but he is all love when it comes to the women in his life. Both of them.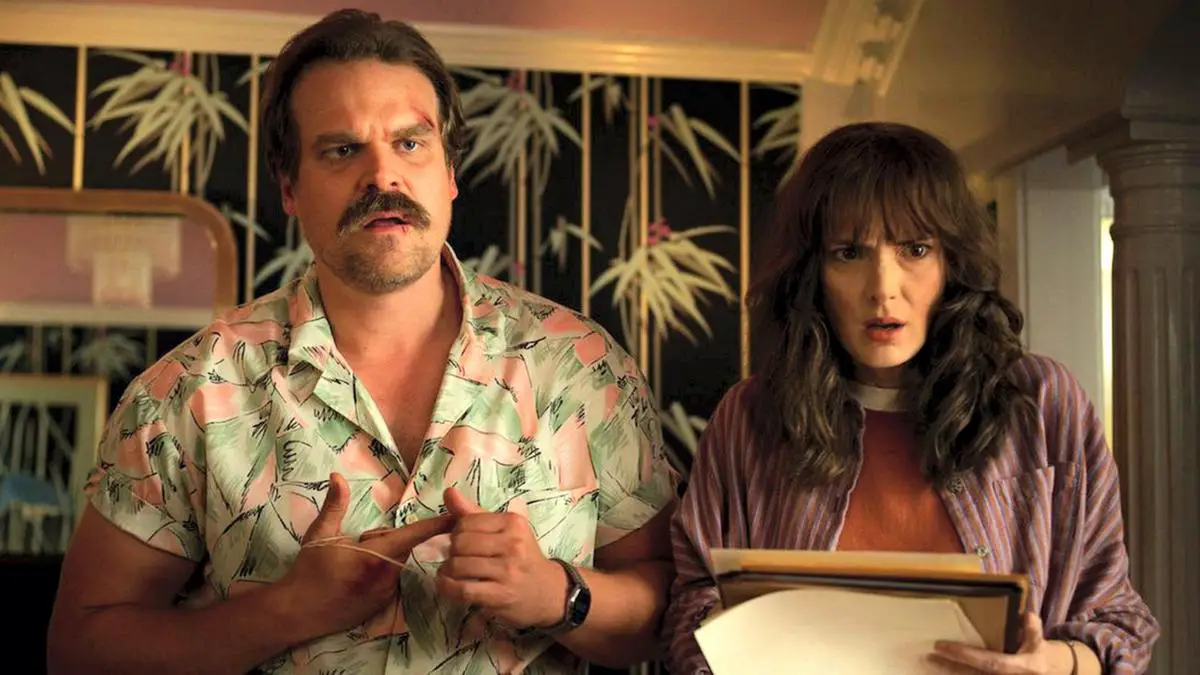 As for the younger cast members, cuteness has given way to the angst of teen dramas. Schnapp's Will is discovering the loneliness of being a fifth wheel as his peers begin to couple off together. Mike (Finn Wolfhard) and Lucas (Caleb McLaughlin) are no longer interested in childhood games but instead are focused on rules to a new game: the opposite sex. As the boys make one blunder after another, their respective halves are maintaining self-respect. Max (Sadie Sink) and El demonstrate the importance of female friendship while building each other up. Through this female comradery, The Duffer Brothers explore fun and interesting ways to show how a girl with El's power could behave through the constraints of a normal teenage childhood.
Meanwhile, Nancy (Natalia Dyer) and Jonathan (Charlie Heaton) are forging ahead into the uncertainty of adulthood. Interning for the local newspaper, Nancy and Jonathan are Hawkins' answer to Lois Lane and Clark Kent. Dyer demonstrates a steadfast ambition against the sickly harassment a young woman of any timeframe is likely to face in the workplace. Nancy and Jonathan work best when together but the cracks of their relationship are starting to show. Returning cast mate Dacre Montgomery is given a more central role that he delivers with icy coolness. As Billy, he is more than just a bad boy lusted after by aging women at the pool. Billy is pure danger. And, yet, there is a surprising vulnerability just below the surface.
By the end of the Stranger Things 3, I was run through a gauntlet of emotions. I cheered for Matarazzo. The performances from Harbour and Brown had me tearing up. There were certainly nail biting moments and at times my leg would not stop shaking. Stranger Things 3 treads on familiar territory; however, the series continues to push forward. The Duffer brothers give tribute to the references we have come to expect while at the same time knowing when to move on. They increase the level of danger in fresh and unexpected ways. Horror fans will not be let down on the level of jump scares, gore, and creepy neon atmospheres.
An interesting commentary is made regarding the main shopping mall setting of season three. Right out of a Gap commercial, this newly built mall is all shine and neon. The majority of action takes place here and the mall, itself, becomes a metaphor of fear. Pulverizing many small businesses, the shopping mall as an entity has become a decaying feature of American economy. Based on promises of hope for the future, the mall ended many independent ventures to make way for corporate America. Decades later, many malls across the country contain vacant, empty spaces representing regret and loss.
Related: Back to the '80s: Firestarter
Well done, Duffer Brothers. They have again revived a time in history that continues to echo its influence over thirty years later. I've been with Stranger Things from day one, and I braced myself for the inevitable decline. Instead, audiences will join me in celebrating another triumphant return to Hawkins, Indiana. As the series continues to embrace the beloved decade that was the 1980's, complete with inside jokes and commercial references, ultimately what is delivered is a sincere gift to the horror fan that loves good old-fashioned thrills mixed with hilarious laughs. And a story that shows the power of the horror genre. A power that can transcend genre to become a beloved and universal tale. Matarazzo's Dustin would point the finger at me as a potential nerd and he would be right.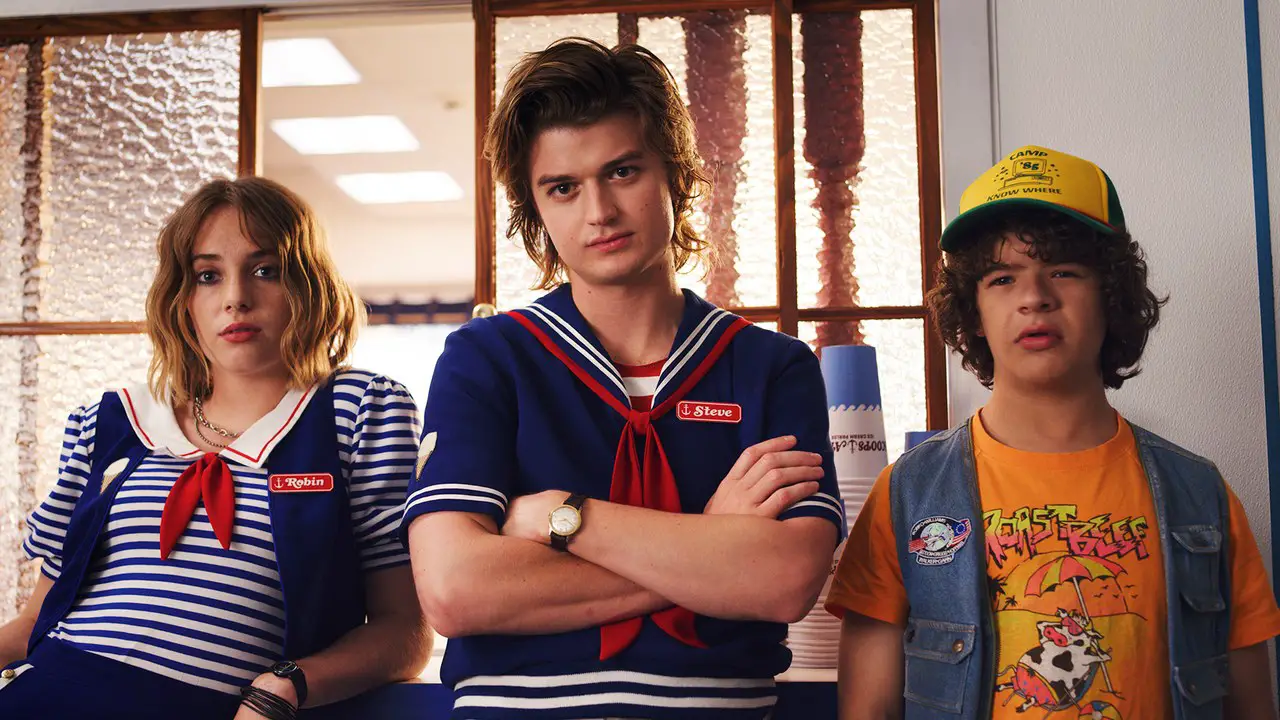 Wicked Rating: 9/10
Director: The Duffer Brothers
Written by: The Duffer Brothers
Stars: Winona Rider, David Harbour, Finn Wolfhard, Millie Bobby Brown
Release Date: July 4, 2019
Studio/Production Company: 21 Laps Entertainment, Netflix
Budget: Unknown
Length: Approx. 50 minutes
Sub-genre: Science Fiction, Thriller