What would you do if you could see the moment of your own death? Would you try to change it? Tell Me How I Die is a new horror film that explores that very concept.
A group of college students sign up for a clinical drug study that's paying participants $2,000 to take a drug that is supposed to enhance memory. The facility where the group of college students meet is very secluded in the mountains. Once the students arrive at the facility it's right at the start of a blizzard. As horror fans we know that something awful is about to happen!
The first character we meet is Anna, a broke college student who was just fired from her job. Next is Den who seems to have a sweet spot for Anna. Kristen a poor little rich sorority girl who's father recently cut her funds. Then, there's Marcus the gambler. And finally Scratch, played YouTuber by Ryan Higa. Scratch doesn't take things seriously and is a pro at these clinical studies.
After some hesitance, Anna desperate for money, takes the drug but never lets down her guard. As Anna and the others take the experimental drug, the side effects are different for everyone. The majority of the characters are able to see the future which seems as if it could work to their advantage but quickly turns deadly. Unfortunately for the group, the side effects are the least of their troubles, since there's a lunatic killer who can see the future and knows their every move. From then on out, the students must find a way to escape the deranged psycho on the loose.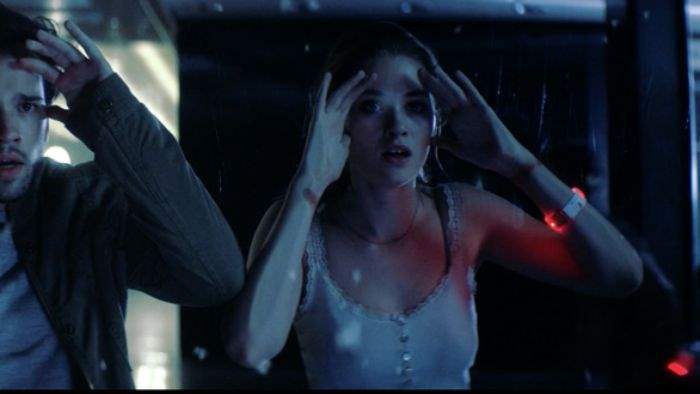 Tell Me How I Die reminds me of Final Destination and any horror movie from the early 2000's. The concept itself is very fascinating and definitely grabs your attention, however it's forgettable. This film lacks any sense of substance, the dialogue is a bit awkward, the characters are stereotypical and the mysterious killer is pointless and boring.
Judging by the poster for the film I thought that Ryan Higa was a main character, however he only appears in a supporting role.
The cinematography isn't bad but there is an tint of blue that's used throughout the film and I'm not sure why.
Two things I really liked about the picture were the pacing and sense of tension. Things didn't happen to fast or too slow in the beginning of the film. The tension is all throughout, because as the viewer I was constantly wondering what was going to happen next.
Overall, Tell Me How I Die could have been more than what it was, however it's still an entertaining movie. Tell Me How I Die should be on your radar if you enjoy light horror fare
WICKED RATING: 4.5/10
Title: Tell Me How I Die
Director: D.J. Viola
Writer: James Hibberd
Stars: Nathan Kress, Virginia Gardner, Kirby Bliss Blanton
Release: September 2, 2016
Studio/ Production Co: Big Block Media Holdings
Budget: Unknown
Language: English
Length: 107 Minutes
Sub-Genre: Horror