Universal's fated Dark Universe began and ended with the baggy, listless, Tom Cruise-starring The Mummy, leading nobody to believe another creature from that pack, The Invisible Man, could prop up his own movie. How delightful, then, that Leigh Whannell's take is not just a brilliantly modern twist on the character but one of the strongest and most socially relevant offerings of 2020 so far. Equal parts harrowing abuse story and genuinely terrifying horror movie, it's a #MeToo shocker with a darkly fantastical heart.
Elisabeth Moss is Cecilia, a woman in an abusive relationship who, as the film opens, is fleeing for her life. After just about making it to safety, Cecilia recovers in the safety of a friend's home, afraid to even venture out to the mailbox, lest she be spotted by her ex. But her fears are calmed somewhat when the man who's been making her life a misery for god knows how long kills himself, leaving his massive fortune to her.
The fine print, of course, advises Cecilia can't commit any crimes or be ruled mentally ill. And, almost immediately, she begins being stalked by an unseen entity who, the poor woman believes, is actually her ex. You see, Adrian (British actor Oliver Jackson Cohen, oozing menace) was a world-renowned tech genius; if anyone could figure out the secret to invisibility, it was him. But, as everybody around Cecilia comes to believe, she's just a woman on the edge in desperate need of therapy for all she's been through…right?
Related: Leigh Whannell Talks Upgrade [Frightfest 2018 Exclusive Interview]
The Invisible Man is an expertly controlled horror story. At just over two hours, it should become tiresome but, although this is by no means an easy watch, the film is so slickly, carefully done the time flies by. However, Whannell keeps the tension so tight and constricting there are moments when it genuinely is hard to watch. It's an excruciatingly effective movie. Modern horror, particularly Blumhouse fare, tends to follow particular guidelines but Whannell has more than a few horrifying tricks up his sleeve. Just when things seem safe and calm, he pulls the rug out from under us spectacularly.
The Aussie filmmaker, who made his name with buddy James Wan on Saw and the Insidious films before transitioning into making his own stuff with the brilliant Upgrade, shows a remarkable control of tone here. The focus is resolutely on Cecilia rather than the titular ghoul, which was his intention upon originally agreeing to the project (making The Invisible Man a villain rather than a hero). The camera clings tightly to Moss, who appears in virtually every scene, utterly commanding the screen.
Also See: Five Short Story Adaptations that Ignored the Source Material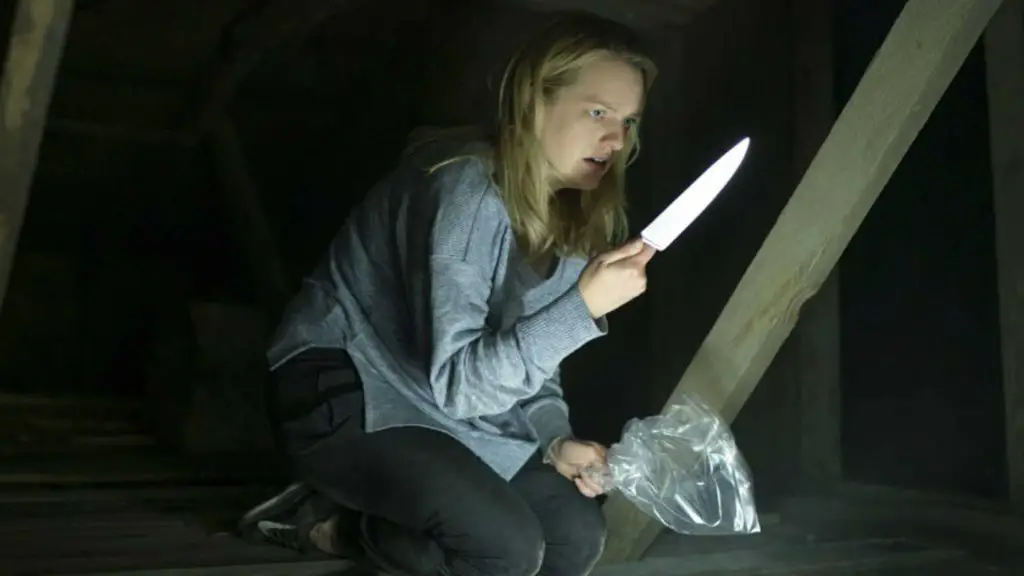 Wisely, Whannell doesn't offer any back-story for her relationship with Adrian. The film kicks off with Cecilia about to leave him and that's that, the writer-director confident his leading lady will communicate everything we need to know via her performance alone. As a result, the focus is on Cecilia's recovery rather than Adrian's abuse of her. As she tries desperately to fight back against him, to the disbelief of everybody around her, Whannell makes a strong argument for understanding the struggle of escaping an abusive relationship.
The Invisible Man's title could therefore be read in several different ways. Obviously, it's first and foremost a tale about a man who renders himself invisible and wreaks havoc on those who can't see him. Another interpretation could be that the titular man is every abuser a woman has screamed about only to be met with disbelief from those around her. Plenty of abuse happens behind closed doors, with no visible bruises left behind afterwards, and "the invisible man" speaks to those instances too.
See Also: Six Great Moments from Bad Horror Movies
At one point in Whannell's film, Cecilia's well-meaning friend, James (a somber Aldis Hodge) asks whether Adrian used to beat her up, to which she responds, "Among other things." The abuse here, both before and after Adrian's supposed suicide, is largely psychological and Whannell makes a case for how this kind of mistreatment can be just as damaging, if not more so, in the long run. Likewise Cecilia is widely disbelieved because her mind is in such disarray.
The Invisible Man is an incredibly strong, intelligent, and well-considered #MeToo horror story but as a straight horror movie it's just as effective. Whannell teases us with lengthy sequences during which the camera lingers behind Cecilia, suggesting somebody or something is lurking. When the figure is finally glimpsed, it's a gut punch of a scare, the kind no amount of screeching violins or demon dolls slowly turning their heads could ever compare to.
Moss does a fine job fighting off the unseen entity too, thrashing her body about the place. The actress worked with a stunt-person but the scenes are so expertly choreographed, evoking some of Upgrade's lively action sequences, it's genuinely like she's alone in the moment, fighting against herself. For a villain who's largely unseen, The Invisible Man feels incredibly tactile. The threat is keenly felt throughout, which is a testament both to Moss's wildly committed performance and Whannell's deft handling of the material.
Also See: Eight Movies That Would Have Been Terrible if They'd Been Exactly What Fans Wanted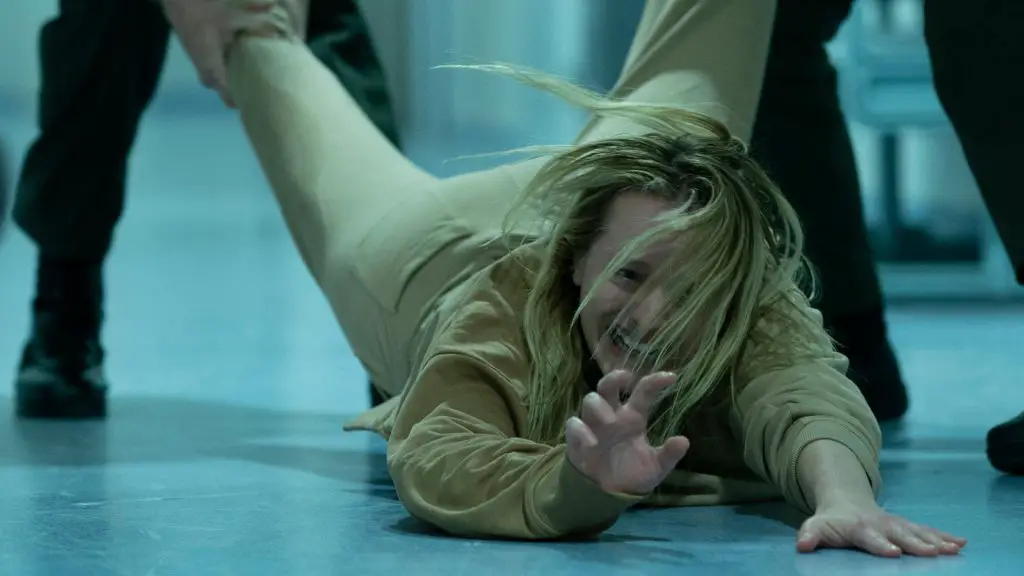 The level of detail on show is truly remarkable, particularly the sound design, which punctuates each blow and echo brilliantly. The opening sequence is a masterclass in building tension purely using sound, as Cecilia tip-toes around the clifftop mansion she shares with Adrian, desperately trying to avoid noisy items such as a dog bowl laying on the floor. Everything becomes part of an obstacle course to freedom, and Whannell keeps this tension ratcheting up as his protagonist is subsequently stalked by someone only she can see.
Doing #MeToo themed stuff, particularly as a male filmmaker, is always going to be tricky. Even with the best intentions, it can be difficult to put oneself in the shoes of an abuse victim, but Whannell ensures our sympathies never drift from Cecilia. The twisty narrative makes it clear she's being gaslighted right from that nail-biting opening sequence, whether tussling with Adrian's slimy brother (a well-cast Michael Dorman) or desperately trying to protect the friend's daughter she's put in danger (Storm Reid, making an impression in a small role).
See Also: WIHM 2020: Horror is Punching the Patriarchy in the Face. Literally.
Movies like this showcase just how effective horror is at reflecting society's ills back at us. Horror cuts straight to the core of the issue in a way no other genre can. Those of us who have experienced abusive relationships will find The Invisible Man difficult to stomach at times as Whannell taps into the fear we'll never be fully rid of our abusers. The film dissects that worry in an ingenious way that's remarkably true to life while simultaneously managing to be an entertaining, frequently shocking, and fantastical horror movie — a deceptively difficult balancing act Whannell pulls off with aplomb.
​Moss will receive many plaudits, and rightly so, for her skilled performance here but credit must go to Whannell, too, for choosing to tell this particular story in a manner that, hopefully, will get as many eyes on it as possible. The Dark Universe may be dead in the water but The Invisible Man shows there's life in the old monsters yet, especially if they're used to tell gripping, inescapably modern stories like this.
WICKED RATING: 9/10
Director(s): Leigh Whannell
Writer(s): Leigh Whannell
Stars: Elisabeth Moss, Oliver Jackson-Cohen, Aldis Hodge, Storm Reid
Release date: February 28, 2020
Studio/Production Company: Blumhouse
Language: English
Run Time: 124 minutes
Follow us on social media: Twitter, Facebook, Instagram, and Youtube