If you're anything like me, you've become quite bored with DVD covers as of late. While there are certainly some that stand out, most tend to all look the same. Overused stock images and photoshopped stills of the film's stars reek of little thought or effort. There's this one awful picture of a girl on the ground reaching for a camera that I see absolutely everywhere. I hate this stuff, but fortunately there have been a rash of movies lately with some absolutely amazing illustrated artwork attached. Tom Hodge, better known as The Dude Designs, has been responsible for the DVD artwork on films such as Father's Day, Wolfcop, and Hobo With a Shotgun, and his style has an outrageous and decidedly old school flavor. Hodge's work shows a clear affinity for the 80's and the VHS age, a time when a lower budget film's artwork was its' major selling point. VHS Video Cover Art is an open love letter to that era, and a celebration of the unsung heroes of the B-Movie market.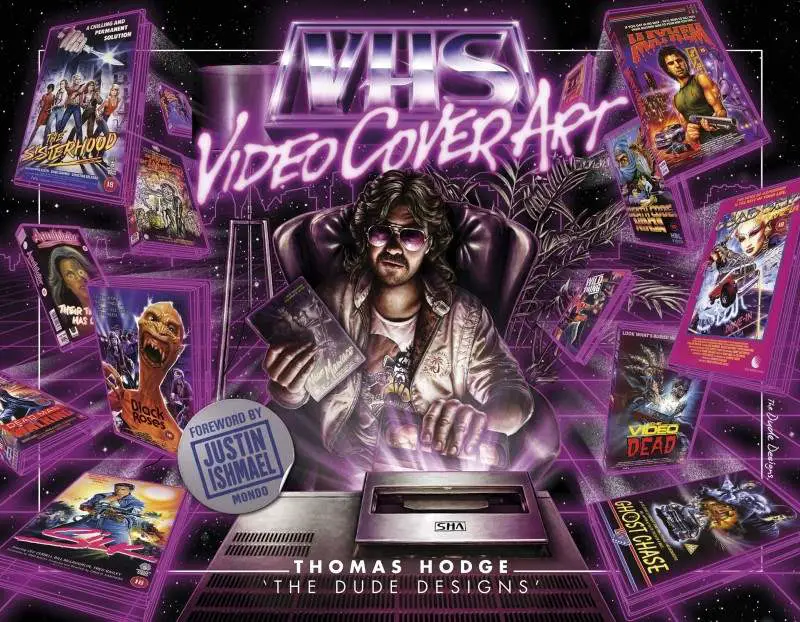 The book opens with a forward from Justin Ishmael, CEO of Mondo (makers of some seriously badass limited edition film posters) and an introduction by Hodge himself, both speaking on their personal experiences with VHS cover art. In particular, Hodge talks about times going to small mom and pop owned video stores and being mesmerized by all of the work on display. Following that we just have pages and pages and pages of old VHS covers, separated by genre. While there are some recognizable titles here such as
Evil Dead
and
Night of the Creeps
, the vast majority of these films are much more obscure. Maybe this was a rights issue and these kinds of movies were easier to get a license to reproduce, but I actually like the focus on the obscure a lot. Flipping through this book I found myself writing down quite a few of these titles on my "movies to check out" list, and at one point realized that I was having an experience similar to that aforementioned video store visit.
All of the art is reproduced beautifully, being laid out to show both the front and back of the VHS box. Not every cover is good in a technical sense, but they're all at least interesting. The vast majority are illustrated, but even the handful that do utilize photos look like the images were taken especially for that particular cover. They stick out a little bit, but still show more creativity than a lot of the designs that get puked out today. Stylistically this stuff is all over the place, ranging from the cheesy, to the goofy, to the surreal. Sure, there's a lot of fire, monsters, scantily clad women, and shotguns, but you'd be amazed how many things you can do with that imagery. They've tried to credit every image to the original artist, but many of them have just been completely lost with time, leading to N/A being the one with the most pieces represented here. If we're talking actual specific artists though, I loved seeing some of Graham Humpherys' work here. His style is a bit rougher around the edges and less smooth than most of the others, but every piece looks like it's just coming right to life. His Evil Dead and Return of the Living Dead pieces are among my favorites.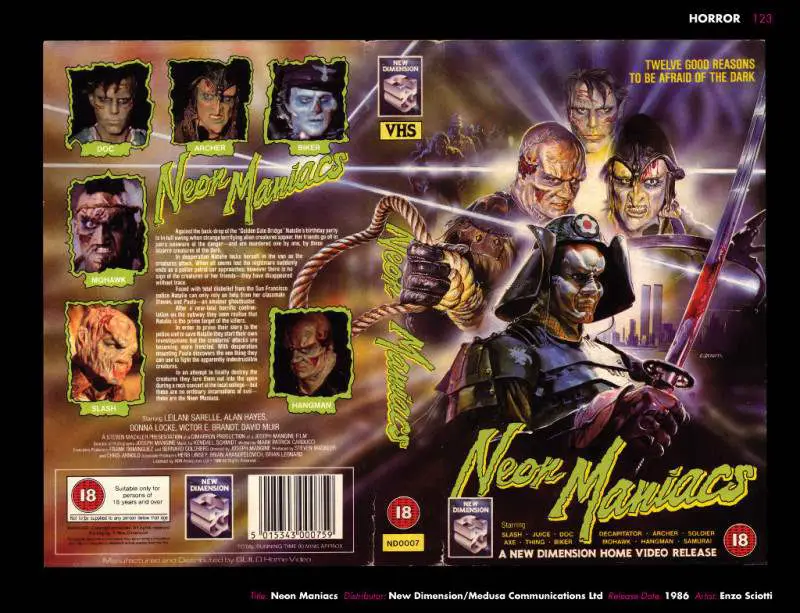 VHS Video Cover Art is an amazing coffee table book for fans of the 80s, the VHS boom, or B-Movie culture. If I had any criticism it might be that I'd like to see a bit more in the way of text. Not enough to distract from the pieces themselves, but I'd love to read some interviews with the artists or possibly even the art directors from these b movie production companies to get a view from the inside. Still, this is an incredible tribute to a very specific part of film culture and if you have even a passing interest in this stuff then I'd recommend picking it up.