It's Friday and you know what that means; time to invest in some blackout curtains so that pesky sunlight can't bother your- Welcome back to New on Netflix, your weekly update on the spooky films and TV shows added to Netflix's library. The streaming giant's horror department has always been a mixed bag. However, I'd say they've really stepped up their game in the last couple of years with the release of amazing, essential watches. We've been treated to must see original programming like The Haunting of Hill House, Velvet Buzzsaw, Hush, and some of the classics we all know and love.
This week our list features a mission to Mars and a dark world filled with monsters.
Stowaway
During a mission to Mars a three person crew is faced with an impossible choice when an unplanned passenger jeopardizes the lives of everyone else on board. Stowaway arrives to Netflix on April 22nd.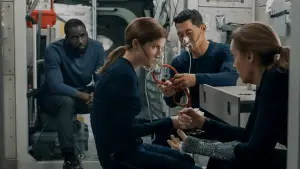 Shadow and Bone
One Netflix's biggest series debuts of 2021 arrives to the platform on April 23rd. Sinister forces plot against a young soldier after revealing she possesses a power that may unite her crumbling world. Also arriving on the 23rd is the Shadow and Bone Afterparty where the stars of the show discuss the show's epic combat scenes, answer some fan questions and play an "Army vs. Crows" trivia game.