Welcome back to New on Netflix! The streaming giant's horror department has always been a mixed bag. However, I'd say they've really stepped up their game in the last couple of years with the release of amazing, essential watches. We've been treated to must see original programming like The Haunting of Hill House, Velvet Buzzsaw, Hush, and some of the classics we all know and love.
This week we have another short list featuring two movies!
A Babysitter's Guide to Monster Hunting
Arriving on October 15th is A Babysitter's Guide to Monster Hunting. When middle schooler Kelly gets roped into babysitting instead of going to a super cool party  she thinks the scariest part of her night will be the death of her social life. But when the child she's supposed to be watching gets kidnapped by minions of the literal Boogeyman Kelly learns there's a whole lot more to childcare than free snacks and watching Netflix.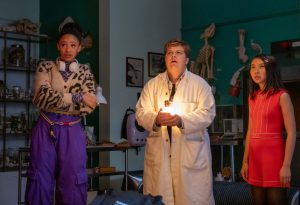 Unfriended
Best buds Blaire, Mitch, Jess, Adam Ken and Val are taking part in a virtual call when a user known only as "Billie227" crashes the party to terrorize the teens. Thinking its a prank or some kind of glitch, the friends carry on with the call. That is until Blair begins receiving messages from someone claiming to be Laura Barns, a classmate who died exactly one year prior.  As Blaire tries to expose Billie's identity, her friends are forced to confront their darkest secrets and lies. Unfriended arrives on Netflix October 16th!