Kids' horror tends to go overlooked, especially by older fans. The children who watch these film as their stepping stone into the genre tend to forget about them as soon as they move onto the more grown-up fare, discovering Freddy, Jason, Michael Myers and the like.
Children's horror is an overlooked sub-genre as a whole. While it gains much respect in literature, virtually the opposite is true for film. Horror movies geared toward children—with the exception of major classics like Something Wicked This Way Comes or The Witches—are usually looked at as lower-tier.
They can however, be much smarter, funnier and more well made than they are given credit for. The best of them appeal to both adults and children, offering up something for everyone, which is much easier said than done. Some of them may not even be the most well put together productions, but at least stand out simply for being entertaining.
The Watcher in the Woods
Watcher in the Woods was a pretty dark film for Disney, but as we've pointed out before, they've never actually been all that light. This one was very much a horror film akin to The Haunting and The Others (with an alien twist) in tone but geared toward a young adult audience.
Back to the '80s: Watcher in the Woods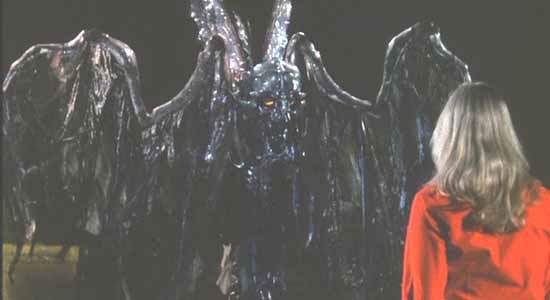 Under Wraps
Maybe this just came about at a time when child-me was desperate for more mummy movies (at a time before Stephen Sommers' The Mummy) came along, but I loved this one as a kid. It doesn't hold up now as being of hugely top-notch quality, sure, but it does have a very old-fashioned feel. In style and tone it feels fashioned after Abbott and Costello Meet the Mummy which is hard not to appreciate.
I'm always surprised when people haven't heard of this one, especially people who love the classic stuff. I may have been born decades after its release, but I grew up with this movie. As a kid, I couldn't get enough of it. In this stop-motion feature, Boris Karloff voices Baron Frankenstein, who assembles all monsters to his private island to announce his retirement. The humor is both absurd and dry in equal doses and all in all it's hard not to like.
The Ernest movies were never exactly high-brow humor, but they had their place, especially in the realm of children's entertainment. They were stupid but still adopted an old-fashioned Andy Griffith feel. Ernest Scared Stupid was the best of them and, I'll admit, was probably the movie that terrified me most as a kid.
One of the most underrated movies of its decade in general, Casper is way better than it should be. Christina Ricci delivers a really empathetic performance, completely casting away her image as Wednesday Addams. The film is full of goofy humor for the kids but it also boasts surprisingly heartfelt performances and a strong overreaching theme of accepting death. Casper is a feature that really should have been noticed by now.
Ray Bradbury's book The Halloween Tree is a masterpiece of children's horror and one of the best books about the holiday ever written. I discovered the story through the animated film, which I saw once as a kid on TV and then couldn't ever find again. By the time I discovered the book in college, I was convinced I'd made the whole thing up. There was nothing out there about this film, which should be in rotation every year without fail. The Halloween Tree should be as overplayed as It's the Great Pumpkin, Charlie Brown, there's just no excuse for it not to be.