Everyone has their favorite horror movies to watch around the Halloween season. Here at Wicked Horror, we're even giving our personal faves throughout the month. Usually, people watch the classics, the staples for either the genre or the holiday. Sure, everyone can throw in a campy unknown now and again but for the most part, if the average viewer is going to watch a feature around the holiday season, they're going to watch Halloween or Trick 'r Treat. 
Sometimes, though, you need a little cheese to get you through the Halloween season. Not everything can take itself too seriously and not everything can be good, but there's a perfect kind of entertainment that falls somewhere just in the middle.
With that in mind, we've got a list of Halloween-themed B-Movies to get you in the seasonal mood. Some of them are surprisingly good, some of them are so bad they're good, but all of them are pure entertainment.
House II: The Second Story
With all of the wacky, inter-dimensional, Old West, prehistoric hijinx going on in House II: The Second Story, it can be easy to forget that the film is set during the Halloween season. But it is. It even includes a Halloween party in which you can spot Kane Hodder in a gorilla suit. Overall, it's a stupidly fun movie, completely different but maybe even more outlandish than the first.
Related: Life Lessons I Learned from House II: The Second Story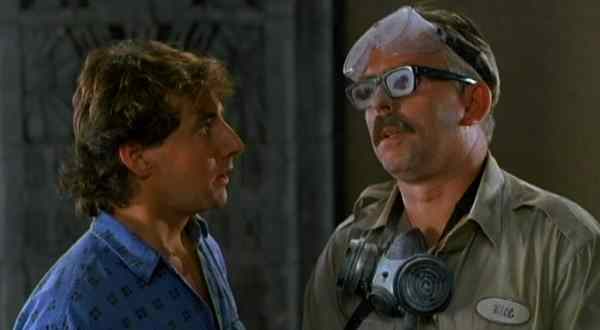 Pumpkinhead II: Blood Wings
Judging by the ceramic pumpkin that shatters to the ground in a single shot, Pumpkinhead II is set around Halloween. Whether that counts or not, both of the first two features in this series are drenched in Halloween atmosphere. Of the two, Pumpkinhead II is definitely the cheaper, sillier option. But in that it nonetheless has a kind of charm.
Murder Party is campy, but also a lot of fun and pretty well made. It's one that should legitimately be seen on a lot of lists around the Halloween season, yet it sadly hasn't gained that much attention. The premise is simple, a man invited to a Halloween "Murder Party" thinks it's a joke and attends, but it turns out to indeed be a night full of murder.
This was one that I watched quite a bit as a child, with the precious goggles of childhood, when you're blissfully unaware of how godawful a movie actually is. But I still have an affinity for Jack-O despite that. If you really want to be entertained, though, watch it with the commentary. The track includes the director and producer, who get into an uncomfortable and heated argument over a review that called the movie a "shit pickle."
Another one that should be on more people's lists, Satan's Little Helper may be extremely cheap but it's also kind of good. It deals with a little boy who is obsessed with Satan because of a video game called Satan's Little Helper. He meets a serial killer who he mistakes for Satan, offers to be his little helper, and then the movie is off and running. It's creepy, disturbing and brutally funny.
Night of the Demons is the John Carpenter's Halloween of Halloween-themed B-Movies. It's absolutely essential. It's drenched in atmosphere as well as the holiday itself and at the same time, it's an insanely fun Evil Dead ripoff that's a perfect blend of laughs, scares and pure off-the-wall absurdity. The sequels are also enjoyable, but don't have the same holiday spirit of the original.
Related: How Night of the Demons Re-Invisioned Possession Movies