Nerd Block is a subscription mystery box that delivers geeky collectibles right to your door each month. You can choose whatever theme box you are into–there's the Classic Block, Arcade Block, Sci-Fi Block, Horror Block, Comic Block, and even a Boys Jr. and Girls Jr. Block for younger kids. The sets always includes a t-shirt, along with 4-6 other collectibles that are often exclusive to Nerd Block subscribers. Today I am unboxing the December 2016 Horror Block.
After the delightful Christmas theme of the November 2016 Horror Block, things went back to being a random mish-mosh of items for the final block of 2016. From what titles did these exclusive? Let's open up the block and find out!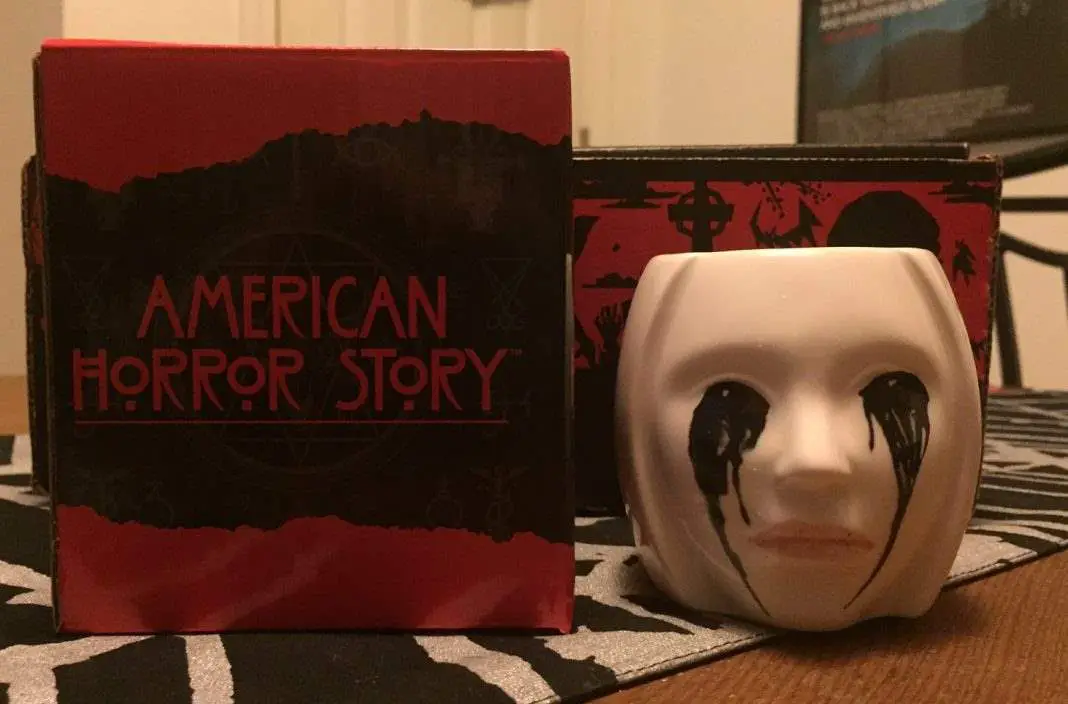 The first item is from the hugely popular television show American Horror Story, which just got renewed through 2019. This item is a pencil holder that features the show's most iconic image, the white-faced nun crying black tears from season 2's Asylum. The holder is about 3 inches tall with a 2-inch base, and made out of a ceramic material rather than plastic. While a pencil holder is not a terrible exciting item, it's another one of those neat things from Horror Block that you can put around the house that's useful and lets you show your horror love in a subtle way.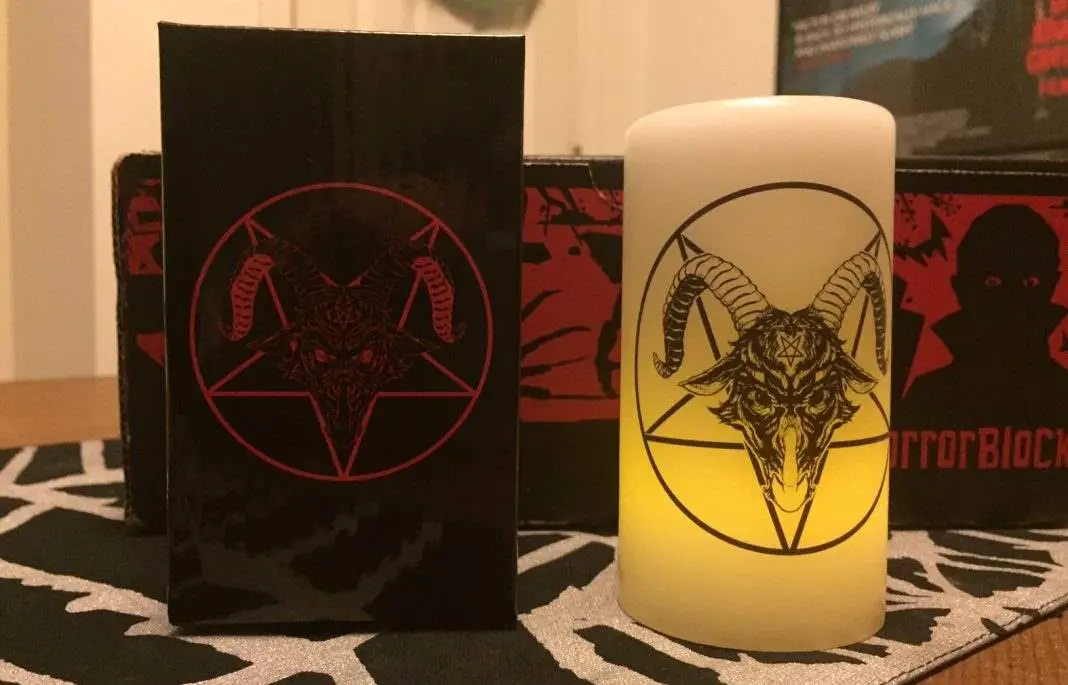 Next up in the not-so-exciting category is this item. Here we have an LED candle featuring the image of Baphomet, the goat-headed symbol of the occult. The hollow candle is about 4 inches tall and 2 inches wide and has an LED light inside on the bottom that flickers to resemble a real candle. I actually prefer this to a real candle because of my very rational fear of accidentally burning down my apartment, so I like this.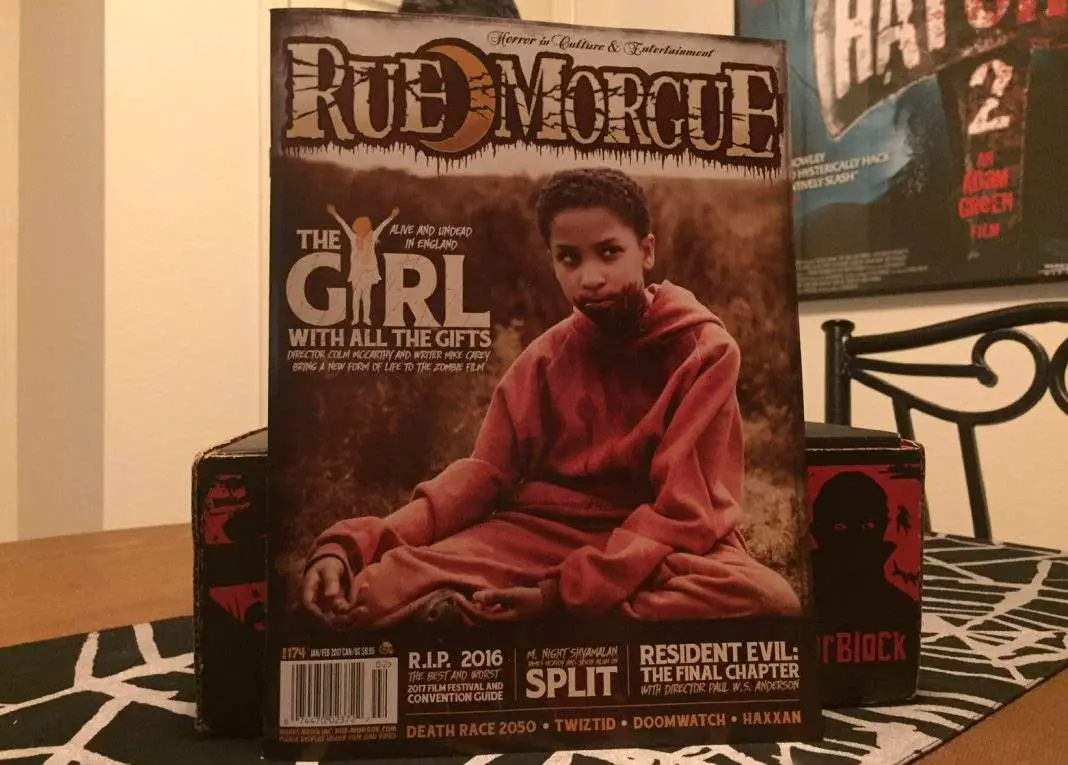 The third item in this Horror Block is the latest issue of Rue Morgue magazine. Issue #174 (January/February 2017) has a cover image of the new zombie film The Girl With All the Gifts. Inside, there are interviews with director Colm McCarthy and screenwriter/author Mike Carey. The magazine also covers other upcoming horror features like Split and Resident Evil: The Final Chapter. The former is an in-depth article with interviews from M. Night Shymalan, Jason Blum, and James McAvoy; and the latter is an interview with Paul W.S. Anderson. There is also a "Year in Review" section, a list of all upcoming horror conventions for 2017, plus much more.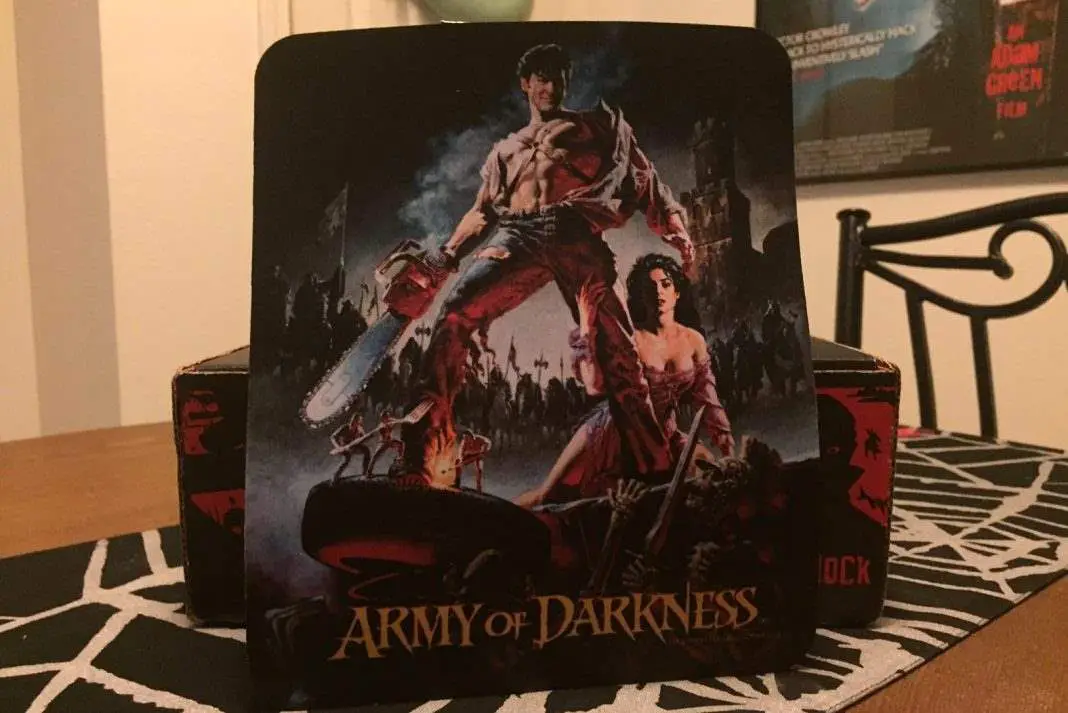 I've been waiting for a really great Evil Dead item from Horror Block, and they finally delivered it this month. This exclusive item is an Army of Darkness mouse pad featuring the classic art from the original poster for the movie. It looks to be slightly bigger than the average mouse pad, and the image quality is great–clear and colorful. Now I will never be too far from Bruce Campbell's rippling abs, and that is a great place to be.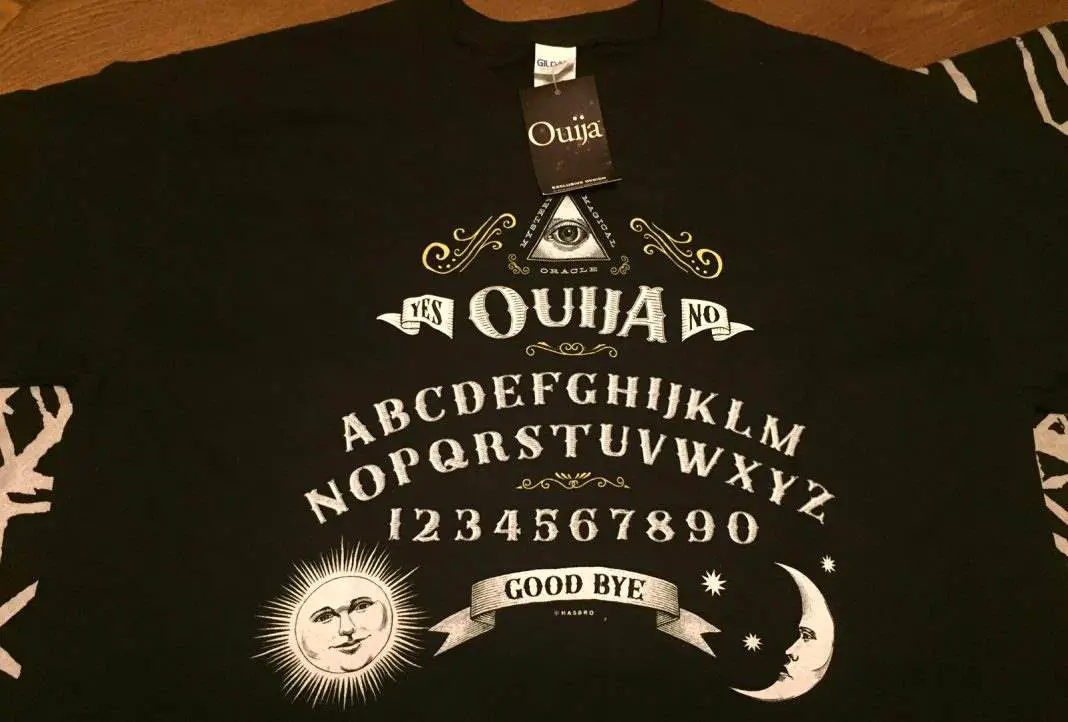 Ouija might not be the most popular horror film of recent years, but the resurgence in popularity of the board game has made for some cool items in Horror Block. Just two months ago, subscribers got a money clip in the shape of the planchette from the game. Now we can all become "human planchettes" with this t-shirt. The full Ouija board is represented on this shirt, which doesn't seem to come from the same company that Horror Block usually uses. Considering my love of all things supernatural, this shirt is a hit with me.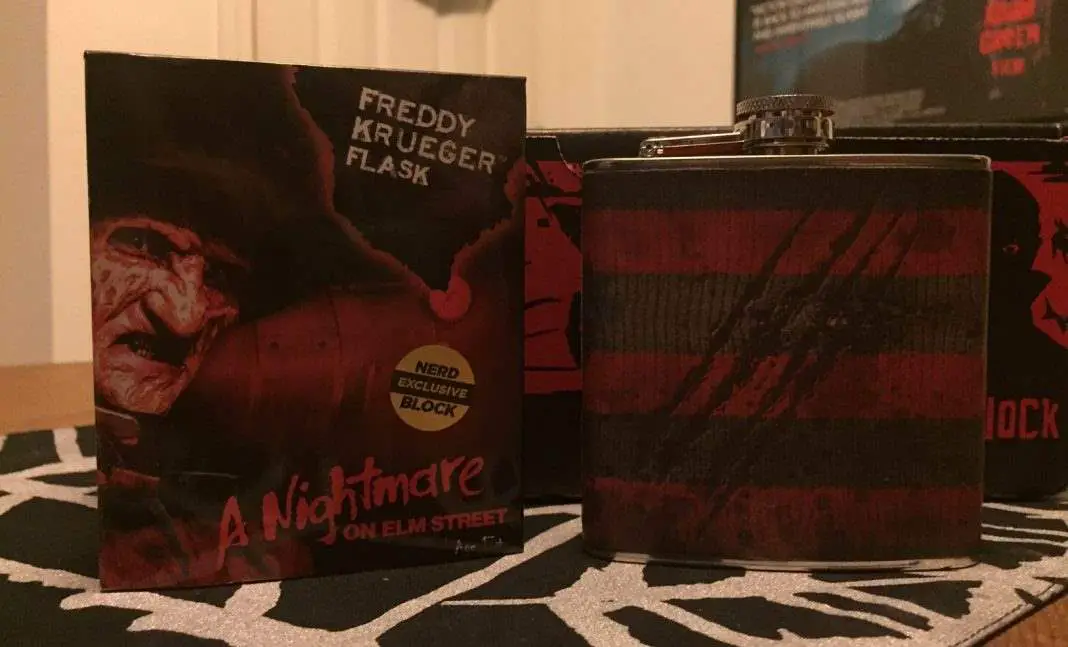 The last item in the December 2016 block is the one that we were supposed to get in the October block. That time, there was an issue with getting the item through Customs so they had to include a much less cool replacement item. But, two months later, things have been resolved so subscribers could finally get this truly awesome item–a Freddy Krueger flask! Freddy himself doesn't appear on the flask, but rather, the iconic red and green stripes of his sweater decorate the curved bottle with slash marks on one side.
The last Horror Block of 2016 was pretty great. I always like to get the t-shirt and the magazine, but it is items like the flask and the mouse pad that make me keep my subscription. Other non-movie specific items like the candle are fine, and I am glad that was the only random item this month. The first block of 2017 is coming soon, and will feature items from such titles as The Silence of the Lambs and Resident Evil, so stay tuned to find out what those are! If you like what you saw here, head on over to Nerd Block to start your subscription today!