When you think of horror what comes to mind? Masked slashers hiding in the darkness? Terrified victims being tortured in a warehouse? Horror is a genre that can be dark and disturbing, but that's not all it has to offer. Not everything has to be quite so serious. Enter Troma, an independent film studio that revels in the sheer lunacy of the material they put onscreen. Founded by Lloyd Kaufman and Michael Herz in 1974, this is a company that not only has a style so distinct and unique that their effect and influence will be felt for a long time, but they are one of the loudest and most active voices when it comes to promoting independent filmmaking as a medium.
In the forty years that the company has been around they've put out quite a few films and it can be pretty intimidating to newcomers. That's why I've assembled (in chronological order) the films that I believe you should watch first if you wish to dive into the Troma library.
Related: B.C. Butcher is a Tromatic Feminist Slasher Film [Review]
The Toxic Avenger (1984)
While there were a few notable releases prior to Toxie's debut such as Charles Kaufman's Mother's Day, this is the movie that put them on the map. For all intents and purposes we will treat this as the starting point. Simply put, Toxie is an icon. He's effectively Troma's mascot and even now 30 years later he shows up in some capacity everywhere they go. The Toxic Avenger is part monster movie and part superhero film, and for the only time I can remember shows what would really happen if somebody with super strength went around punching regular people. Toxie destroys everyone in his way in increasingly gory fashion. This movie is bloody, crude, hilarious, and wildly entertaining…And it's just the tip of the iceberg. It spawned three sequels and Citizen Toxie: The Toxic Avenger IV might be even better than the original.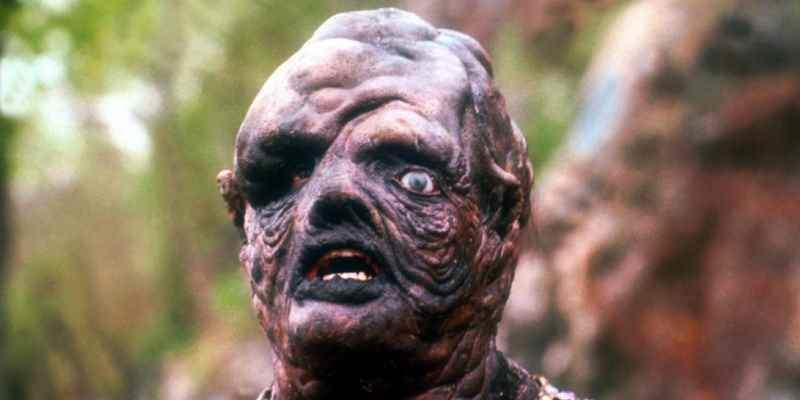 Sgt. Kabukiman N.Y.P.D. (1990)
With the success of The Toxic Avenger in Japan, Kaufman and Herz headed over there to film it's sequels. This is when they were approached by Tetsu Fujimura and Masaya Nakamura to create a Kabuki-themed superhero for Namco. Sgt. Kabukiman N.Y.P.D. is interesting to watch because it differs from most Troma productions in a number of ways. It's pretty tame by Troma standards, with the initial cut being PG-13 and even the later R Rated version not containing the same level of violence they were known for. This was a troubled production, however. Namco and Herz went in wanting something with more mainstream accessibility, but Kaufman wanted to continue in the "sex and violence" style that had worked with The Toxic Avenger. What resulted was something a bit uneven and the movie sitting on a shelf for six years. For my money it's still a bizarre and unique film with plenty of charm. Not to mention this is where the infamous "Troma car flip" that would appear time and time again originates from.
Aside from the films made in-house by Kaufman and Herz, Troma also serves as a distribution company, having released such exploitation madness as Surf Nazis Must Die and the more recent Father's Day (created by newcomers Astron-6). Cannibal! The Musical comes to us from South Park creators Trey Parker and Matt Stone and is probably more well-known for that and its' hilarious drunken commentary track than anything else. Starting as a student film what we have here is something incredibly ambitious, but relatively unpolished. There are moments of brilliance peppered throughout and it's fun to see these guys before their rise to fame, but the aforementioned commentary track is still probably the best way to watch this one.
Around this time is where Troma really started to get their footing. Tromeo and Juliet is (quite obviously) a spoof on Shakespeare's classic Romeo and Juliet. While that may sound like a weird thing to make a low budget exploitation spoof of it works surprisingly really well. Penned by Guardians of the Galaxy director James Gunn, the script here is really smart and works in a lot more symbolism than you might expect. Troma's being a bit experimental here, but it really pays off.
Quite possibly Troma's best movie, Terror Firmer encompasses everything that makes this company great. With some really clever writing, over the top death scenes, and a cast that are having an absolute blast with the material, we have a film so fun and meta that it certainly gives The Cabin in the Woods and Scream a run for their money. Terror Firmer is a murder mystery that takes place entirely on the set of a Troma production. It even includes Lloyd Kaufman himself giving a brilliant performance as a blind director. This film here is one of the main reasons I've assembled this list in chronological order. Terror Firmer is so chock full of references, easter eggs, and nods to the rest of the Troma library that having seen the likes of The Toxic Avenger and Sgt. Kabukiman N.Y.P.D. beforehand will certainly heighten the experience.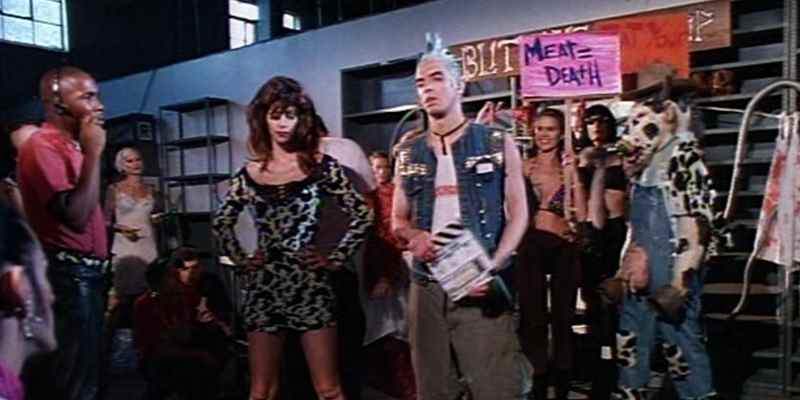 Poultrygeist: Night of the Chicken Dead (2006)
Alright, here's a movie that shows without a shadow of a doubt that Troma has absolutely no intentions of ever slowing down. Poultrygeist: Night of the Chicken Dead is a horror comedy exploitation musical and it's glorious. Part haunted house flick, part zombie film, this vicious commentary on the fast food industry is one of the most "on the nose" messages that Troma has ever put into a film and it's great. Seeing this brought me great joy as it's a fun, gory, slapstick musical that has something to say in spite of its' b movie tone, and that's something that Troma does really well.