Halloween has seen more reboots than any other modern franchise, which is something that a lot of people tend to overlook. There are many reasons for this, of course. Most people don't really know the difference between a reboot and a remake, which is fine. A remake is a retelling of an old story, whether it is a new interpretation or not. It features the same characters and tells the same basic version of events as what was done originally. Rob Zombie's Halloween falls into this category, of course. A reboot, on the other hand, can simply be any movie that ignores what happened immediately before it to either tell its own new story or return to an original formula.
This Halloween series has been rebooting from the time its very first sequel hit the screens. While audiences were, in general, satisfied with Halloween II, the filmmakers themselves were burnt out. If they were going to continue the franchise, they needed it to be something completely different in order to keep themselves interested. It was their decision to reboot the franchise almost right out of the gate instead of bringing Michael Myers back for another seasonal adventure. The end result was of course Halloween III: Season of the Witch. It was exactly what the production team wanted it to be.
It was not, however, what audiences wanted. While Halloween III has finally gained the audience and respect it deserves—for the most part—people hated it when it came out and hated it for years afterwards. Until very recently, it was considered a total flop. John Carpenter, Tommy Lee Wallace and Debra Hill had hoped to launch a seasonal anthology series beginning with Halloween III. Each movie would be released in October and take place on Halloween, but would be connected only by the holiday itself. But fans had spoken, and what they clearly wanted was Michael Myers. Having no interest in going down that road again, original co-creators Carpenter and Hill left the franchise.
Why Halloween: Resurrection Never Really Stood a Chance

In a way,
Halloween 4: The Return of Michael Myers
could almost be seen as something of a reboot as well. After
Season of the Witch
failed at the box office, it was a way of getting the series back on track by returning to its roots and continuing the story that ended in
Halloween II
—which was made seven years earlier. While it is a direct sequel to
Halloween II,
its approach is very similar to what
Halloween H20
would do and is also what the upcoming
Halloween Returns
appears to be doing as well.
Halloween 4 proved to be much more successful than Halloween III, and with that it set the stage for the next couple of sequels to follow. While Return of Michael Myers had been a fairly back-to-basics sequel, Revenge of Michael Myers started introducing stranger and stranger elements, including a psychic link between young heroine Jaime and Michael as well as the mysterious man in black. By the time 1995's Halloween: The Curse of Michael Myers came along, things had gotten as convoluted as they could possibly become. With a plot involving an ancient cult, and a possible incestuous relationship between Michael and his own niece—depending on which cut of the movie you watch—there was really nowhere left for the series to go at that point.
Luckily, Halloween H20 came along. While it's looked down on by most hardcore fans for ignoring the events of Curse of Michael Myers, H20 was a big hit when it first came out, winning over critics and audiences alike. People were invested, for the most part, in the return of Jamie Lee Curtis to the franchise and the way the story was treated as an earnest character piece about recovery from a serious trauma. At the same time, it was a return to the filming style of the original Halloween and its first sequel. Again, its success led to a direct sequel, the critically panned Halloween: Resurrection, which finally took the series in the direction of a flat-out remake.
How Halloween II Was Shaped by the Early Slashers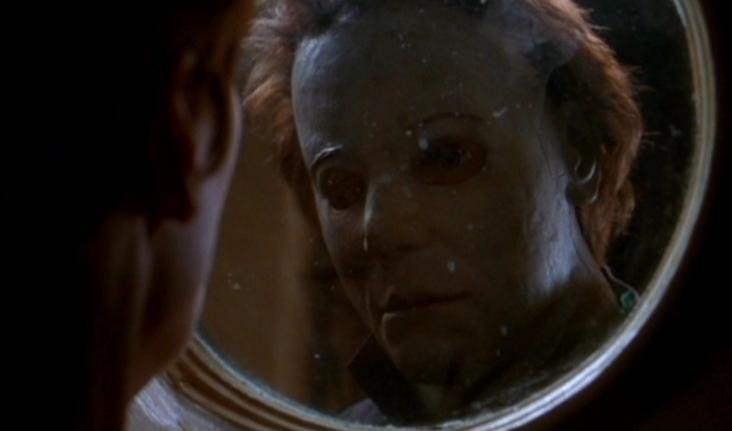 The purists who hate H20 for ignoring Curse of Michael Myers have always baffled me. So many of them admit to not even liking the preceding film, they just need to see that story continued because that's the story, like it or not. Fiction should never have to limit itself to those terms. If something doesn't work, then try something new. That's the key to the survival of the series, more than anything else. It knows when to stop and move in a different direction.
The Halloween series has used the template of the reboot to remain relevant for over thirty years, and it has worked. It's the tool this series uses to remain fresh. Now we find ourselves nearing another reboot with Halloween Returns. Like two other movies before it, it will ignore all but the first two entries. If it is successful, then it will no doubt spawn a direct sequel of its own. That's how this franchise has always worked. Of course some attempts are better than others, but those always come down to the filmmakers. A bad reboot does not mean all reboots should be outlawed. I think, instead of asking why these reboots have to be made and why there are remakes, people would be better off asking if they actually want to see the Halloween series—or any relevant franchise—continue.
Many people, I think, have discovered that they don't. And that's fine. In general, a lot of fans have gotten much nicer about their hatred for sequels, remakes, and reboots, when they realize that they're simply done with the franchise itself. I personally want to believe that Halloween will always be culturally relevant. It will always have its place. Yes, it follows the same cycle, the same pattern, but if that's the pattern it needs to follow in order to survive and stay fresh, I'm more than happy with it.