This past weekend, Dallas, Texas was host yet again to "The Southwest's Premier Horror Convention" – Texas Frightmare Weekend. Held every year the first weekend of May, TFW is a three-day long event that takes place at the Hyatt Regency Hotel inside the DFW airport, where horror fans converge to celebrate everything they love about their favorite genre. This year marked Frightmare's tenth anniversary and things were definitely kicked up a notch from past shows to honor the occasion.
Both making their convention debut at TFW, the show's headliners were Neve Campbell and Skeet Ulrich from the first Scream film. They joined the likes of such horror icons as Brad Dourif, Malcolm McDowell, Elvira, Sid Haig, Udo Kier, and Tom Savini. There were also two big film reunions – the cast and directors of A Nightmare on Elm Street 2: Freddy's Revenge and Phantasm were all in attendance. Other guests were Tara Reid, Jennifer Lynch, Camille Keaton, Sherilyn Fenn, Kim Coates from Sons of Anarchy, and The Shining twins, Lisa and Louise Burns.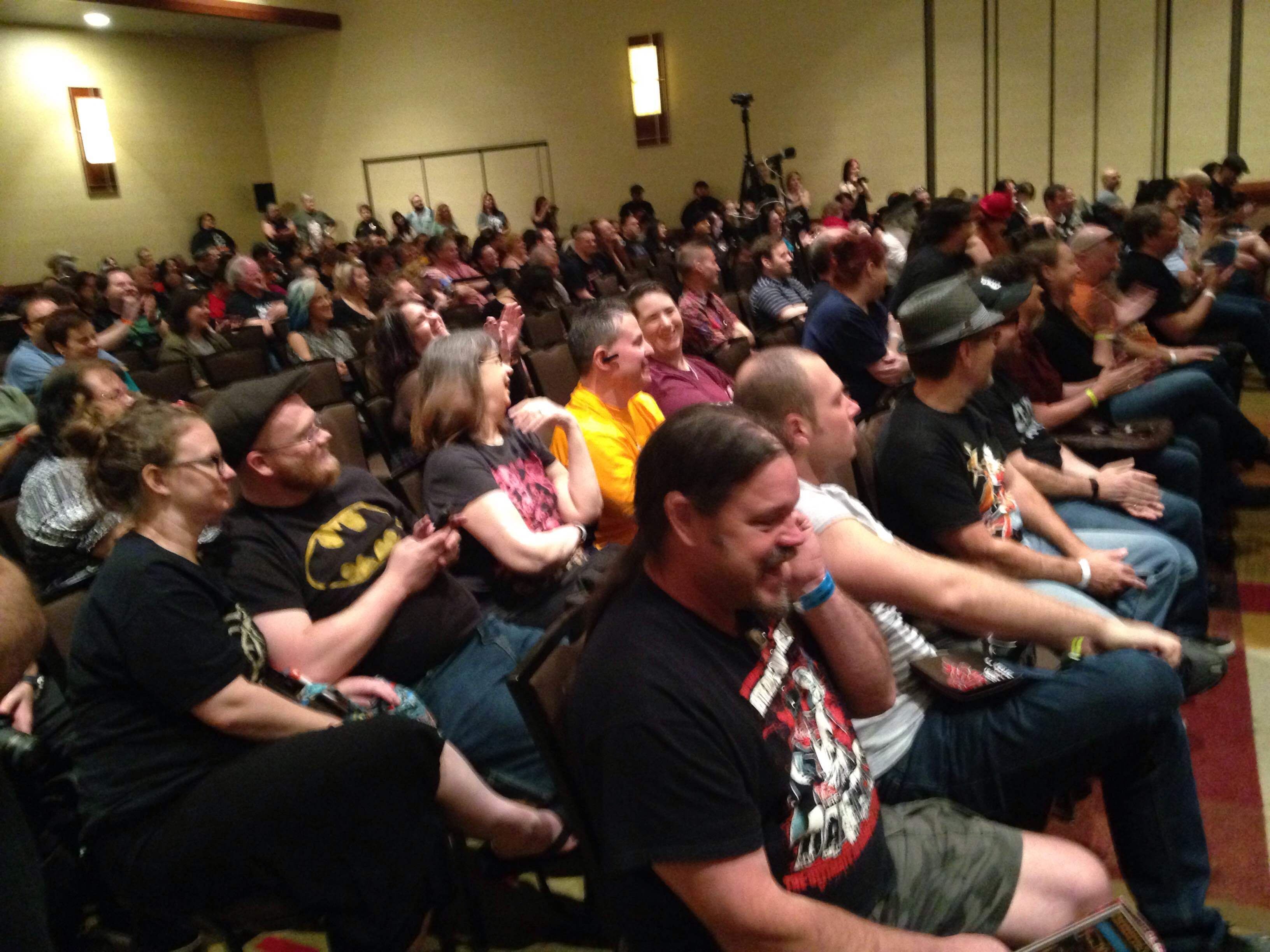 Though Friday is one of the shorter nights of the convention, the organizers still managed to pack the night full of events for fans to experience and enjoy. Professional photo ops with celebrities began, as well as a trivia contest and screenings for five films. One of these was the premier of Ryan Nicholson's Gutterballs 2: Balls Deep. Nicholson introduced the film, informing the first audience to ever see the film that it was still a rough version. The tone of Gutterballs 2 is somewhat more serious and trippy than the campy, exploitation-like tone of the first film, but fans of the first one should still enjoy the sequel. The main event for Friday night was the Phantasm Ball (nice pun). Attendees took part in a costume contest, a dance contest, AND a trivia contest. There was also a musical performance by Reggie Bannister and Bill Thornbury.
Saturday was of course the biggest, most exciting day of the convention and there was almost too much to see and do. Frightmare had some very cool and unique events for fans, and one of them was a horror art gallery called the Dark Arts Show. Ed Neal, the hitchhiker from The Texas Chainsaw Massacre, brought with him the original Grandma prop from the film and she looked just as good as always. Another special event was a presentation by Victoria Price, daughter of the legendary Vincent Price. Victoria showed personal photographs and told stories that showed what an amazing man Price was off-screen, and thanked fans for keeping his legacy alive. There were several panels throughout the day with the Burns sisters, Udo Keir, and two reunion panels with the people from ANOES2 and Phantasm. More screenings also followed later in the day, including the simple but hilarious horror-comedy Bloodsucking Bastards. There was also a cocktail party for the celebrities and VIP passholders, and their annual "Scaryoke" party for all attendees.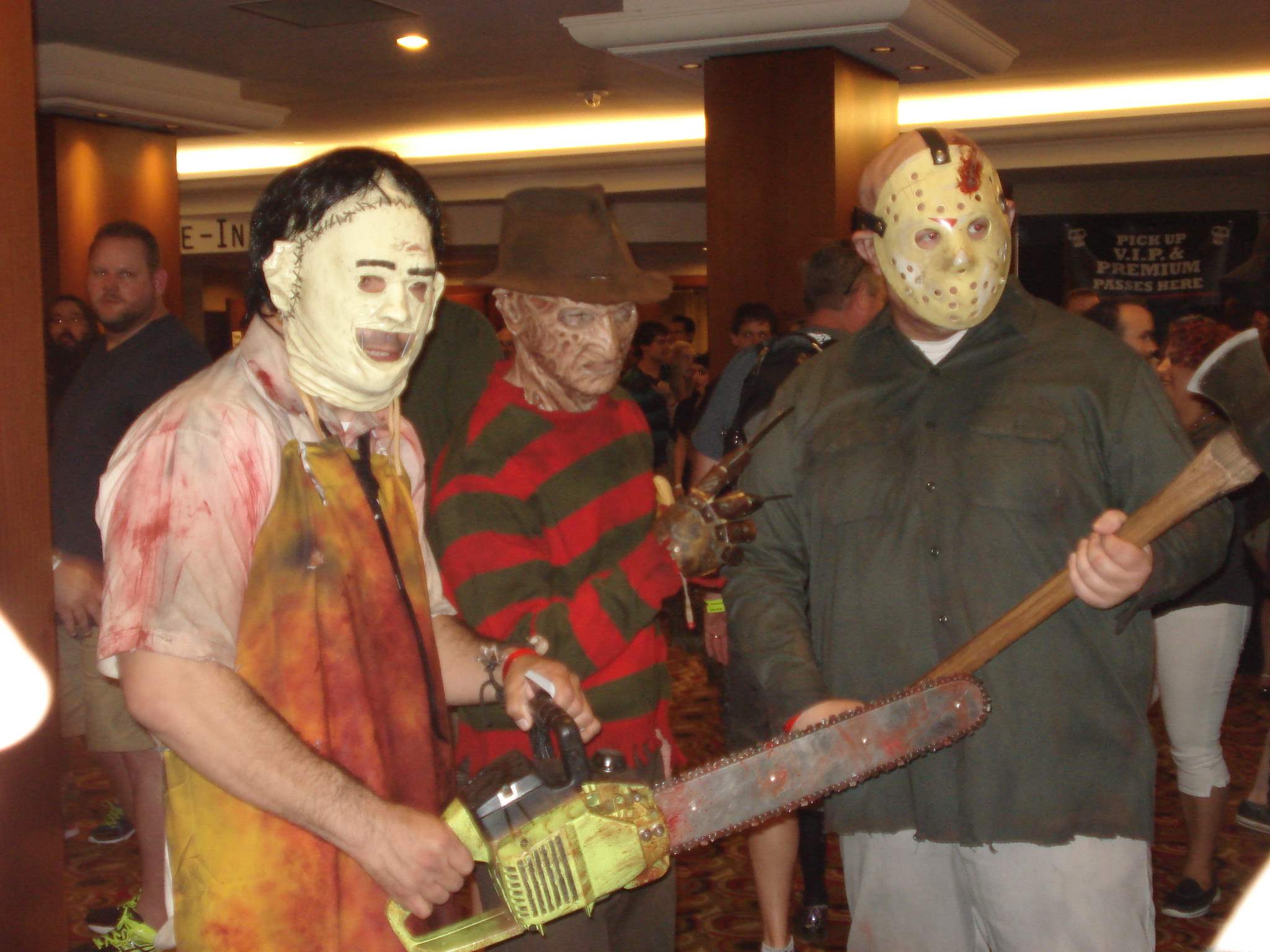 The cosplay creations were incredibly diverse and very creative. A female Chucky and a baby Chucky were both spotted, as were Baby and Otis from The Devil's Rejects; two American Marys; the Babadook (who actually won the costume contest the night before at the Phantasm Ball); a Gremlin; and my personal favorite, a depiction of Philip's "living puppet" death from A Nightmare on Elm Street 3: Dream Warriors. Vendors were selling everything from t-shirts, toys, and jewelry, to original artwork and creepy contact lenses. There was talent around every corner and at every booth, and the wallets of many attendees were no doubt a little lighter by the end of the event.
Things were more mellow and relaxed on the last day, Sunday, but there was still plenty of time for fans to get those last minute autographs and swag from the vendor tables. With such a huge guest list, there was somebody for everyone this year. I am a big Child's Play fan, so Alex Vincent and especially the incomparable Brad Dourif were the highlights of the show for me, but there were also many Scream and Phantasm fans getting amazing artwork and posters signed by the whole cast (there were also a lot of Phantasm: Ravager t-shirts walking around). Such icons like Dourif, Sid Haig, and Elvira were never without a line all weekend long. Haig even stayed after hours on the last day to make sure everyone got their autographs, proving how amazingly dedicated he is to his fans.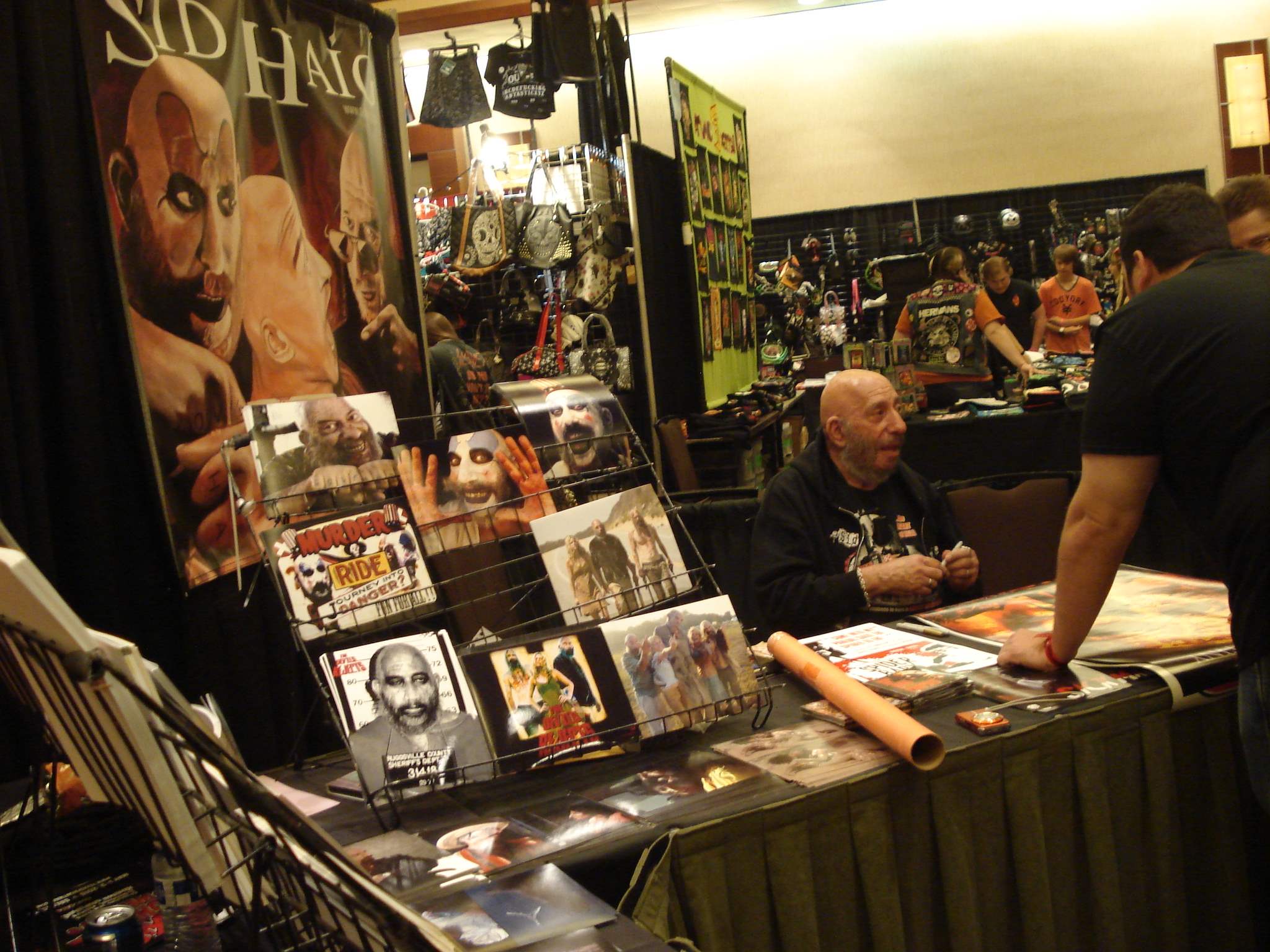 This was my third year at Texas Frightmare Weekend and the show has just gotten bigger and better. The founder of Frightmare, Loyd Cryer, and the amazing group of volunteers do a wonderful job each year at putting on a show that is not only jam-packed with awesome guests and events, but is also very well run and organized. Frightmare is the only horror convention I've ever gone to, and really, it's the only one I ever want to go to. Here's to the next ten years for Texas Frightmare Weekend!