Welcome to Script to Pieces, a recurring feature at Wicked Horror where we look at the best, most interesting and at times most unbelievable horror movies that never happened. Sometimes these will be productions that never came together at all, other times, they will be original incarnations that were completely different from what we wound up with. Each should be fascinating in its own way, because the stories of movies that never see the light of day can sometimes be even more interesting than the stories of those that do.
Horror fans are pretty mixed when it comes to the 2011 remake of Fright Night. I think it was a fun, funny film with some great casting and a smart script, ultimately hindered by an overabundance of CGI. But as a remake, I definitely don't think it was an absolute misfire.
But it was far from the first attempt at a Fright Night remake. In fact, for a long time, the remake was going to be in-name-only. There was definitely a plan to use the title, but instead of having anything to do with Charley or Peter Vincent or even vampires in general, it was going to be a slasher set at a carnival. When the studio decided that they actually did want their Fright Night remake to at least attempt to remake Fright Night, they brought on a couple of different people to come up with ideas.

Two of them were the writer/director team of Todd Farmer and Patrick Lussier. Their version took an interesting approach in updating the material for the 2000s. In this case,
Fright Night
is an '80s horror franchise, a remake of the "classic" Peter Vincent films of the '50s and '60s.
According to the treatment posted on Farmer's blog, Charley—now Charlie—is reimagined somewhat unsurprisingly as a World of Warcraft kid. Amy is also a little bit older than Charlie, viewed as something unattainable by him, which is a kind of interesting retooling of their relationship. Evil Ed is pretty much the same as he was in the original, which is almost refreshing.
The biggest reimagining, though, has to be the new take on Peter Vincent. The film really doesn't have a Peter Vincent except for showcasing Roddy McDowall's version as the star of the original Fright Night franchise. A strong chunk of the early stuff is building up to the second act HorrorCon which features stars of the '80s franchise, Jamie Lee Curtis and Tom Atkins, presumably playing versions of themselves.
For  me, one of the most interesting things about this treatment is that it includes Billy Cole, the one character kept out of both remakes of Fright Night. He's clearly meant to be played by someone like Jason Statham in this version, as he's reimagined as a tough-as-nails Mr. Fixit who handles all of the wet work that Jerry can't handle on his own. Although he and Jerry posing as a gay couple is a nice reference to the subtext in the original.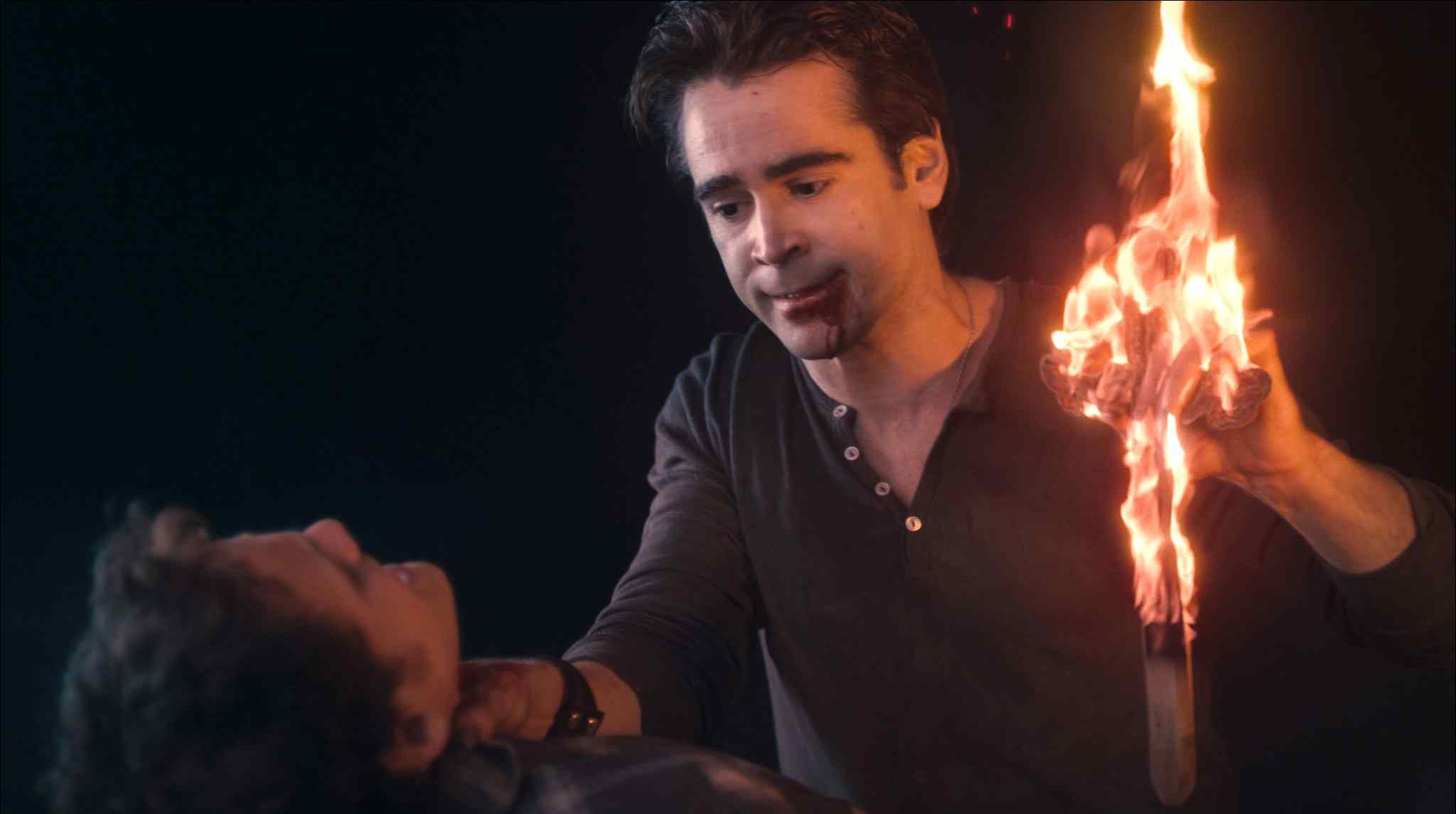 While this is a very early treatment, it's really interesting and I would have loved to see it develop. There are some great ideas, especially a terrific opening where a woman who would rather die than be bitten by a vampire jumps out a window, only to be plucked up before she hits the ground, flown up into the sky and bitten, then thrown back down again.
There's also a great bit at the end where Atkins gets impaled by a stake, but instead of dying, just treats having a stake in his chest as a general pain in the ass. Which is probably the most Tom Atkins thing that's ever been written. Ultimately, you can't really review a script and definitely not a loose treatment. But I see what they were going for and I like it. I can't say if it would have been better than the 2011 remake, but it seems like it would have been a very entertaining, very Farmer & Lussier take on the material.
Why didn't we see this one? I'm not sure even Farmer or Lussier were ever given a clear reason. From the sound of it, it doesn't seem like DreamWorks were entirely on board with such a meta take on the material, which is almost hilarious, considering that the original material is meta right down to its core, basically doing Scream before Scream.
Still, that appears to be what kept this version of Fright Night from ever seeing the light of day, so to speak. Instead, Farmer and Lussier went on to make Drive Angry which, though unsuccessful, turned out to be a pretty awesome movie. So maybe everything worked out for the best on this one.