Focus Features has reached out to announce that fans of the Insidious franchise will soon have the chance to experience the terrors of The Further in person by way of 'The Further 4D Experience'. The event will be traveling to Chicago, Philadelphia, Los Angeles, San Francisco, Dallas, and New York. More specifics on timing and locations here. But even if you do not live in one of those aforementioned areas, you can still experience The Further with the mobile app–which is available on iOS and Android–and a free Google virtual reality helmet. Details on where to score a headset here.
Admission to the event is free and no purchase is necessary! The experience utilizes Oculus Rift (virtual reality) technology.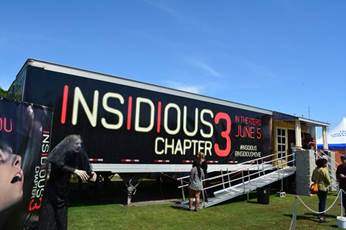 "In the specially designed and uniquely intense 4D experience, the haunted house evolves into a place where analog meets digital. "Into The Further 4D" is a scary trip – where the visitor is subject to virtual and physical scares and surprises at any time! The Experience will prime fans for 
Insidious: Chapter 3
, the scariest chapter yet from the popular franchise." 
Insidious: Chapter 3 
will be in theaters nationwide on Friday, June 5
th
, 2015.
The story arc of Insidious 3 will delve more into The Further. It will function as a prequel to the events of the first film with a father and daughter plagued by the terrors of The Further. Searching for answers, they enlist the services of a psychic named Elise. The film stars Dermot Mulroney and Stefanie Scott.