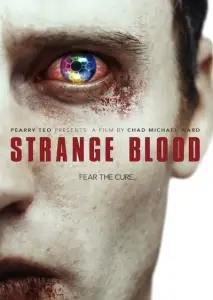 Xlrator Media has reached out to announce that they will be releasing the body horror film 
Strange Blood
to VOD and DVD in the coming months. The VOD premiere will be staged well in advance of the film's release to DVD. Head inside for full details on the various release dates and more.
The film
will  hit VOD via XLrator Media on April 28, 2015 and is slated to make its DVD premiere on June 9, 2015. The picture is directed by Chad Michael Ward and features a cast of relative newcomers that includes Robert Brettenaugh, Alexandra Bard, Anna Har, Barbara Jadczak, Thomas O'Halloran, Scott Harders. The script was co-penned by Chad Michael Ward and Pearry Reginald Teo. This is Ward's first feature film directorial effort but he already had over twenty short films under his belt when he helmed
Strange Blood
. Teo previously co-wrote and directed the horror picture Dracula:
The Dark Prince
.
"When a brilliant scientist goes to extremes to develop a universal cure for all disease, he finds himself infected with a bizarre parasite that begins to transform him into a bloodthirsty madman."
Stay tuned to the site between now and the film's VOD release on April 28th for more updates as they are announced.