The Predator: Life and Death miniseries promises to be a treat for Predator fans, and for comic collectors in general. This series follows the comics released in the Fire and Stone comic crossover event which preceded it. The artwork for the first cover alone is breathtaking, and was what cemented my need to check out this series. Similar to the Godzilla in Hell issue I reviewed a while back, the cover art looks more like a fine art piece than a comic book cover. (The cover art pictured at left is by artist David Palumbo.)
The premise behind the four issues is basically that colonial Marines are sent to a planet to look for members of a corporation who want to deplete the planet of resources prior to it being colonized, and stop them. A group of Predators shows up, and as tends to happen when they appear, people begin dying.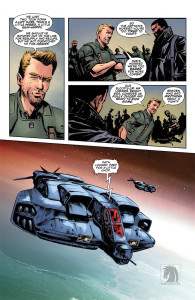 I'm sure that the plot will evolve more as the miniseries continues, especially since the
Fire and Ice
crossovers incorporated the Engineers from 
Prometheus,
but that's the basic plot premise for the
 Predator: Life and Death 
issue 1. There are a lot of things to like about this issue, which gives me strong hope for the remaining installments. Writer Dan Abnett presents the Marine Captain as an ultra bad-ass woman, which is one of the more satisfying staples of the 
Alien
and
Predator
universe. Add to that the fact that Abnett is able to move through a decent amount of plot set up fairly quickly, and does so in a way that doesn't feel rushed. The reader is brought up to speed in a matter of pages, and is able to get straight to the point. It's frustrating as a reader to be subjected to pages upon pages of set up before bearing witness to something bloody and terrible, at least when dealing with something as familiar as the
Predator
franchise. When I'm reading a
Predator
comic, I like a mix of plot line, violence, and gore. This issue delivered on all fronts.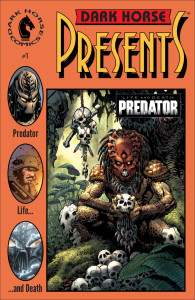 Abnett produced a cohesive, satisfying storyline and Brian Albert Thies created stunning visuals to go along with it. The style is beautiful, and very realistic. Since my introduction to the franchise was via the 1987 film, erring on the side of realism in terms of artwork is a huge plus. Rain Beredo's coloring was also superb. Nothing can ruin a space scene more readily than poor artistic choices.
Regarding artistry, it's worth mentioning that there are two amazing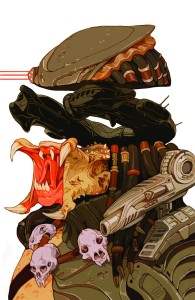 variant covers available for Predator: Life and Death issue 1. The first is by artist Chris Warner and is part of the 30th anniversary, yearlong variant program. The variant program is to commemorate the 30 years Dark Horse Comics has been around, and their early Dark Horse Presents comics. The cover features a predator crouched in a nest of skulls in ceremonial-looking garb, and pays tribute to his previous work on the Predator franchise.
The other variant cover is the feature image for this article, and is by illustrator Sachin Teng. Teng's style brings out a completely different side of the predator than the other covers, and speaks a bit more to their nature. It's a remarkably expressive piece, and could easily stand alone as a print or framed piece for serious Predator fans.