I have a difficult relationship with punk rock; love the music, hate the insufferable elitists so often involved with it. A group of some such loathsome types are the focal point of Green Room, Jeremy Saulnier's highly-anticipated follow-up to the masterful Blue Ruin. And, suffice to say, anyone who's come into contact with an a-hole punk or two will take great pleasure in watching a whole slew of them torn limb from limb, in gloriously bloody fashion.
The Ain't Rights (great name) are a band of snot-nosed millennials trekking across America, playing gigs for pocket change, when they manage to piss off a group of white supremacist skinheads, led by the coolly sinister Darcy (Sir Patrick Stewart, in a revelatory performance) by intruding on some of their secret business. The band soon realizes they can't bargain with this lot and, as a result, finds themselves trapped in the titular green room.
It's a relatively simple set-up, exploited to the absolute breaking point even before anyone starts banging doors down. Saulnier takes the moments of extreme violence Blue Ruin touched upon and expands them to gutsy, bloody and often very gory effect. Back for the ride is that movie's enigmatic Macon Blair, in a meatier role, as a skinhead eager to impress his boss and earn his red laces.
Elsewhere, the cast is loaded with talented, up-and-coming Brits including Imogen Poots, Callum Turner and Joe Cole. Providing support are likeable young American character actors such as Alia Shawkat, Mark Webber and Anton Yelchin. With a group of performers this strong, it'd be near-impossible to go wrong, but regardless Saulnier gives each member a fully-formed personality, so we're hoping they all survive even while knowing they won't.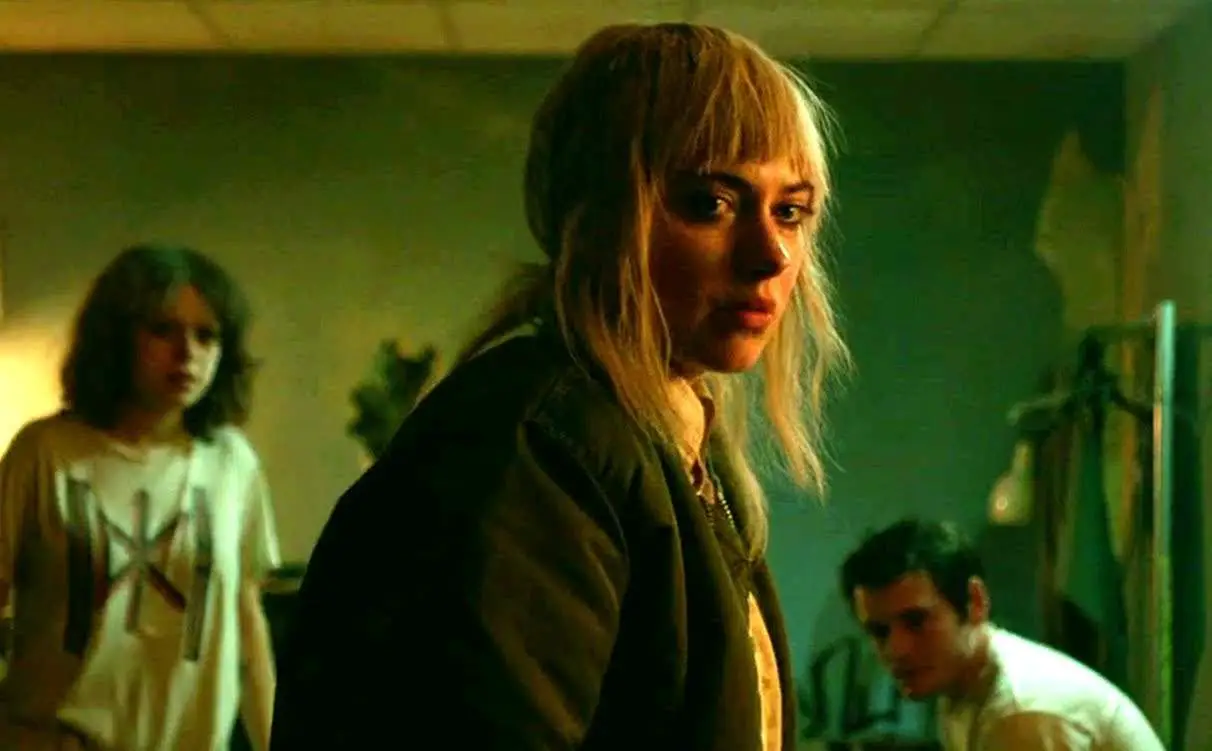 It's difficult to pick a stand-out from the bunch. Poots, who has shone in mostly terrible films thus far, finally gets a role worthy of her talent while Yelchin is his usual twitchy, submissive self as reluctant band-leader Pat, and Webber is all broiling intensity as a skinhead on the edge. Saulnier's high school buddy Blair continues to impress, this time in a part that allows him to hover in the background a bit more.
But, naturally, much of Green Room's considerable strength is courtesy of Stewart's terrifying Darcy. The highly respected actor reportedly had a microphone sewn into his jacket for the shoot, after Saulnier repeatedly asked him to speak ever lower. His Darcy is someone who demands close attention, his voice never raising above a whisper, his calm demeanour never wavering, even when the situation turns dire.
It's a powerhouse performance, of which one wouldn't think the great man capable, if only because the character is such a cold, calculating creep. But it's testament to his incomparable skill-set that Darcy's politics, back-story and no-nonsense, businesslike attitude are immediately obvious within five minutes of meeting him. He's instantly one of the great villains of modern horror, and he looks like somebody's grumpy grandfather.
Green Room is so effective as a horror movie, it almost feels like a documentary at times. The Ain't Rights are a completely believable band of grungy miscreants, siphoning gas, sleeping on floors and barely eating just to make their dreams come true. They're arrogant, and stupid, enough to play Dead Kennedys' "N*zi Punks F**k Off" at a show full of, as another character describes them, "boots and braces".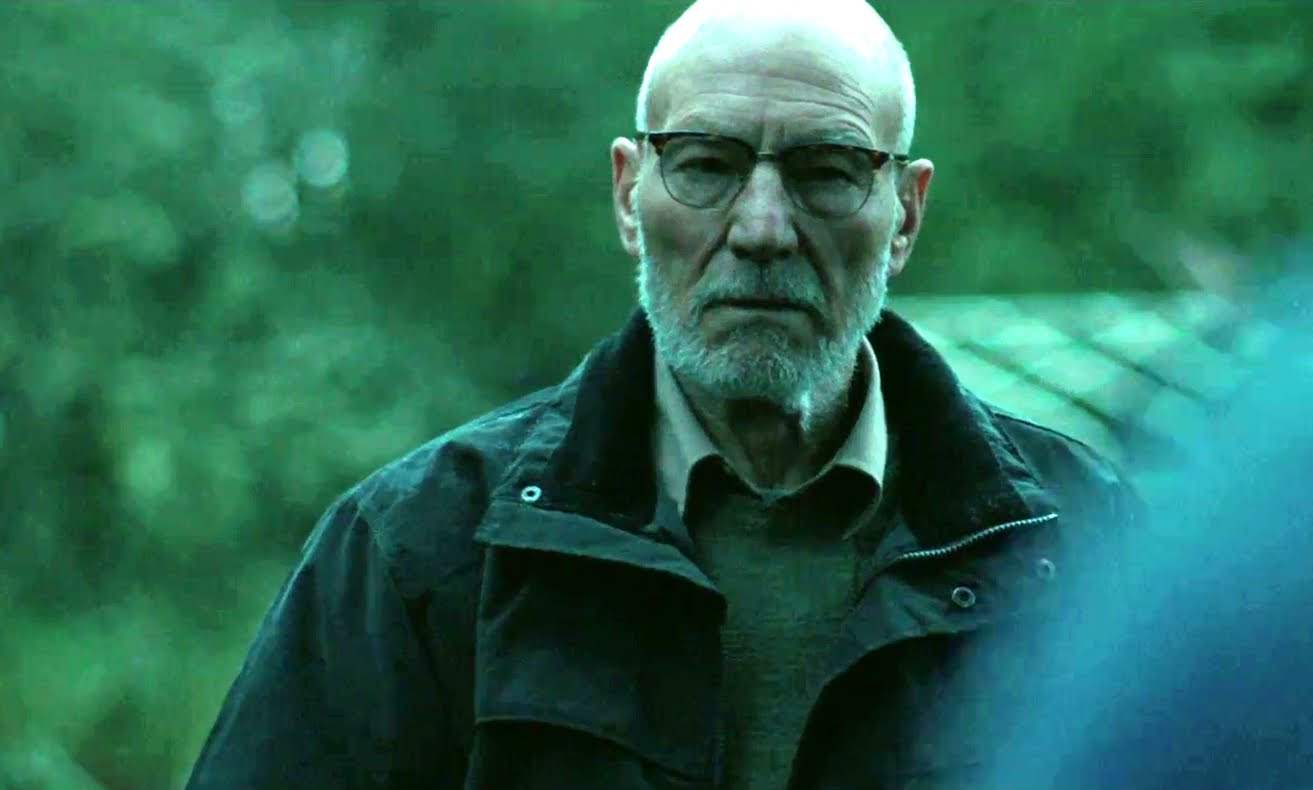 But they're not bad kids (or a bad band – Turner, in particular, can do a great hardcore growl), and the wrong place, wrong time scenario in which they find themselves is devastating, even if they do kind of deserve it for being bratty. The flick is similar to Blue Ruin, because there are no real, stand-out heroes to root for. Everybody is kind of wrong, and acting out, in their own way.
Most of Green Room takes place in a rough, makeshift concert venue in the middle of nowhere. Saulnier lets us know from the outset how isolated it is with a long journey there, during which some gorgeously green vistas are captured to offset the griminess of what follows. The location is terrific in itself; equal parts authentic gig venue and prison-like house of horrors.
It's evident the writer-director has done his research, and that he was a part of this scene himself. Every little detail is completely authentic, from Shawkat's character's torn-up DK shirt, to Poots' buzzed haircut, to subtleties like the White Power stickers and Confederate flag that should alert the Ain't Rights to the considerable danger they are in. Green Room may deal in extremes, but it's respectful. Saulnier isn't pointing a finger at the punk scene, he's shining a light on it.
Incredibly, this is only his third feature, for which he also takes scripting duties. Already, Saulnier is a master filmmaker, showing an innate understanding of how the medium works, not to mention a vice-like grip on horror machinations. His premise here is completely original, downright terrifying but also achingly realistic. There are no jump scares, no music cues (the score is a low hum, with classic punk songs interspersed here and there) and the catalyst for the onslaught of violence is a warning-free gut punch.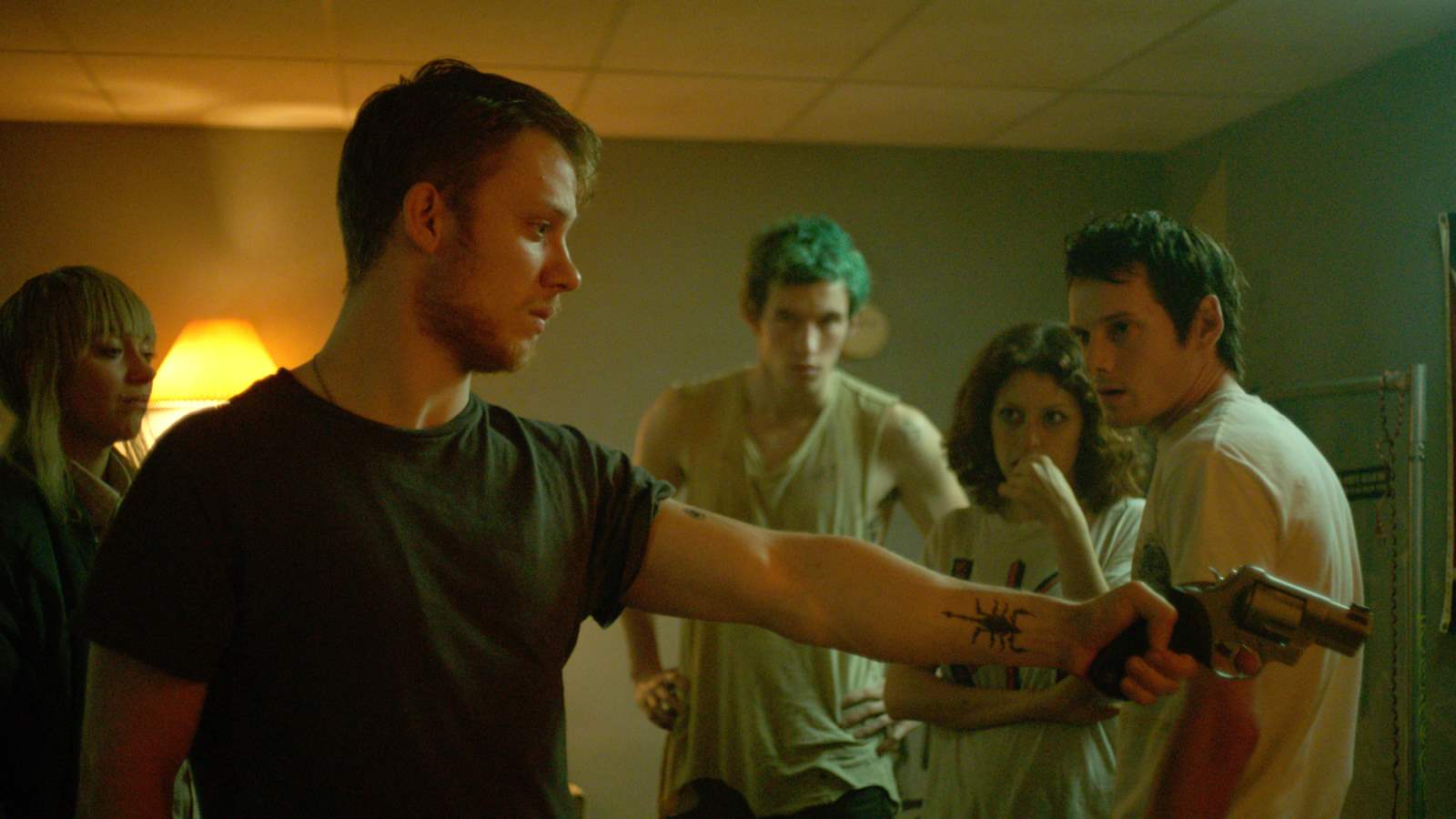 This isn't pastiche, nor is it cliché or overwrought. Stewart himself had trouble finishing the script, describing it as a lot like Deliverance. When Darcy gravely intones "It won't end well", we believe him, and not because anything too shocking has happened. We believe the escalating situation is going to lead to unthinkable horror because these characters know only violence, because they are used to being in control and taking what they want, no matter the consequences.
Saulnier wisely plays it straight, too, the darkest strain of black humour rearing its head only when he knows the audience probably can't stomach it, for example after a particularly ingenious use of masking tape. It's an incredibly refreshing, and very welcome, respite from the usual fare that signals great things for the man behind it, as well as giving us hope for the future of indie horror in general.
Smart, rough, brutal, gnarly, utterly unpredictable from one nail-biting moment to the next and completely unforgettable, this movie is unlike anything you've ever seen before, or are likely to see again.  Green Room isn't just the first great horror movie of the year; it's one of the best of 2016, period. I was lucky enough to get an invite to an early screening. But you can catch Green Room in limited release from April 15th, 2016 and nationwide April 29th.
WICKED RATING:  [usr 8] 
Director(s): Jeremy Saulnier
Writer(s): Jeremy Saulnier
Stars: Patrick Stewart, Anton Yelchin, Alia Shawkat, Imogen Poots
Studio/ Production Co: Broad Green Pictures
Release: April 15th, 2016
Language: English
Length: 94 minutes
Sub-Genre: Crime