Not to be confused with the title of last week's episode of Hannibal, "And the Woman Clothed in Sun" brings us to episode ten of the show's last season. With only three episodes left, things are moving along nicely in the saga of The Great Red Dragon, and in the drama of the relationship of Will Graham and Hannibal Lecter. The show continues to breathe beautiful new life into the source material with its own unique style, music, and filming technique, which is shown here in a few key scenes.
The show's focus returns more to Francis Dolarhyde, his evolving relationship with Reba, and his attempts to reach out to Hannibal in the hospital. First up is a storytelling technique that the show has been utilizing often lately–showing the other side of a particular scene that the audience saw in a previous episode. In this case, the hour opens by explaining and showing the sophisticated technique that Francis used to call Hannibal in the hospital. Francis is shown earlier practicing his speech in front of a mirror, and what is interesting to note about the phone call scene is that he does not have the speech impediment when he is trying to impersonate Hannibal's lawyer, yet he does when he is speaking to Hannibal himself. This shows Francis's confidence that Hannibal is the only person who can truly "understand" him. Hannibal does indeed talk to him like he knows exactly what is going on in his mind, and Francis imagines that they are speaking as doctor and patient in Hannibal's office for the rest of their conversation. Near the end of the episode, Hannibal declares to Will that he "likes" the Red Dragon, and says he doesn't think he's crazy at all.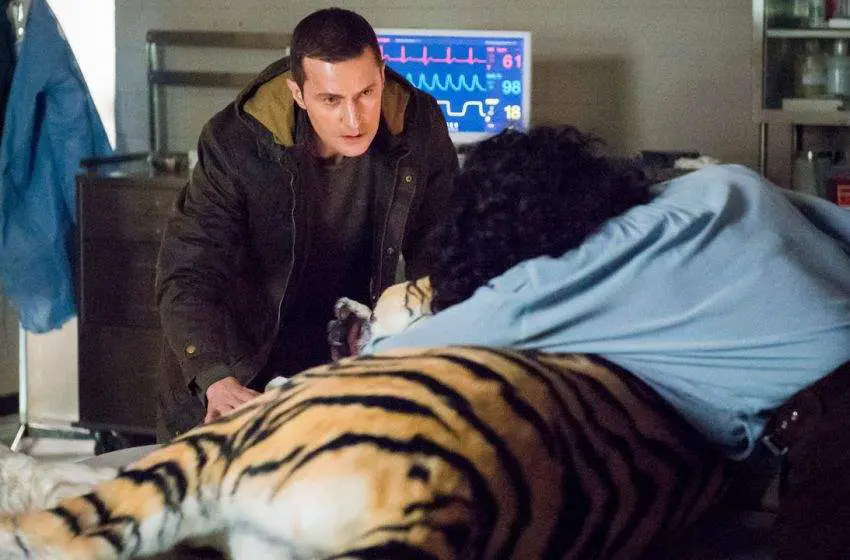 Francis and Reba take their relationship to the next level, beginning with a recreation of a beautiful scene from the film Manhunter. Francis takes Reba to the zoo where a tiger is under sedation and gives her the opportunity to feel and experience it. He describes the orange of the tiger's fur as radiant, and indeed the tiger appears to glow as Reba caresses it, emphasizing the joy and beauty of the moment. Back at his house, Reba is still trying to convince Francis that she doesn't care what he thinks he looks like to other people, and makes a bold move to convince him of this by making a sexual advance. The two make love, and Francis finally sees her as The Woman Clothed in Sun–the actual title of the painting, and hence the similarity to the title of last week's episode, "And the Woman Clothed with the Sun." Richard Armitage continues to bring a wonderful duality to the character of Francis, both as a man consumed by obsession, and as a loner who is possibly finally finding true love and acceptance.
Bedelia du Maurier makes a somewhat unwelcome return in this episode. I was warmed to her character at first because of the moral quandary that existed in her relationship with Hannibal and the possibility that she was using her position to collect information and help lead to his capture. However, at the conclusion of the Italian chapter of her story, Bedelia doesn't seem to be anything more than a screwed up woman who doesn't know who she is. Her first scene is her giving a bullshit lecture at the FBI about what she went through during her time with Hannibal. Will comes into the room in the middle of it and, just like me, he doesn't buy a single word she's selling. However, later on, the audience is finally given a full version of what happened between her and her patient Neil, after only showing us that very quick and very disturbing scene several episodes ago. A flashback scene shows that out of nowhere, Neil starts to choke on his own tongue, and instead of actually helping him, Bedelia chooses to kill him (by shoving her whole arm down his throat) to protect herself and Hannibal. Neil had caught on to This flashback is intercut with Bedelia talking to Will, where she says a lot but is never saying what she actually wants to say and what she thinks. In fact, she always looks close to tears. It's still a bit unclear to me just what Will is trying to get out of her about Hannibal, and what her role in future episodes might be.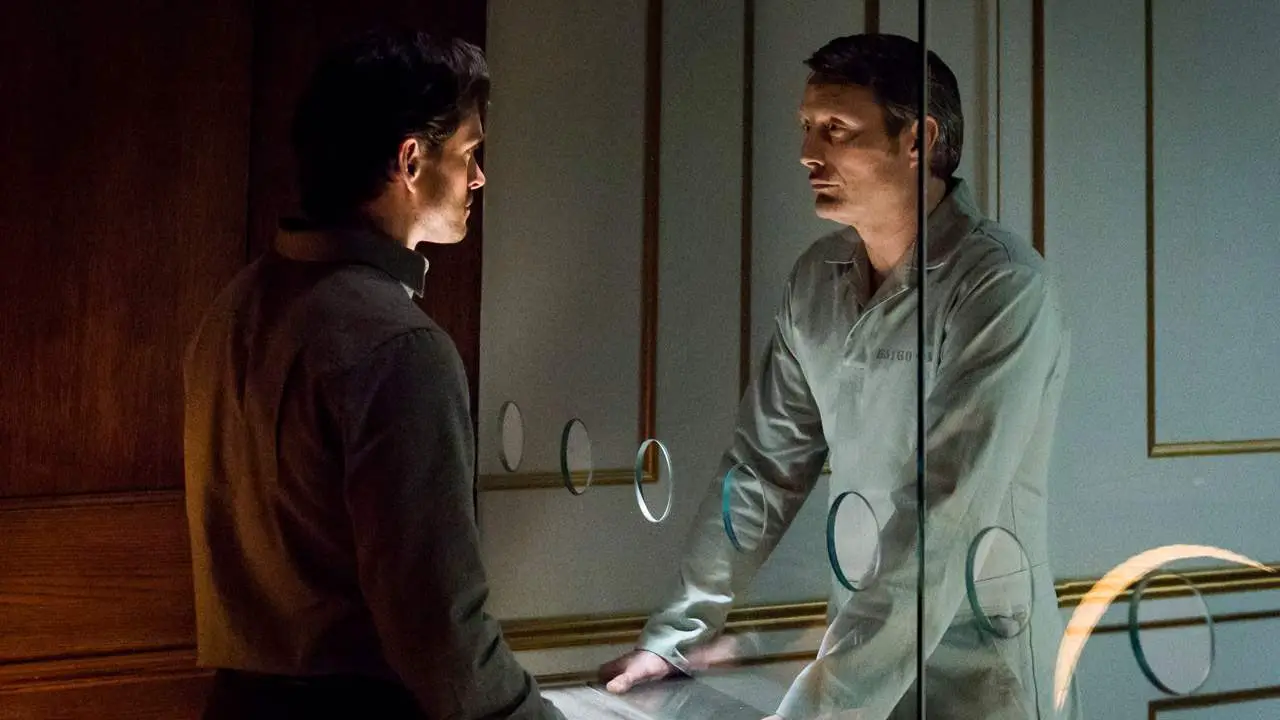 Will goes to Hannibal with a picture of the carving that the Tooth Fairy left on the tree at one of the murder scenes, and Hannibal tells him about the William Blake painting. He, of course, does not tell Will that he has already been contacted by the Tooth Fairy/Red Dragon, but still leads him in the right direction. There is another great visually symbolic moment when Will's body appears superimposed over Hannibal's inside the cell, continuing the idea of the deep connection that these two men have. Bedelia even asks Will at one point, "Does your wife know how intimately you and Hannibal know each other?" indicating that there should be some kind of relationship jealousy there. But Hannibal is still the most distrustful person in the relationship, as he secretly makes a phone call to Chilton's office to get Will's address and phone number. His demeanor toward Will is also still not nearly as warm as it was before, and he seems to be getting a lot of joy out of messing with Will, even from inside his cell.
The episode ends with Will accidentally confronting Francis when they both arrive at the Brooklyn Museum at the same time to view the actual copy of Blake's painting. Francis is there first, and he actually starts to eat the painting, obviously trying to literally consume the Red Dragon and further his transformation. Will notices Francis trying to sneak away in the elevator, but Francis knocks him around and manages to get away. But now the Red Dragon has been revealed, and Will knows what he looks like (he most likely noticed the cleft lip and Hannibal's previous suggestion that the Tooth Fairy is probably deformed in some way) so now the chase can begin.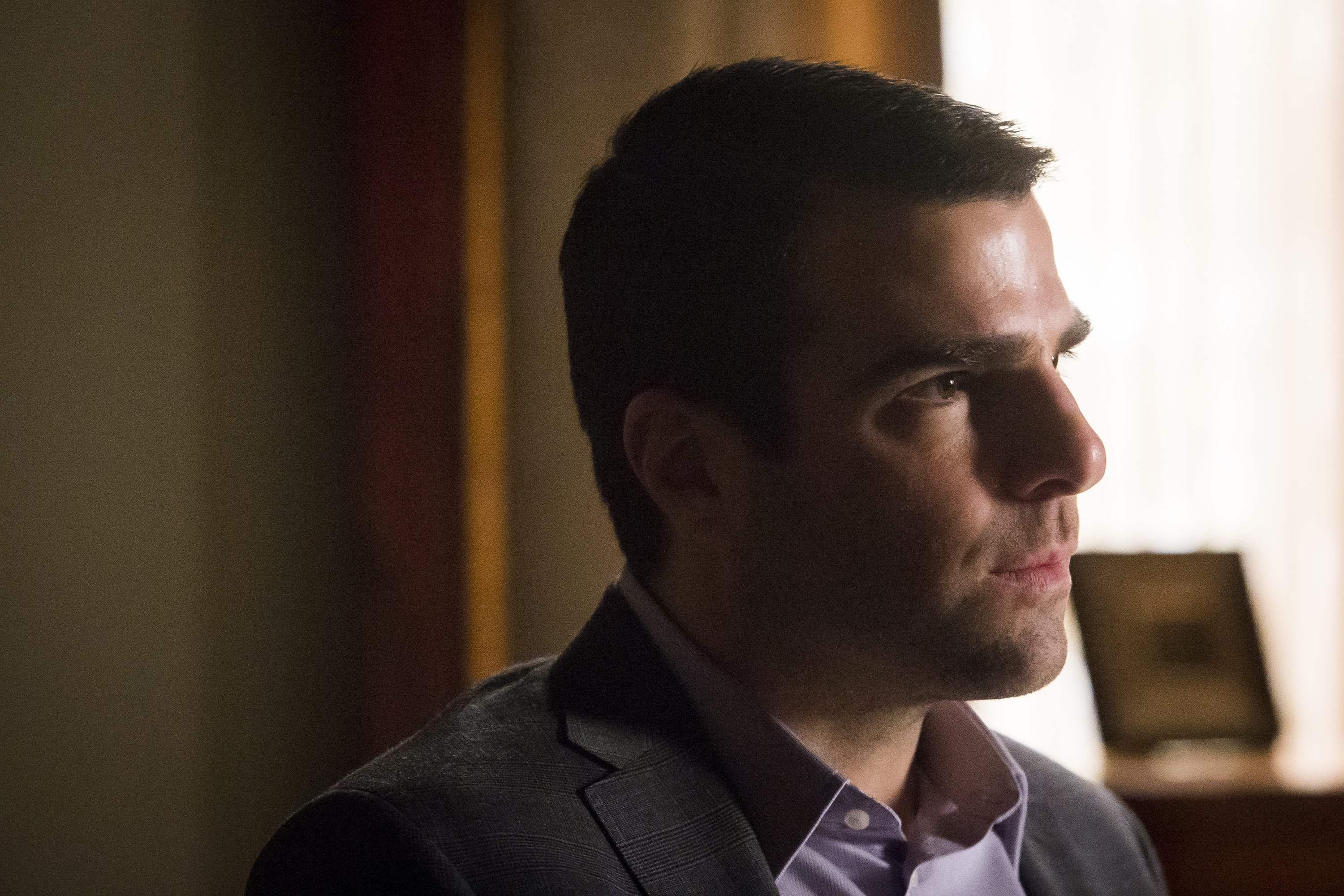 It's starting to become a bit clearer that perhaps Hannibal will be okay if it ends completely with this season. A fourth season would definitely be wonderful, but maybe not necessarily needed. The show has come full circle back to the beginning of the Hannibal/Red Dragon saga as fans have always known it, and it has been a great ride that will hopefully come to an equally great end.