The Purge is a killer concept for a horror movie, but even the most optimistic pundit couldn't have predicted just how quickly it would take off. We've had four movies in five years, with a spinoff TV series on the way, not one of them straying from series creator James DeMonaco's key concept. That's pretty good going, considering even The Conjuring's Extended Universe has had to branch out to include a nun, a doll, and soon a crooked man. Read on for our take on The First Purge!
The fourth installment in the series, The First Purge, goes back to the beginning following the previous film's election of a new, female president (yes, Hillary won in this universe) whose main policy goal was to get rid of The Purge for good. The prequel in itself is a clever move, imbuing everything with a sense of freshness. And, in keeping with the series' commitment to diversity and representation, African American filmmaker Gerard McMurray takes over the reins from DeMonaco (though he still scripts here).
The setting, somewhat dubiously at first, is Staten Island, NY. Our heroine is Nya (Lex Scott Davis, who notably portrayed Toni Braxton in that one Lifetime movie a while back), a rad chick just trying to make ends meet along with her teenage brother, Isaiah (Joivan Wade). Their apartment is leaking, her brother is turning to crime to help out, and things seem pretty tough for them in general. Elsewhere, local bad boy drug dealer Dmitri (Y'lan Noel) rules the streets but he can't win Nya's heart back after betraying her for the life years ago.
Meanwhile, in shady, badly-lit conference rooms across the bay, Marisa Tomei's doctor is pushing for the implication of the so-called Experiment, which will commence two days from when the movie begins. This experiment, which she brainstormed herself to deal with an overpopulated America besieged by widespread poverty, will make all crime legal for 12 hours on Staten Island only. Poor people are enticed into taking part with the promise of big cash payouts. Everything (read: rich guys' wallets) hinges on its success.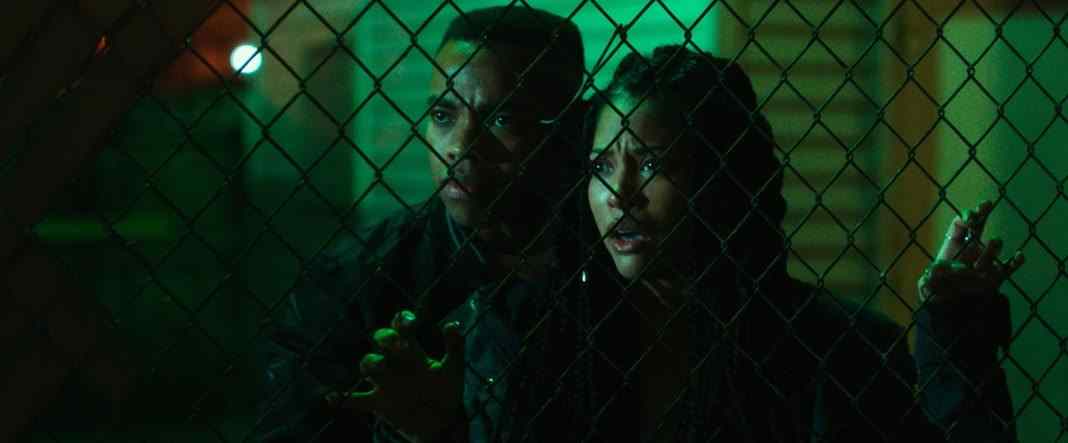 The First Purge
establishes its real world adjacent setting from the outset with well-placed (and possibly real) news footage showcasing damning reports about the plummeting stock market, unemployment, and crime. As the film begins, the New Founding Fathers of America are taking office, their shady, White Supremacist-lite flag blowing ominously in the breeze as Grand Supreme Leader Evil White Man addresses the camera as though he's about to kill literally everybody watching at home who is not a millionaire.
This isn't a series that's ever been subtle, and why should it be? The world has gone to hell and horror has always been the ideal place to work out society's ills, from all the way back to Night of the Living Dead in '63. As the Experiment starts to get really crazy, there are dudes running riot in KKK outfits, a re-purposed SS soldier uniform, and even a minstrel mask. It's horrifying stuff, but it needs to be. The message is clear that the focus of The Purge has been, and will always be, the reduction of minorities and the disenfranchised for the benefit of the upper classes.
To that end, all of the leads here are people of colour. The series has gradually pivoted to focus on non-white characters ever since disposing of Ethan Hawke's drippy, bourgeois dad in the first movie, but there isn't even a prototype Frank Grillo around this time. Nya is the protagonist, closely followed by her tortured ex who learns, via double-cross, that violence only begets more violence.
Otherwise, the only white folks onscreen are those hanging around boardrooms hoping those damn poors will kill each other faster, or the ones riding around on trucks brandishing their pointy hats and pitchforks. It's refreshing to see different, mostly unknown faces, in a mainstream movie, never mind a horror film. Here, the black characters are given flavour, a shared history, their own totally believable motives for acting the way they do. In Isaiah and Dmitri, DeMonaco even gives us tortured black masculinity confused over how to behave when faced with so much macho violence.
That violence can be somewhat confusing, however, particularly in the flick's bloody, blowout finale. There's a clever, seemingly throwaway line early on about how the NFFA are both supported and funded by the NRA, further pushing The Purge series' anti-gun viewpoint. But then why is it that arming themselves to the hilt and going out in a blaze of bullets still seems to be the characters best option? Perhaps the point is being made that certain members of the community have been left with no other option, but there's a strange disconnect in the flick's commendable social and political commentary and its weird gun fixation.
Fans looking for more gore, in a notoriously lighter series, can rest assured that The First Purge is the nastiest installment yet. An odd, serial killer-esque character gets very stabby while chewing every bit of scenery in sight, but the more compelling weirdos, as usual, are those in masks with seemingly homemade weapons — who could forget that loon in the truck with the American flag-emblazoned hat and aviators, or the teen girls in Prom dresses who bragged about killing their parents? — who seem to have been preparing their whole lives to purge in the most eccentric way possible.
Levity comes in the form Orange is the New Black star Mugga's take-no-shit neighbour Dolores, who acts as an audience insert by basically calling bullshit whenever something insane happens. And, for anybody who thinks they're being super clever on Twitter wondering aloud why nobody just loots during The Purge instead of killing people, there's plenty of that here too. You're welcome. More than anything else though, the prequel continues the story of how the rich 1% consistently try to push down those below them just to elevate themselves higher, a story that's becoming more sadly relevant with each passing day.
The Purge series may be clunky at times, but its core message is clear and precise. And, with The First Purge's black director, predominantly black and Latino cast, and literal KKK and NRA-loving white villains, that message has never been clearer or more effective. This could really happen some day and, in a world of babies in cages and gay conversion camps, it's fun watching these a-holes getting blown to pieces. It's a weird kind of catharsis, but The First Purge also reminds us that, no matter how dark things get, there's still hope if we all band together for the greater good (the greater good). That is, perhaps, its greatest risk of all.
WICKED RATING: 8/10
Director(s): Gerard McMurray
Writer(s): James DeMonaco
Stars: Y'lan Noel, Lex Scott Davis, Mugga, Marisa Tomei
Year: 2018
Release date: July 4, 2018
Studio/ Production Co: Blumhouse
Language: English
Length: 97 minutes
Sub-Genre: Action