They're Inside is a survival thriller that follows sisters Robin (Karli Hall of Being Charlie and The Hollow Point) and Cody (Amanda Kathleen Ward of Fate and Nocturne) who reunite in a cabin to work on their strained relationship. During their stay, the women are terrorized by two masked individuals with no goal in mind, aside from terror and murder.  
As They're Inside begins, it is very obvious from the start that the two sisters are estranged and dealing with a broken relationship. In this way, the picture slowly builds authentic tension that I enjoyed, especially since one of the sisters is an awful person and the flick offers her no sympathy after this reveal. The tug of war between the siblings is fantastic character for character development and makes the audience loathe the bad sister. But this is cut short by the arrival of the antagonists and this is where my enjoyment of the movie started to wane. 
Also see: She's Just a Shadow Offers Something for Everyone [Review]
Initially I thought this was another film with the masked psychos trope, but it actually had some twists and turns that could have been refreshing. However, the film's lack of commitment to any one logical plot was the biggest obstacle to my enjoyment. They're Inside is a mix of The Strangers and Funny Games, but the lack of follow through makes the ending hollow and unsatisfying. There are elements that are supposed to be craftily edited in but come across as annoying. For instance, in a scene where the killer is stalking one of the characters, there is loud symphony music cut in along with footage of a cheetah chasing a rabbit. Now, it is fairly obvious what this is supposed to mean, but this random edit is not creative and it adds very little to the story. Later, the edit 'means something', but it was nonetheless unneeded.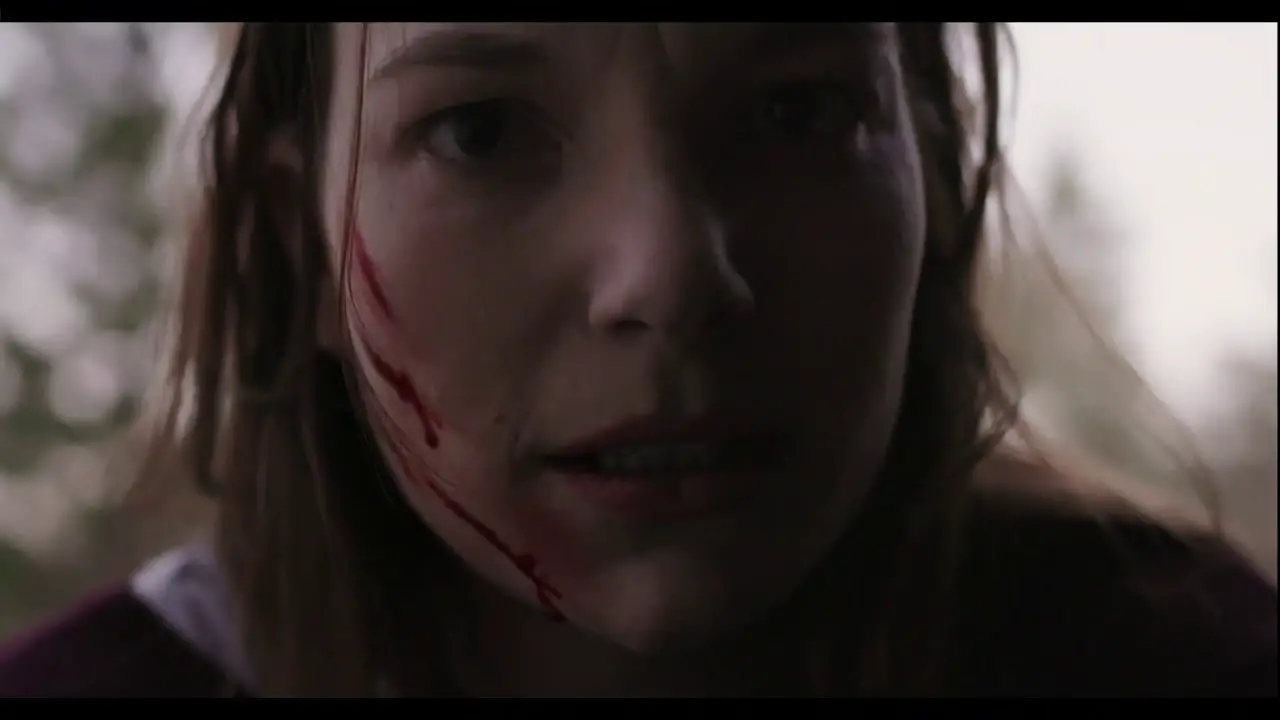 There are far too many add ins to the film, additional camera angles, cut ins of someone kidnapped, the music,  random information, the sudden arrival of a new character, it makes the film disjointed and hard to watch. In fact, the picture starts with a fake YouTuber, completely unrelated to the rest of the victims getting stabbed to death by the masked people. It is only addressed one other time and again, not necessary. Then, there is the 'reveal' of the killers and this makes even less sense. Without spoilers, the killers' motivations lack reasoning, the subsequent kidnapping has no basis in logic, and the ending left me empty handed.  
Overall, They're Inside is not a movie you can watch because it is deliciously bad, but is a movie that is simply disappointing. I selectively use disappointing because there are so many elements that are well done. The only thing that got in the way of the film's success was its disorganized nature and the lack of focus. I hope co-writer/director John-Paul Panelli sharpens his skills before his next outing and he is able to create something logical, straightforward, and most of all terrifying.  The film is now available on Blu-ray and VOD. 
WICKED RATING: 4/10 
Director(s): John-Paul Panelli
Writer(s): John-Paul Panelli and Schuyler Brumley
Stars: Amanda Kathleen Ward and Karli Hall
Release: July 16th (Home Video)
Studio/ Production Co: Epic Pictures, Dread Presents
Budget: Unknown
Language: English
Length: 1 hour and 23-Minutes
Follow us on our social media! Twitter, Facebook, Instagram, or Youtube.