It's Friday and you know what that means: It's time to figure out what you'll be binging during the upcoming week. Welcome back to New on Netflix! The streaming giant's horror department has always been a mixed bag. However, I'd say they've really stepped up their game in the last couple of years with the release of amazing, essential watches. We've been treated to must see original programming like The Haunting of Hill House, Velvet Buzzsaw, Hush, and some of the classics we all know and love.
This week we have a hidden gem and a forgein thriller to keep you on edge so let's jump in to what's coming to Netflix the week of April 17th, 2020!
The Vatican Tapes
Coming our way on April 20th is The Vatican Tapes, which follows Angela Holmes, a girl who begins to have a devastating effect on anyone close to her. Priests at the Vatican are convinced it's due to demonic activity so when they come to investigate, they are confronted with a Satanic force more powerful than they imagined.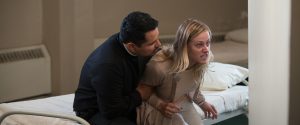 The Plagues of Breslau (Plagi Breslau)
After a body is found sewn inside a cow hide, a Polish officier hunts down the killer who is recreating an 18th-century "plague" of criminal punishments. Check out The Plagues of Breslau on the 22nd!