Horror has had an insanely good year, which is something I feel I've been claiming more and more frequently when it comes time to write lists like these but the past 12 months have been a goddamn smorgasbord for genre fans, making a recent Twitter spat over some idiot claiming nothing good has been released in over a decade even more dubious. Although the urge to defend horror at all costs is difficult to resist, and I'm definitely guilty of doing it myself more often than not, anybody still making the claim, in the year of our dark lord Satan 2019, that horror is anything but the most exciting and fascinating genre has their head firmly lodged up their butt.
To that end, let's kick things of with some honourable mentions. This has been such a strong year for horror that I've struggled more than usual to put a list of favourites together, not least because movies I caught this year like Spiral or Colour out of Space likely won't see proper releases until 2020 (my side of the pond also won't get The Lighthouse or Parasite until next year, just FYI). There have been a number of flicks released in 2019 that I already know will have pride of place in my collection soon enough, though they were just pipped to the post in favour of the below 10 choices.
Among those, let me just single out Adam Egypt Mortimer's thrilling and deliciously dark Daniel Isn't Real, which boasts not one but two of the strongest leading performances of the year as well as a devious premise centered around buried childhood trauma, my beloved Hellboy of which I am, quite literally, the only fan (though a recent transatlantic flight did include it as part of their "Best of British" selection, so take from that what you will), and hope to discuss with the wonderful David Harbour some day if only people would stop bugging him to conduct their weddings, and, of course, Black Christmas, the defiantly feminist slasher that MRAs love to hate, which should make everybody else love it by default.
But, anyway, on with the actual list, the best horror movies of 2019, the cream of the (dark?) crop. Let it be known these are my own, very personal choices and are therefore the only ones anybody should care about as this year draws to a close:
Midsommar
Last year's list kicked off with Hereditary, so it seems only fitting to begin this one with Ari Aster's soul-destroying follow-up, which somehow managed to surpass its hugely impressive predecessor, staking the newcomer as majorly one to watch. The film sees Florence Pugh heading off with bad boyfriend Jack Reynor and his dickish buddies to Sweden, where the clueless Americans believe they'll be taking part in local rituals surrounding the summer solstice. The reality, of course, is much darker leading to murder-suicides, drug-induced hallucinations, and the freakiest bit of face-wearing since The Devil's Rejects. The thing is, though, Midsommar is first and foremost a study of grief, as Pugh's character struggles to move on from a recent, devastating loss while her relationship (which has clearly been on the outs for a while) simultaneously disintegrates. Shot almost entirely in blinding daylight, Aster's sophomore feature is one of the most terrifying, gorgeous, and uniquely bizarre movies of the year and an all-timer in the making. Double bill with Hereditary if you feel like maybe your day is going a bit too well thus far.
Related: Midsommar is a Horrifying, Endurance Test of a Movie [Review]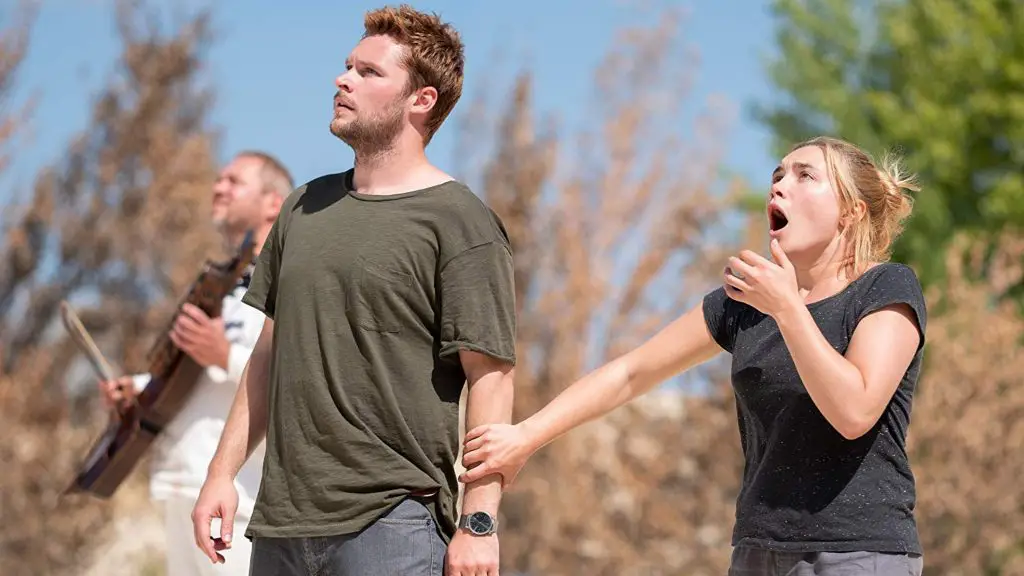 Us
From one barnstormer of a second feature to another;
Us,
the hugely-anticipated follow-up to Jordan Peele's celebrated social satire/racist horror story
Get Out
, was the year's other massive genre release that also didn't disappoint by any stretch of the imagination. Although more fantastical than his debut, Peele's film again took on issues facing black families living in the US (the title is two-fold, alluding both to the doppelganger aspect and the film being seen as a damning treatise on modern America as a whole). Lupita Nyong'o and Winston Duke play parents on a weekend away when a family identical to their own appears in the front-yard demanding reparations for, essentially, having their lives stolen from them. Wildly funny, shockingly violent, and razor-sharp in its dissection of modern US politics, Peele's movie is as essential as
Get Out,
even if its tongue is more firmly in its cheek. If there were any justice in the world, Nyong'o would be up for an Oscar for doing double duty as worried mother Adelaide and sinister double Red, both of whom know much more than they're letting on. Those who visited this year's Halloween Horror Nights in Orlando would've had the opportunity to nerd out while walking through the movie, as it were, while that creepily perfect score played throughout — a life-changing moment to complement a film whose richness will only become clearer over time.
See Also: Get Out Is Nominated For Four Oscars (And Horror Is Finally Getting Its Due)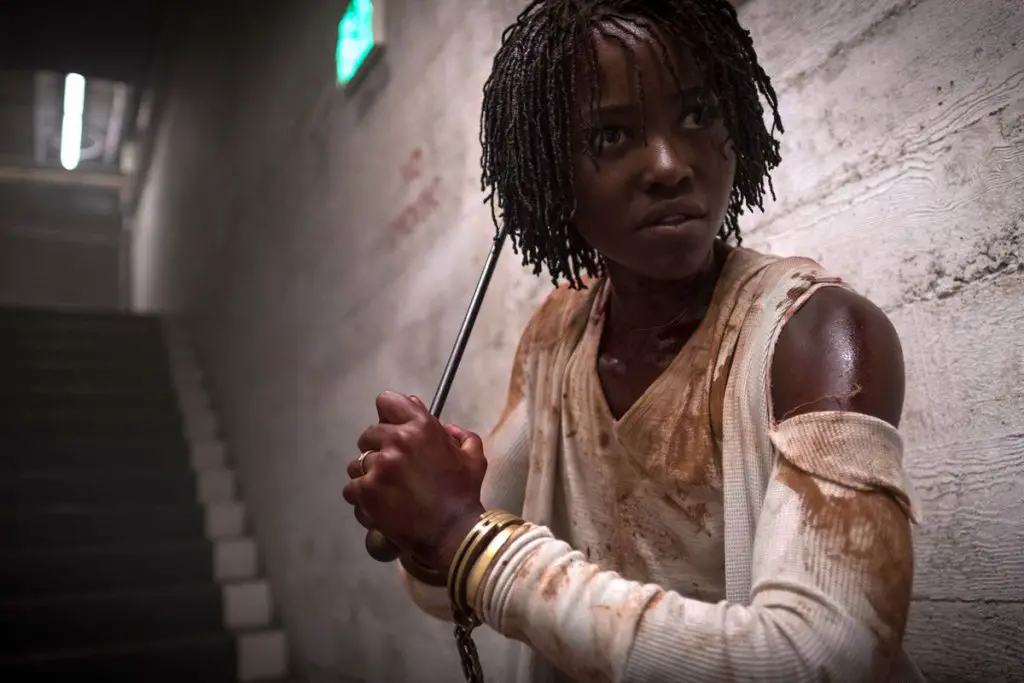 IT: Chapter Two
The Rise of Skywalker may have divided regular movie-goers but, among horror fanatics, there was no film more divisive than IT: Chapter Two, the massively anticipated closing chapter to the surprisingly brilliant IT or IT: Chapter One as nobody is ever seriously going to refer to it. Utilising both the cast of cute youngsters from the first movie and a whole bunch of A-listers as their grown-up counterparts, plus the now definitive Pennywise in the form of Bill Skarsgard (with apologies to the incomparable Tim Curry, still the best thing about the original miniseries no matter what anybody says), the movie seemed destined to slay with genre fans. And yet, arguments plagued social media about how the series had been ruined, how it was anti-gay thanks to a horrifying (and, from my perspective as a queer person, brilliantly handled) prologue involving Pennywise, and, crucially, it wasn't scary because it was too funny. Chapter One expertly juggled horror and comedy, which is precisely what made it so frightening, and Chapter Two simply built on that promise. Besides, the adult cast are peerless, from Bill Hader to Jessica Chastain and, of course, our own horror hero James Ransone. The dodgy CGI on the kids was only distracting if you knew to look for it, but otherwise this is a pretty solid multiplex-pleaser whose run-time flies by considerably quicker than the leaden, desperately dour Endgame, whose merits tons of those same naysayers flocked to defend in spite of a properly dodgy gay moment revolving around a self indulgent cameo from the two directors themselves.
Related: IT Chapter Two is a Frightening, Funny, and Surprisingly Moving Return to Derry [Review]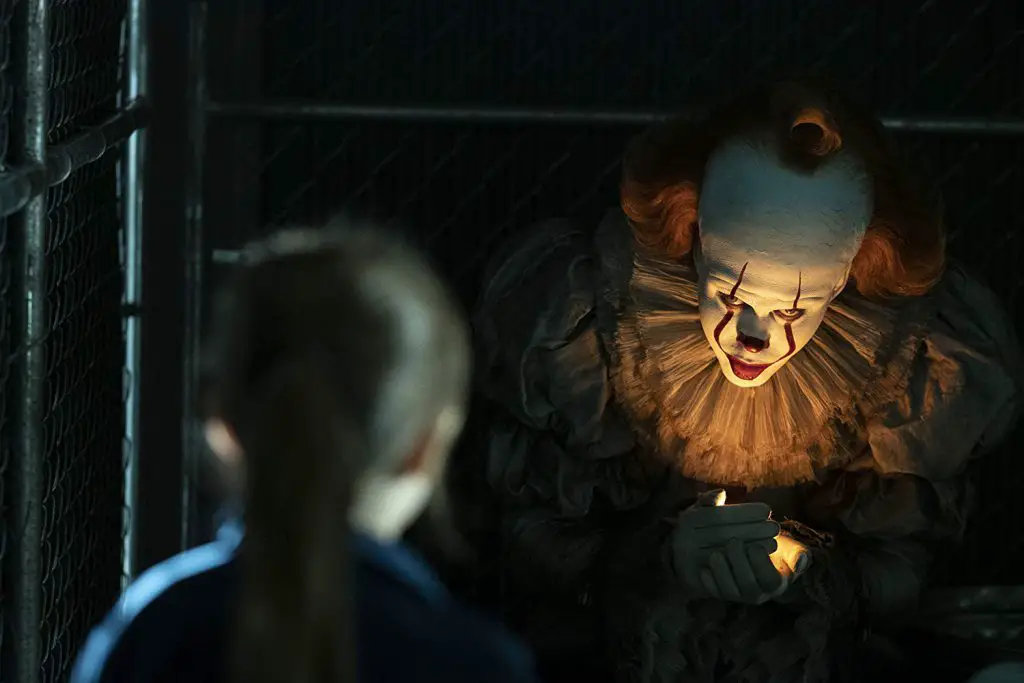 Harpoon
Harpoon is one of those pleasantly insane surprises that you didn't realise you wanted until it came along. Rob Grant's movie, his seventh overall, is ostensibly about a trio of friends marooned at sea together but from its frenetic opening moments the pace never lets up, even when it seems all hope is lost. Plenty of films are given the title of "unpredictable" but this one actually earns it, consistently wrong-footing us at every turn about who the real bad guy is. Grant even takes a stab at toxic masculinity and the idea of the so-called friend zone, while Turbo Kid breakout Munro Chambers is given a properly meaty, adult role to sink his teeth into. He's ably supported by co-leads Christopher Gray and Emily Tyra as a toxic couple with huge secrets of their own. Single location stuff doesn't get any tenser or more deliciously sick than this and, if there's any justice in the world, Harpoon will find the (massive) audience it deserves on home video. In fact, stop reading this and watch it instead. Like, right now.
See Also: Harpoon is a Devilishly Simple, Frequently Shocking Tale of Frienemies Stranded at Sea [Review]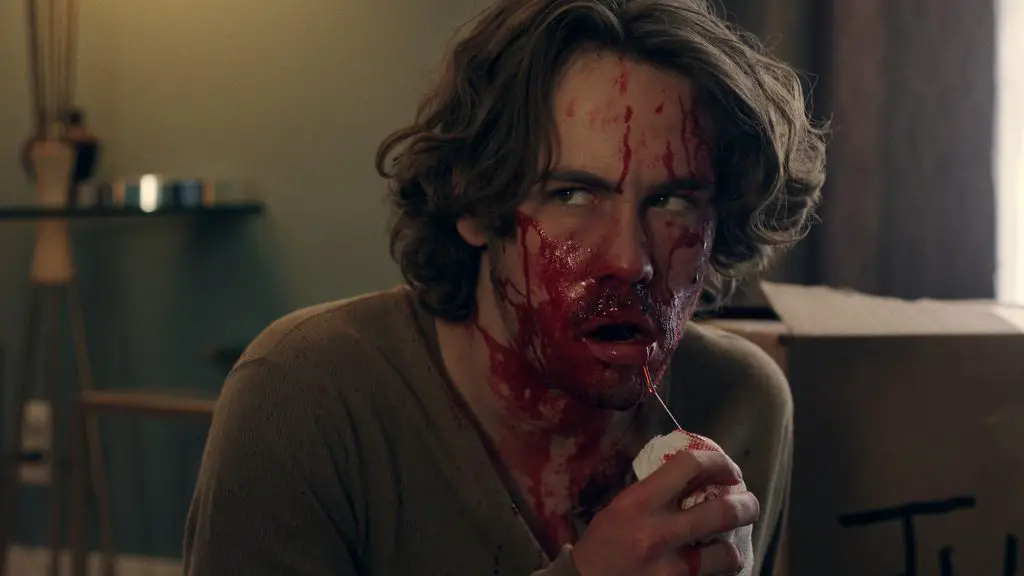 Crawl
Being a creature feature fanatic is tough. For every Lake Placid there's, well, all the sequels that followed it and for each The Shallows, there's a 47 Meters Down: Uncaged. Crawl, the latest flick from genre aficionado Alexandre Aja, was an even nicer surprise, then, because not only did it come hot on the heels of the ghastly Uncaged, but it made a case for alligators being scary again. Finally. Sharks get a lot of flak in horror movies but I'll never understand why gators aren't properly utilised to scare us because, if you've ever seen one IRL (or, hell, even in YouTube videos chasing people's cars down backwoods roads) then you know they're formidable antagonists. Aja keeps things super simple by placing his leading lady, Skins alum Kaya Scodelario, and her injured father in the flooded basement of his home at the mercy of the scaly beast (or, as it turns out, several of them). The scares are expertly timed — even after watching the flick over and over, I still can't accurately predict that under-the-stairs moment — and Scodelario takes quite a beating. Aja also, crucially, isn't interested in making her a literal piece of meat for drooling patrons, keeping the camera high when she's changing clothes early on, ensuring she ties her hair up when it's time to get her hands dirty, as any sensible woman would, and keeping her almost entirely covered up throughout. Crawl is one of the best creature features in years, but it's also up there with Lake Placid as one of just two genuinely terrific gator fright flicks we've seen. Hopefully the prehistoric beasts will make a comeback in the wake of the film's success (and with animatronics, too, they'd be even better).
Related: 20 Years On, Lake Placid Chomps Through Its Contemporaries [Retrospective]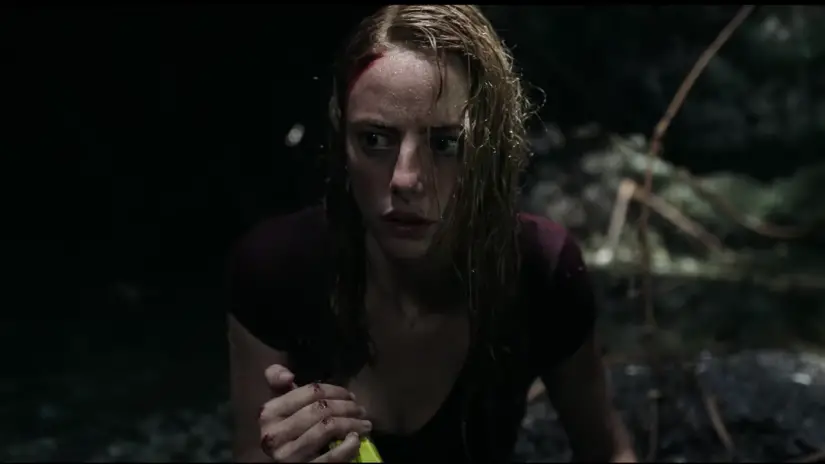 Satanic Panic

2019 has been a big year for women, whether we're fighting for our basic human rights or turning a real-life nightmare scenario like Brett Kavanaugh ascending to the Supreme Court into the premise of a rad slasher (see: Black Christmas 2019). Chelsea Stardust's lively, eat-the-rich themed Satanic Panic has a deliberately attention-grabbing title that, actually, has nothing to do with the mass hysteria surrounding supposed ritual sacrifice in the name of the dark lord. Instead, Stardust focuses her attention on lowly pizza delivery girl Sam (newcomer Hayley Griffiths, slaying her first big role) who, after refusing to take no tip for an answer, stumbles upon a group of 1 percenters, led by a resplendent Rebecca Romijn, just as they are searching for a replacement virgin to offer to Baphomet (the creature himself makes a fleeting, but memorable, cameo late in the movie). Stardust's wildly funny and hugely entertaining debut is instantly quotable (the code of the Sams) and inescapably cool (I'm still searching for the pizza parlour's shirt Sam wears, and wrecks, over the course of the movie) but, perhaps most impressively, it's a distinctly female film, a rallying cry to all of us that we can do it too, if we so desire. When I spoke to Stardust earlier this year, her enthusiasm was infectious. You'll definitely want to own this one, if for no other reason than Wal-mart felt the need to censor the word "Satanic" on its packaging so the film could, hilariously, only be purchased as "Panic."
See Also: Satanic Panic [Frightfest 2019 Review]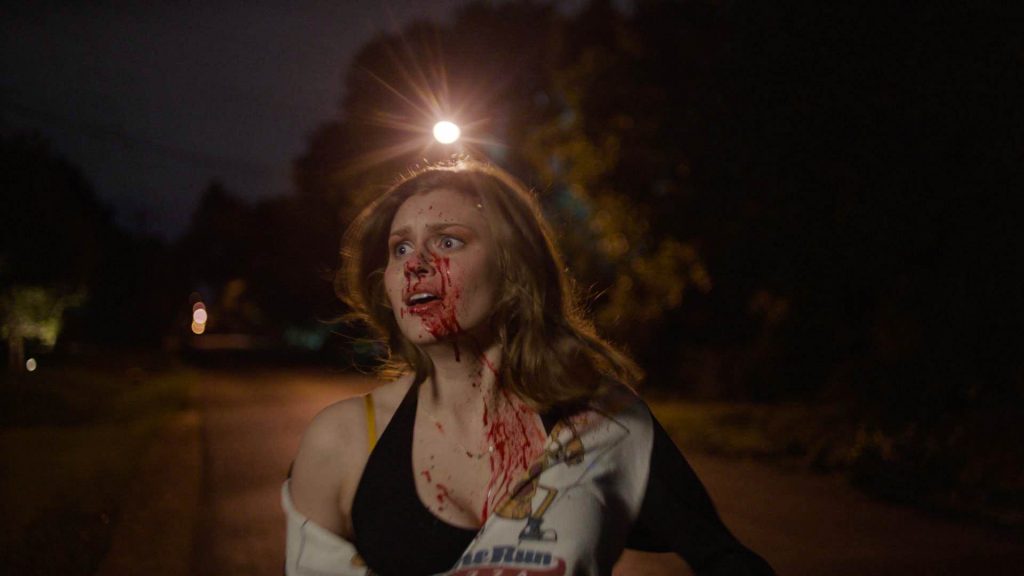 Ready or Not
Satanic Panic was often spoken of in the same, mocking context as Ready or Not this year, but I feel like that's an incredibly limiting viewpoint. Rather than being a less accomplished version of the same story, Satanic Panic took a more satirical, and immediately comedic slant, while Ready or Not stuck poor Samara Weaving in a stunning wedding dress before ensuring it was torn to absolute pieces by the time its 90 minutes were up. The Aussie actor, who stole the show in Joe Lynch's Mayhem and made McG's Netflix garbage The Babysitter somewhat palatable, is a hoot as the surprisingly resourceful orphan who finds herself stuck in the palatial estate of her new husband's family, fighting for her life during a deadly game of Hide and Seek. The satire is sharp enough to stab a hole through your hand but Ready or Not is an incredibly tense movie regardless, powered by Weaving's vanity-free performance. Adam Brody is a nice addition to the ensemble, while Andie Macdowell has a great time doing the kind of "southern" accent of which only Benoit Blanc could be proud. The fact the movie comes courtesy of the dudes behind the ghastly Devil's Due makes it that much more of an enigma. Easily one of the grisliest and most entertaining offerings of the year, in any genre.
Related: Ready or Not [Frightfest 2019 Review]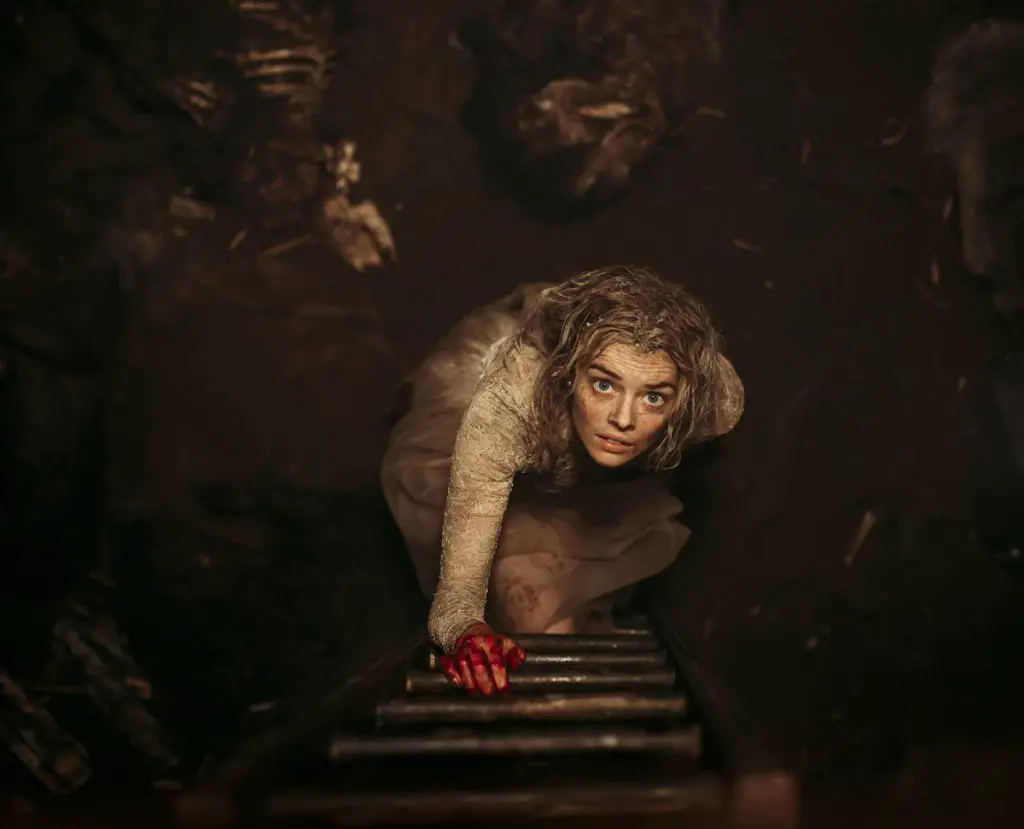 Haunt
Last year gifted us the clever, and hugely underrated, Halloween haunt-set Hell Fest (if you haven't seen this one, it was on Netflix last time I checked) and 2019 built on its potential with Haunt, a similarly-themed flick from writing-directing duo Scott Beck and Bryan Woods, AKA the guys who scripted a little movie called A Quiet Place. The premise, as it should be with this kind of movie, is a one-liner; a group of friends stumble upon a dodgy-looking haunt off the beaten track and decide to go in, basically dooming themselves. Beck and Woods expertly play with the spatial limitations of their brilliant location, making it seem maze-like at certain moments and annoyingly easy to get through at others. Focusing on building up their characters as real people we can get behind means each death resonates, while escape via a helpful employee (the obvious solution) proves more troublesome than not. Haunt should be goofy and throwaway, but Beck and Woods know how to get under the skin of horror fans, whether via a well-placed chainsaw guy (my personal bugbear at haunts) or a protruding nail. They keep us guessing until the film's final moments, too, which is no small feat in a film this low-scale. Double bill with Hell Fest for maximum Halloween vibes now that stupid Christmas is finally over.
See Also: Haunt [Frightfest 2019 Review]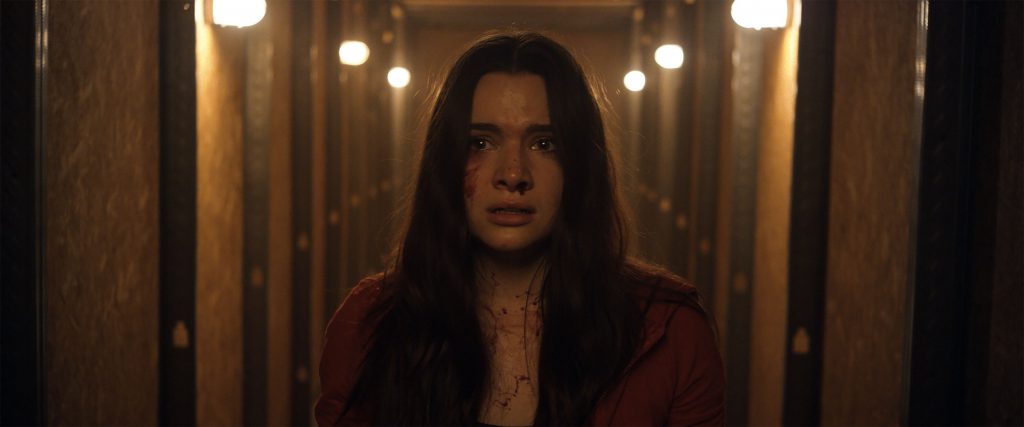 Bliss
The coolest movie of the year is a druggy vampire flick from the director of The Mind's Eye. Who knew!? Though it emerged with little fanfare, you'd be hard pushed to find something as intoxicating or memorable as Bliss from 2019. Led by Dora Madison in the definition of a fearless performance, the movie is sexy, gorgeous to look at, disturbingly violent, visually enrapturing, and almost impossible to describe. An art film about an artist that isn't anywhere near as pretentious as that description suggests, the latest offering from Joe Begos is his true calling card as a filmmaker, and it makes a case for him as one of the greatest and most exciting voices working in the genre today. The way in which Begos deals with creativity and writer's block through Madison's life-destroying hurricane of a character suggests Bliss did not come easily to him, but to watch the end result is to be uplifted. It's punk rock, it's balls to the wall crazy, it's beautiful, and it's unlike anything else I've seen this year. A true original amidst so many pretenders. 
Related: Bliss [Frightfest 2019 Review]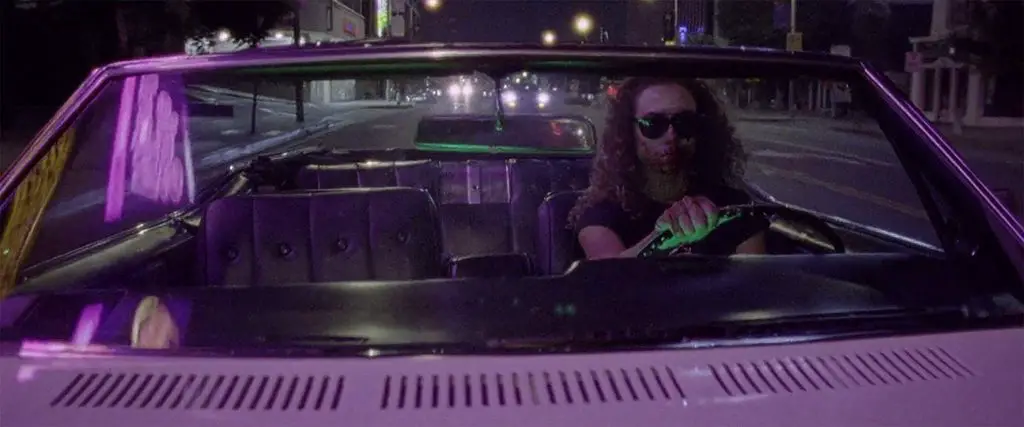 Lords of Chaos
Even with the likes of Midsommar and Us being released this year, my most anticipated horror movie was without question Jonas Akerlund's Lords of Chaos. From the moment the expertly-crafted trailer dropped, proclaiming the story to have been based on "truth and lies," I was hooked. Casting is a major element of what makes Akerlund's study of Mayhem, the most notorious metal band of all time, such a winner. From Rory Culkin to Emory Cohen and everyone in between, there isn't a dud in the bunch. Shot with a music video sensibility (Akerlund is a music vid vet himself) that suits the material to a tee, Lords of Chaos skewers the kind of meaningless one-upmanship that plagues groups of young men and makes a case for just being yourself, whatever that entails, rather than trying so desperately to fit in you end up burning down churches in the process. Culkin has never been better and Cohen is a strangely empathetic foil to his arrogant protagonist. Boasts the best final line since Assassination Nation, and that's really saying something.
See Also: Evil Has Found a New Home with Lords Of Chaos [Review]