Nerd Block is a subscription mystery box that delivers geeky collectibles right to your door each month. You can choose whatever theme box you are into–there's the Classic Block, Arcade Block, Sci-Fi Block, Horror Block, Comic Block, and even a Boys Jr. and Girls Jr. Block for younger kids. The sets always includes a t-shirt, along with 4-6 other collectibles that are often exclusive to Nerd Block subscribers. Today I am unboxing the August 2016 Horror Block.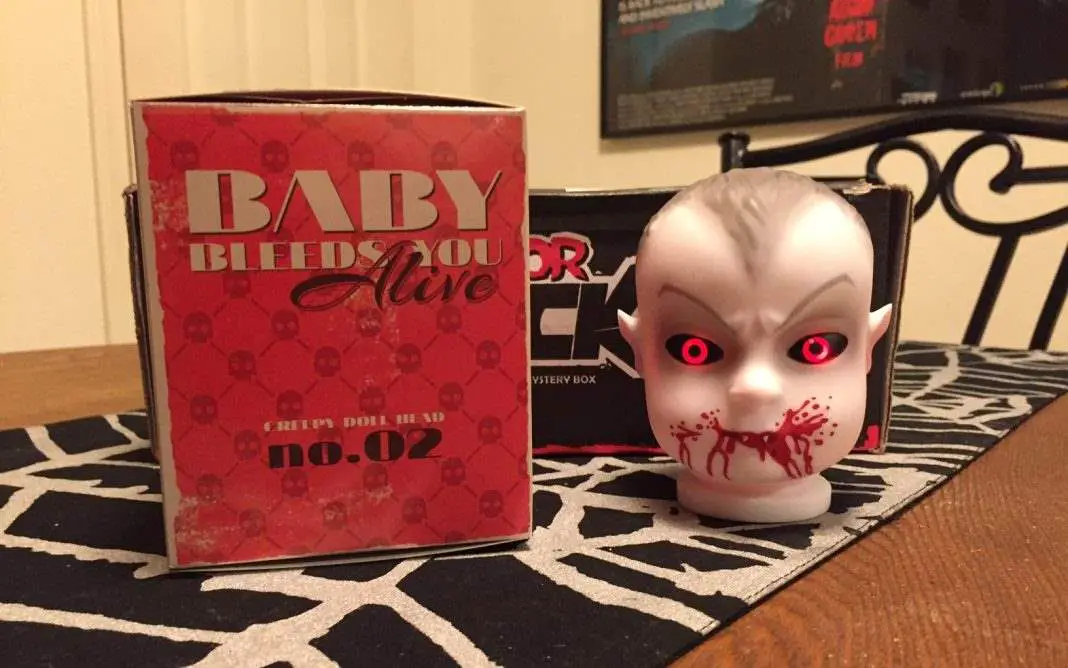 The first exclusive item in the block was a creepy baby doll head. I had received another one of these heads in a previous block, and they are all right as knickknacks, not anything to really get excited over. This doll head is obviously of a cute little vampire, whose eyes light up red via a switch on the bottom.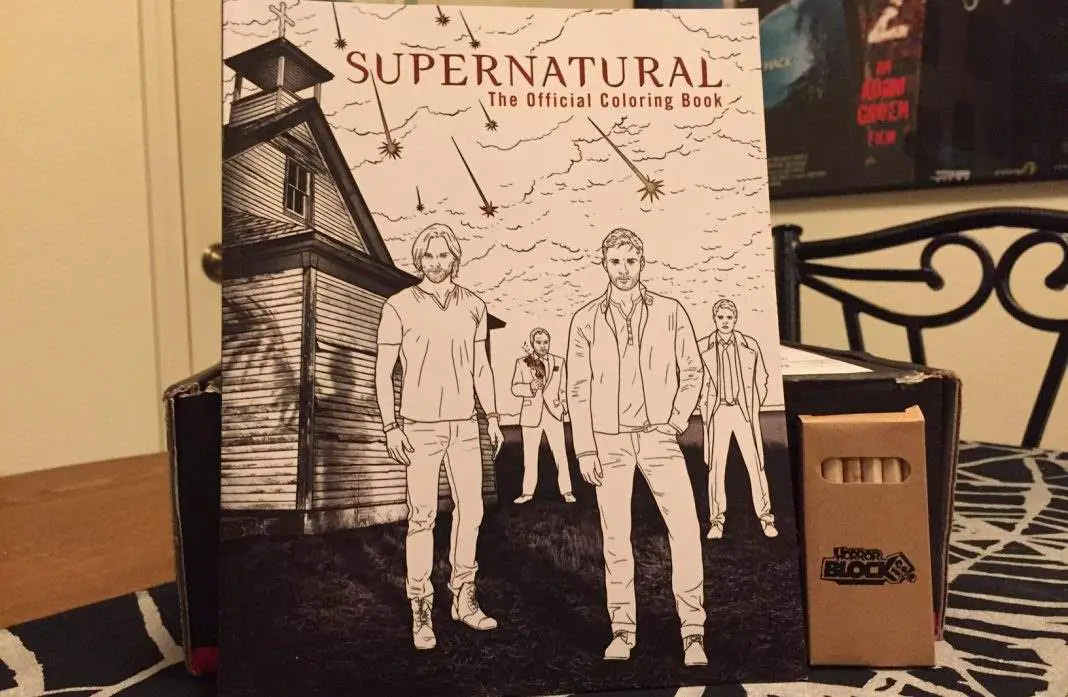 Another not-so-great exclusive item this month is the Supernatural coloring book. I'm not too old to enjoy a coloring book from time to time–they even included a little box of colored pencils to get you started–but this is just not the kind of collectible you're really hoping to get in a subscription box like this. Also, I've never watched Supernatural, so perhaps if I was a fan I would appreciate it a little more. Otherwise, this is kind of "meh."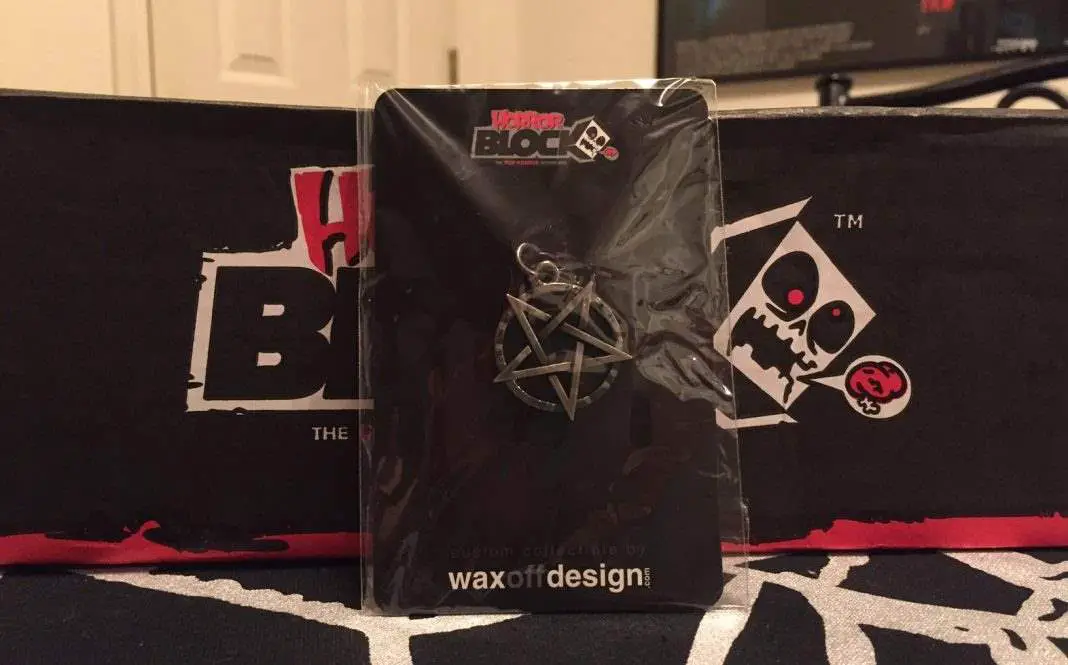 The third exclusive item was this pentagram pendant. It was created by the collectible company Wax Off Design, again, exclusively for Horror Block subscribers. As with all of the jewelry and keychains and such from Horror Block, this pendant is of great quality so that it will last a long time. It is about one inch in diameter and is made of nickel-plated zinc.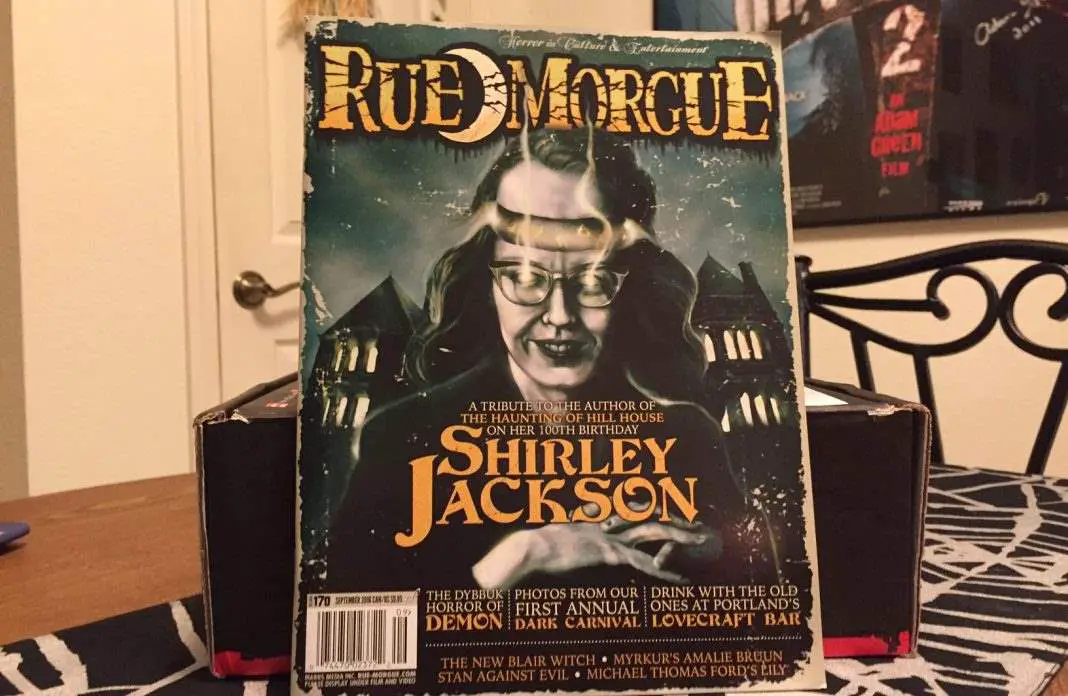 Next up is the September 2016 issue of Rue Morgue magazine, who continues to put out a fantastic product every month. The covers are always gorgeous, including this one which features a beautiful design of author Shirley Jackson (design by Andrew Wright and illustration by Sara Deck). Issue #170 is a tribute to Jackson for her 100th birthday and includes a short bio; an interview with three Jackson experts; and a listing of five must-read works by Jackson other than The Haunting of Hill House. The magazine also has a short interview with Blair Witch writer Simon Barrett (the back of the magazine also has a great full page ad for the film), a hilarious review of Jaws: The Revenge by John W. Bowen, and much, much more.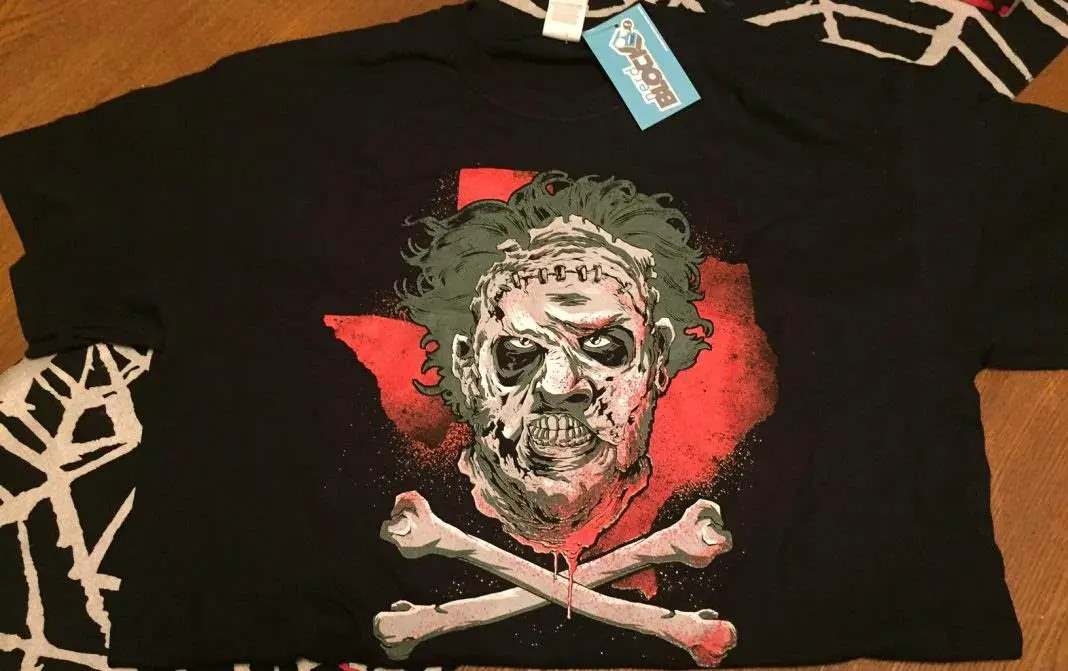 The t-shirt company ShirtPunch has once again blessed Horror Block subscribers with a great design that any horror fan should love. The shirt obviously features the iconic Leatherface from The Texas Chain Saw Massacre, done in a skull and crossbones style, and with a nice red background of the state of Texas itself. I already have a TCM/Leatherface shirt from another company, but, really, you can't have too much Leatherface.
Due to an issue with my account, I did not receive what would have been the coolest item in the block: a Ghostbusters 2 phone case. Instead, that item was replaced with this cell phone screen cleaning cloth, which features the villain from the film, Vigo the Carpathian. For those of you that got the phone case, I am insanely jealous because nothing would have made me happier than to have Vigo with me at all times on my phone. The cleaning cloth is still a good item, though. It measures roughly 5×7 inches, which gave me the idea to, instead of using it for its intended purposes, frame it and hang it on my wall. Let's just hope he doesn't find a way to possess me.
Though, I was a little disappointed with the August 2016 Horror Block, this company has proved to me that they can really deliver, so I'm not giving up on them just yet! For the next block, they are celebrating Stephen King's birth month of September by having all of the items be related to King movies. As one of the million Constant Readers out there, I can't wait to see what's in store for that box. If you like what you saw here, head on over to Nerd Block to start your subscription today!