With the conclusion of Fear the Walking Dead's second season earlier this year, the series cascaded into an examination of death, violence, and several cultures' unique reaction to the undead cataclysm. In many ways, Fear showed a side of a community in chaos that simply has not been detailed in the series' sister program.
The cast of Fear was thrown into a similar disarray that's echoed throughout each episode. In support of the second season's home video release on December 13, series star Danay Garcia spoke to Wicked Horror about her abrupt entry into the story and what she learned in portraying Luciana, a leader of survivors native to Tijuana, Mexico.
Wicked Horror: Fear the Walking Dead is a bit different than the other work you've done. Was it jarring entering this world, especially given how violent and twisted the universe of the show is?
Danay Garcia: It felt raw. Sometimes you drop into a project and "boom," everything goes so quickly and without difficulty. This was just like that; I got the job on a Wednesday and that Friday I was on a train to Mexico. That following Monday, I was on set. I had no time and even got my script on the way to Mexico. I was reading on this apocalyptic world I realized it wasn't like the normal settings I'm typically performing in. Just submerging myself into it, seeing what around me, like the death and the infected, and being personally shaken that was a bit overwhelming at first. But, it really helped me place myself into Luciana's boots.
I felt personally very open and able to be present in that world, in that place. I was very open to receiving input from my fellow actors, especially from Frank Dillane and Paul Calderon who play Nick and Alejandro. Seeing what they were going through allowed me to add so many layers to my own work. I felt the teamwork was of the utmost importance.
It was really beautiful to get connected with people, like Frank and Paul in the same way you would go through an apocalypse. Like, "Hi, give me water. Can you help me? I'm going to die!" It was that rapid and frantic kind of thing. Again, that was also beautiful, and I think the only way we could have achieved that feeling was to completely open and receptive.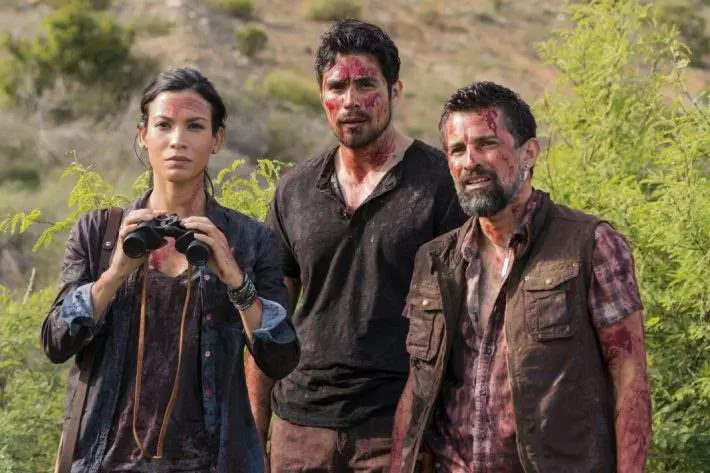 WH:
Luciana kind of carries this reverence, for the walkers and the dead, not unlike Mexican culture. What was it like immersing yourself into the local culture, and what process did you take to ensure your performance was an authentic reflection of it?
Garcia: I had to do massive research, and one of the more interesting things I discovered is that when you go to Mexico you see Calaveras everywhere. They have Dia de los Muertos (Day of the Dead), of course, so the presence of death in their culture is not unusual. Again, their souvenirs are Calaveras! You know when you go to another country you might get like a cup, or a little palm tree, or maybe just an apple. Over there, you get a Calavera, you get a symbol of death.
While I was studying, I learned Mexico has three types of death: There's the day you die, the day you are buried, and then the day you're forgotten. They're not afraid of death, and thus in an apocalypse, it would make sense that they're not as shaken as say, Americans would be.
WH: Luciana she's unique, she's fulfilling a leadership role. What compels you to here, to perform as her, do you feel empowered?
Garcia: I found out a lot about myself performing as her. I really went to places I could not go without Luciana. Places physically and emotionally as an actress and as a person. It's empowering, definitely, because there was a sense of peace and strength I developed with whatever was given to me. That's a quality of a leader; you have to be calm in a storm and be settled. In a way, I felt my entry onto the set was very similar to what Luciana was going through in the show. Playing her was a beautiful reminder of what we are capable of, and that was awesome. As we continued to shoot episodes I grew more and more of a sense of what it is was like to be her, and that was amazing.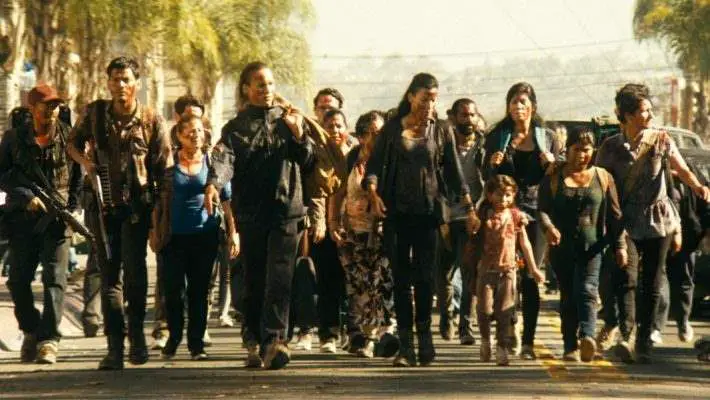 WH: Has your time spent playing Luciana changed what roles you might consider in the future, or has it changed the way you would approach future performances?
Garcia:  Definitely, one hundred percent. It has changed in many of the ways I've mentioned. But, it also gave me a method of discovering characters, really getting into what they go through in the struggling, the crying, and the killing. It's also incredibly important to be open to feedback. Some actors can a be so cold, but I found it very important to be engaging, as my audience was right there in front of me, I'll be in front of my fellow actors and crew for six months at a time, and that was a beautiful change for my own development, to be so involved with all of the cast and crew. They are my audience, and it's great to hear what they have to think.
As for me representing characters, I love the fact Luciana has inspired girls and men alike She's a very strong woman; she's a total badass, but she's not a man. I love that we see that in a woman, and men can still appreciate it and acknowledge it. It's very important for us to support one another. A lot of women want to be empowered like Luciana. I also learned there is so much to these characters, with their lives, their stories, and the pain they go through.  You can definitely be affected by the challenges the world puts in your face, but it's all about how you handle it. I really want to keep doing characters that are faced with obstacles like that, and who possess several different layers of complexity.