Welcome back to What's New on WHTV! This weekly list will update you on everything that is coming to Wicked Horror's streaming counterpart, Wicked Horror TV. If you're not aware, Wicked Horror TV is available on Roku and Amazon as well as via your Internet browser. From classic films to the latest in indie horror, Wicked Horror TV has a little something for everyone. And the best part? New movies are added weekly!
The following title will be available November 6th, 2022:
Blood of the Virgins (1967)
Ofelia's wedding day is approaching and she is to be married to Eduaurdo. She has some pre-wedding jitters during a meeting with her lover Gustavo but decides to tie the knot anyways. On her wedding night, Gustavo shows up in their room, murders Eduardo, and proceeds to turn Ofelia into a vampire so that they can be together forever. In the present day 1960's, a group of young men and women take shelter in an abandoned lodge after their van breaks down. Soon, Ofelia appears and seduces one of the guys and meanwhile the girls go missing. It is up to the other guys to figure out what is happening and Ofelia must make a decision as to how much longer she can continue with her cursed life.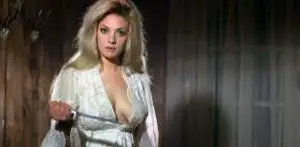 Like what you see? Be sure to follow us on social media: 

Twitter,

 

Facebook

, and 

Instagram!