It's Friday and you know what that means; time to prepare yourself for all that discount Easter candy- Welcome back to New on Netflix, your weekly update on the spooky films and TV shows added to Netflix's library. The streaming giant's horror department has always been a mixed bag. However, I'd say they've really stepped up their game in the last couple of years with the release of amazing, essential watches. We've been treated to must see original programming like The Haunting of Hill House, Velvet Buzzsaw, Hush, and some of the classics we all know and love.
This week we have a short list featuring easy money and a robbery.
Snabba Cash (a.k.a Easy Money)
Based on the novel of the same name, Swedish thriller Snabba Cash follows JW; a business student who likes to rub elbows with the wealthy and powerful to maintain an elegant lifestyle. When he falls in love with an heiress he decides to take up a life of crime. Elsewhere, Jorge is a petty crook who's on the run from the police and Serbian mobsters. Mob hit man Mrado is in charge of tracking down Jorge but must care for his young daughter at the same time. As JW sinks deeper into the criminal world, all three men become entangled in a mutual fate. Snabba Cash will be available on Netflix April 7th!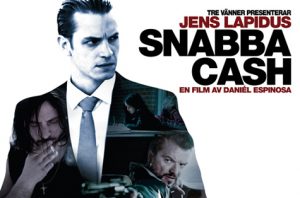 This is a Robbery: The World's Biggest Art Heist 
One series I am personally stoked for is also arriving on April 7th. This is a Robbery: The World's Biggest Art Heist is a four part docuseries that follows the 1990 robbery of Boston's Isabella Stewart Gardner Museum. Two men dressed as cops conned their way into the museum and stole 500 million dollars worth of art. Where the art is now remains a mystery. Today, investigators reviewing the cold case attempt to recover the missing works, unmask the perpetrators and solve the biggest art heist in history- which holds a 10 million dollar reward for whoever finds it.