It's Friday and you know what that means: It's time to figure out what you'll be binging during the upcoming week. Welcome back to New on Netflix! The streaming giant's horror department has always been a mixed bag. However, I'd say they've really stepped up their game in the last couple of years with the release of amazing, essential watches. We've been treated to must see original programming like The Haunting of Hill House, Velvet Buzzsaw, Hush, and some of the classics we all know and love.
This week we have a personal favorite of mine arriving to entertain and disturb you during your quarantine. So let's jump in to what's coming to Netflix the week of April 3rd, 2020!
Killing of a Sacred Deer
Steven Murphy appears to have the perfect life. He's a renowned cardiovascular surgeon who comes home to a gorgeous, spotless home with his wife and two well behaved children. All seems well for the family, until they meet Martin, who inserts himself into their lives in gradually unsettling ways. Soon Martin's intentions are revealed as he confronts the good doctor on a former patient in a plot that will shatter his idea of domestic bliss forever. Arriving on April 5th!
Related: The Killing Of A Sacred Deer Is One Of The Best Horror Movies Of The Year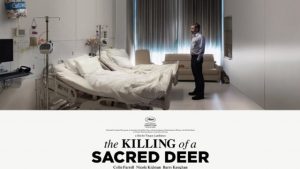 Follow us on social media! Twitter, Facebook, Instagram, and YouTube.