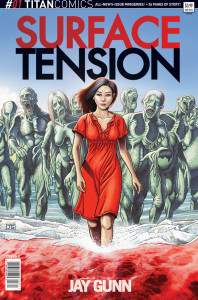 In case your zombie narrative ever seems dry, just throw a bit of water on it. Fortunately, Jay Gunn did a hell of a lot more than that to bring us
Surface Tension
, a five part miniseries published by Titan Comics. Gunn put forth both a tale of intrigue and vibrant imagery from alien depths. In doing so, an environmental message not too far off from something like
Hitoshi Iwaaki
's
Parasyte
also rides in on monster-filled tidal waves. With the first volume of this epic, Gunn sets the stage for a hell of a ride through an oceanic acid trip.
Several years after a plague known as the "sea sickness" drove many people into the sea, a blue-skinned couple wash ashore. After narrowly avoiding death by sea monster, the pair are taken to a local bath house. Jean Cassel, a local researcher and technician, informs Mary, a former nurse, that one of the two may be the latter's old friend, Megumi.
While carried by horse-drawn carriage, Jean sets a frame. The remaining folks on the island, a little over 800 strong, have been deemed immune to the infamous plague. Despite this, they are still under constant threat. Food runs short while monster attacks run rampant. After confirming the identity of Megumi, a heartfelt welcome shifts into a recollection of the young woman's past life as an environmental researcher. Steadily, the purpose of a giant, coral-infused monolith comes into question.
Dialogue isn't always the most fluid in Surface Tension. Most characters seem a bit abrupt, and though understandably tense, they sometimes come off as a bit mechanical. Aside from Mary, not many characters seem to really have their own voice. Maybe that's a bit of a warning to not get too attached, but for a series that's already compared to The Walking Dead, heartbreak should be something strived for. To Gunn's credit, however, the lack of understanding for what the survivors are experiencing is conveyed pretty well overall.
Given, I don't think this comic was really intended to be lauded for the dynamic of its characters. Visually each panel is vibrant, beautiful and chilling. Even the grotesque, like the melting masses and Megumi's transforming colleague, are illustrated and colored to a point of awe. The creatures Gunn crafts are unlike anything I've seen before as they are familiar yet uncomfortably bizarre.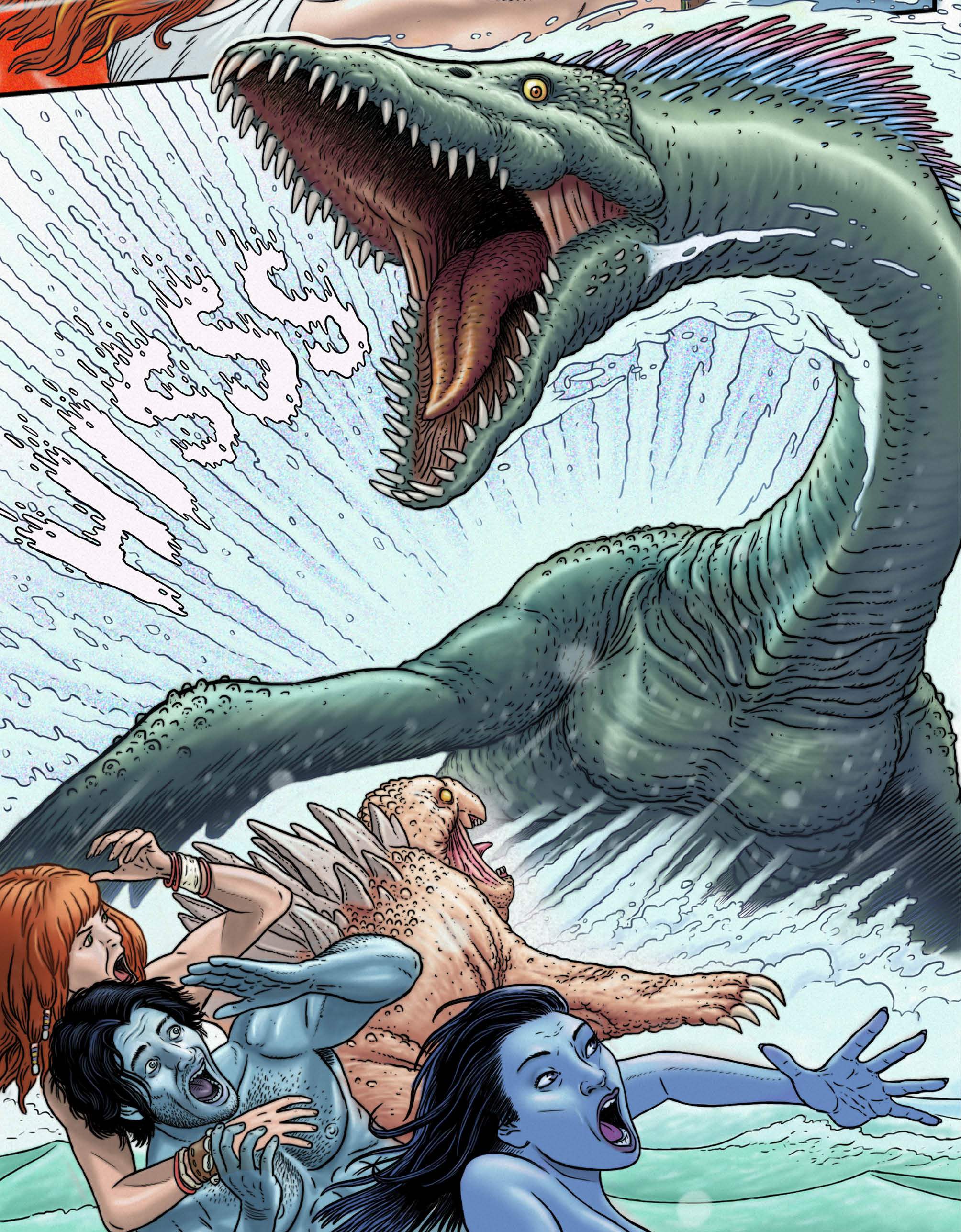 Pacing is handled exceptionally, especially for a first issue. The stage is set with a nice balance, yet enough questions are still begged to keep one interested. While brief bits of what the hell is going on are revealed, it's never predictable and most definitely not too saturated with mythos. Surface Tension's first issue gives us just enough to chew, and consequently, get snagged and reeled in.
Though important as it is, the environmentalist message can come off as a bit overpowering at times. Sometimes, a clear panel will speak far more than paragraphs of exposition. Still, it doesn't detract too much from this epic. Like many classic tales, the folly of civilization seems to spawn innumerable amounts of mutated fuckery.
With Surface Tension, Jay Gunn has definitely spawned something worth keeping an eye on. We've only scratched the tip of the coral iceberg, and I imagine things even more compelling wade just below the surface.